Trump's abortion legislation is terrifying and shameful, but the UK isn't much better
Trump's legislation to stop funding any groups which even discuss abortion is a travesty to women's rights, but we can't forget that in the UK we still have a whole region where abortion is illegal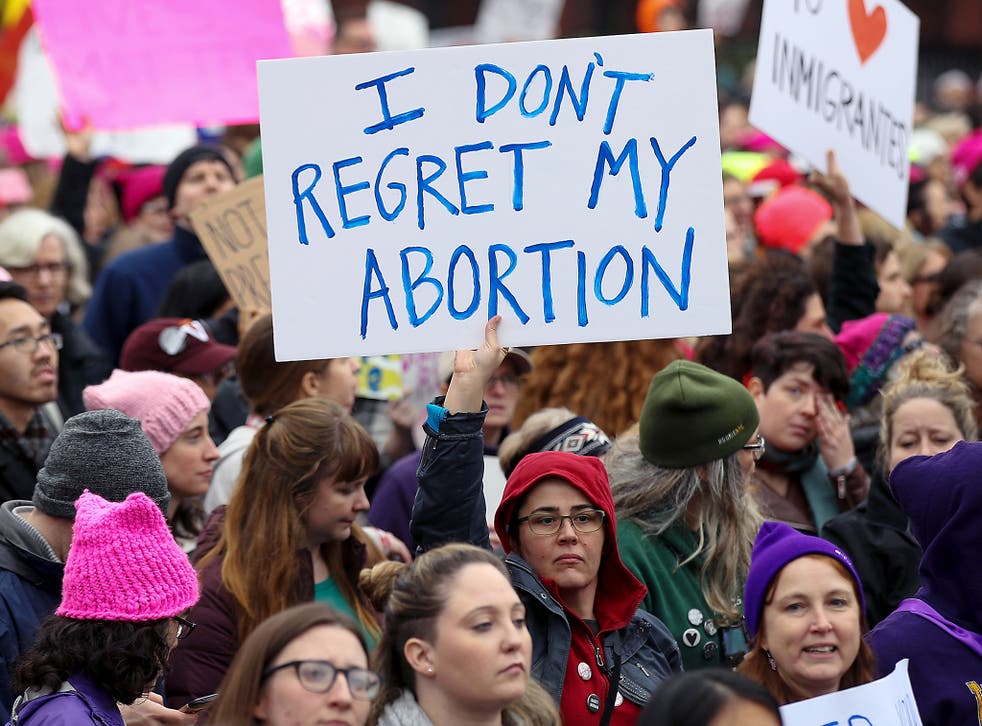 Women have little idea of how much men truly hate them, the feminist academic Germaine Greer warned in 1970. Under Donald Trump's presidency, we might be just about to find out.
As the world enters a deeply disturbing political era, women's bodies are emerging as one of the battlegrounds on which society is set to slug out its struggles. Exhausted by the tiring politically correct guise of having to pretend women are actually humans, hard-line Republican politicians can finally relax and show their true selves.
One of Trump's first actions as president last week was to sign an executive order defunding any international development groups which even give women or girls overseas advice on abortion. The ban, known as the Global Gag Rule, is set to hit women of colour and low income hardest and health workers have warned it will inevitably cost lives.
Sean Spicer: Trump to reinstate global abortion funding ban
While the ink on that executive order had scarcely had time to dry, Trump's colleagues in the Republican party were on to the next hit, this time passing the Hyde Amendment into law. The Amendment is a clause which has been tagged onto bills that dictates how Medicaid funds can be used and bans any federal money from helping to fund abortions. While it's previously had to be reinserted each time a new funding bill has come up, Republicans have now moved to make it a permanent stand-alone law. It is unlikely that Democrats will have enough power to reverse it for decades.
On a roll and emboldened with power, a Texas politician has now also put forward a bill to make abortions a criminal offence in the state. He thinks it will "force women to be more personally responsible", he reckons. Normally, such an offensive idea would not be uttered by any serious politician due to fear of backlash, but now a Congressman has felt empowered enough to put it into a bill.
It's proof, if any were needed, that society in 2017 remains deeply misogynistic. While we have made some considerable gender progress in recent generations, the current determination of Republicans to regress on reproductive rights shows just how superficial much of that change really is.
However, for people living in the UK, we must be careful not to get on our high horses about the restriction of reproductive rights in the US, lest we risk a considerable fall from grace.
Abortion remains a criminal offence in one part of the UK: Northern Ireland. Women there are forced to perform abortions on themselves at home by buying pills online, or travel to Britain for the procedure. The law isn't an abstract one either. Last year, a 21-year-old was 'convicted' of committing an abortion after she took pills at home when she was just 19 and faced an unplanned pregnancy. Her housemates found out and called the police. Another woman is currently awaiting trial for helping her teenage daughter buy pills online.
MPs at Westminster could intervene and change the law but have failed to do so, seldom even acknowledging the human rights abuse happening within their own country.
Thousands march in Dublin for Irish abortion rights

Show all 5
As recently as 2012, the Conservatives toyed with the idea of reducing the time limit for abortions in the UK. Minister for Women and Equalities Maria Miller proposed reducing the limit from 24 weeks to 20 weeks. Our own health minister Jeremy Hunt backed halving the legal term limit for abortions in England and Wales down to just 12 weeks.
Some countries have sought to limit the damage incurred by Trump's Global Gag Rule. The Netherlands is looking into setting up its own abortion fund for international aid organisations who will lose funding under his new policy. Their government says between 15 and 20 countries across Europe and Asia have expressed interest in joining the fund and making donations. However, while the Dutch have been leading on this issue, the British have been conspicuously silent.
Theresa May is currently in the US to meet the president. But anyone hoping she will take him to task on behalf of women around the world will no doubt be disappointed. So far in her trip, rather than call him out on his actions to restrict reproductive rights, she is simply offering flattery about the "special relationship".
The sad reality seems to be that the UK is failing to offer the same leadership and moral authority as countries like the Netherlands, amid the disturbing events in the US. Both at home, and on an international plain, Britain's record on reproductive rights leaves a lot to be desired.
Join our new commenting forum
Join thought-provoking conversations, follow other Independent readers and see their replies