With Trump gone, the craziness must now be taken up by others – step forward, Great Britain
The problem for us with Trump's departure is that it leaves Britain as now probably the most fruit bat country in the world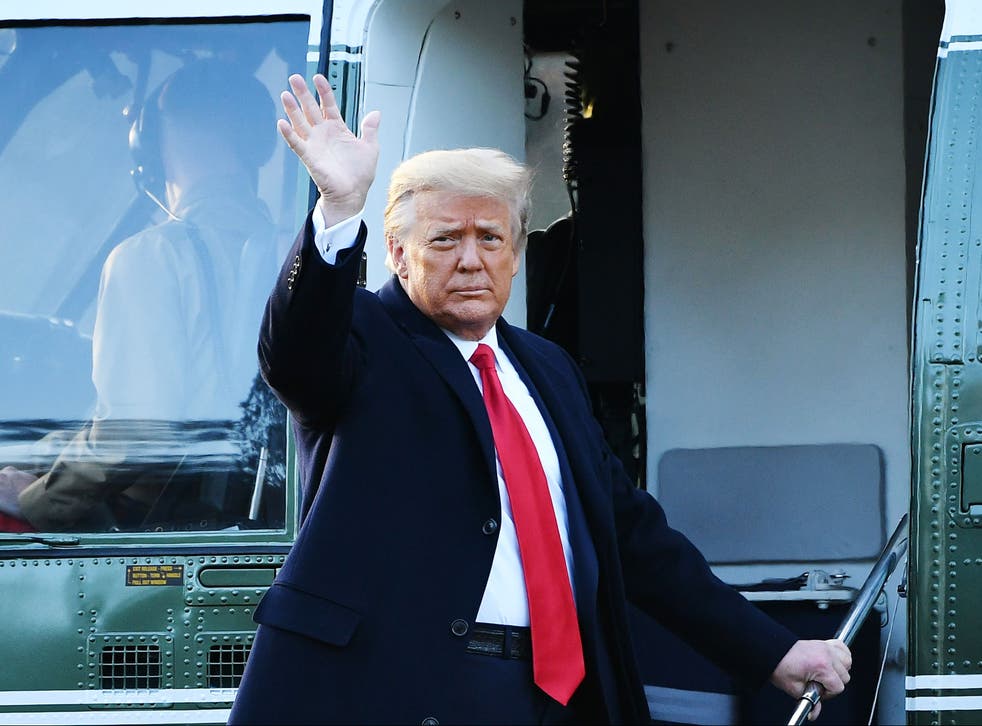 In one way, it doesn't matter whether Biden will be any good. We should just enjoy the relief.  
Imagine if a bear moved into your house and for four years, every day, it did huge dumps on your bed, in the fridge, in each individual sock. It mauled the neighbours, it roared all night, with roars that didn't even make sense in bear language, it chewed through a wall, then insisted you had to pay for the wall, it locked your kids in cages, and when the bear catcher came to take it away, it summonsed its untrained cubs to blow up his van. You'd just be delirious that it's gone. This wouldn't be the time for anyone to ask, "So, what do you think your next pet will be like?"
This is why Biden could have been more adventurous, starting his speech by getting everyone to chant "Lock him up". Then he could have started: "And who's going to pay for his cell? HE'S going to pay for his cell." Then he could have improvised on the theme of Trump in the exercise yard, having to swap his tower for cigarettes, rather than dwell on dull subjects, such as the economy.
Finally he could have posted a picture of the inauguration on Instagram with the caption: "Biggest Crowd EVER!! Gaga FANTASTIC. 10 million more than LOSER Trump. Proud Boys bad people very bad!"
Many people have contrasted the grace of the Obamas four years ago, with Trump's tantrum and refusal to attend the ceremony this week. But looking back, maybe it would have been better if they hadn't bothered with grace and Michelle had just kicked him in the bollocks.
If Trump had won it would have been one of the worst moments in modern history. It would have been as if Hitler, having somehow survived in his bunker, had then won another election in 1945, leaving everyone to sigh: "You'd think he'd be less popular after all that's happened."
So now the craziness is being taken up by others. Trump supporter Ted Cruz made an early start, writing: "By rejoining the Paris Climate Change Agreement, Biden has proved he cares more about the citizens of Paris than those of Pittsburgh." This is quite sweet, suggesting he thinks the Paris Climate Change Agreement is about climate change in Paris.
If he reads about the Versailles Treaty at the end of the First World War, he'll think: "Typical! Instead of sorting out the map of Europe, they wasted time wondering what to do with the cycling lanes in Versailles."
But some of the triumph seems slightly askew. Because almost every figure from world politics seems to be in agreement: America should be fine now it's back to normal.
An assortment of US politicians and commentators made those speeches, that go: "At last we return to the great American values of our forefathers, united behind the constitution we are massaged by the golden spirit that simmers in our urine like a milkshake, and when it's called to arms, soars like a flamingo and under the gazebo of GOD, pecks the buttocks of tyranny." Then they sing the national anthem and salute the flag and shed a tear for the first 44 proper presidents.
And at this point, I can't help but feel a tiny bit cynical, and want to say: "Hang on. Trump might have been a rancid evil sociopath, but before Trump you did manage to napalm Vietnam. You did find a way to drop a nuclear bomb on Hiroshima, and invade Iraq and somehow manage to make the place worse than it was under Saddam. And arrange a coup in Chile that murdered the president and established a military dictatorship, and back dictators and shahs and generals in around 20 million countries, especially if they had some oil going spare." To be fair, if Jennifer Lopez had read that out, I can see it might have spoilt the mood.
But while Trump's incitement of a filthy little coup attempt was pathetic, I expect there are plenty of people in Chile who wish the coup the CIA had organised in their country was one in which people dressed as buffalos broke into the parliament, did a slash on the floor and ran off again.
Maybe there are villages in Vietnam, where old people tell their grandchildren: "America used to be a great country. They bombed us with Agent Orange and nearly all your relatives were killed, but at least their president didn't put out an incoherent tweet about it, which helped us all to get over it."
The US armed President Suharto of Indonesia, as he wiped out 1 million people in the 1960s, but that would have been even worse if President Nixon had a silly haircut and said "bigly".
Many commentators have said that "the reputation of the US has been damaged" by Trump, and that gives you an idea of his ability. Because not many people can say: "Our nation was founded on attempted genocide, built on slavery, invaded everywhere, segregated its population until 50 years ago, but I managed to spoil its reputation."
Maybe this is how to keep Trump quiet from now on. He should be given the task of damaging the reputations of Gary Glitter and Dennis Nilsen and Judas, and see how long it takes him.
The problem for us with Trump's departure is it leaves Britain as now probably the most fruit bat country in the world. So this is where he'll end up. By Easter he'll be our new home secretary, and the terrible thing is it's probably the one job he can take over and be an improvement.
Register for free to continue reading
Registration is a free and easy way to support our truly independent journalism
By registering, you will also enjoy limited access to Premium articles, exclusive newsletters, commenting, and virtual events with our leading journalists
Already have an account? sign in
Register for free to continue reading
Registration is a free and easy way to support our truly independent journalism
By registering, you will also enjoy limited access to Premium articles, exclusive newsletters, commenting, and virtual events with our leading journalists
Already have an account? sign in
Join our new commenting forum
Join thought-provoking conversations, follow other Independent readers and see their replies