As an American, here is what I think about the anti-Trump protest outside Downing Street
I've never attended any kind of demonstration in my life. This time curiosity got the better of me, I wanted to see the British reaction to the 'Muslim ban'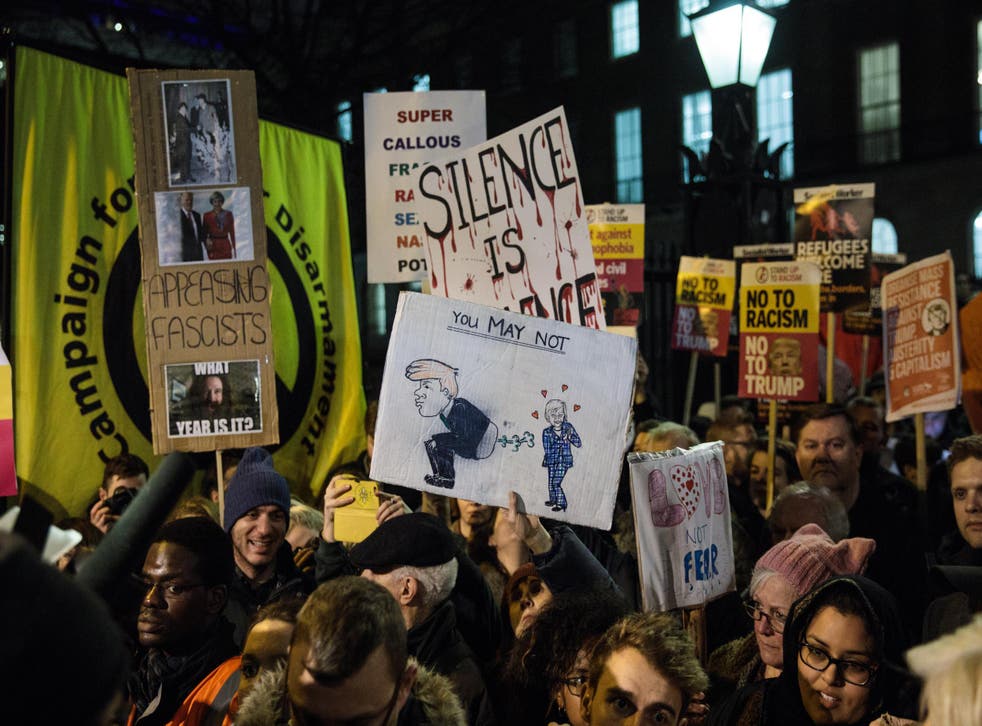 As an American, I've witnessed the news of protests and riots across the US. I've seen students speak out on university campuses and I've heard the echoing chant of "not my president" over and over again. When I came to the UK, it didn't stop.
Thousands gathered in central London on Monday outside Downing Street, with crowds filling the length of Whitehall, from Parliament to Trafalgar Square, to protest against the UK's silence in the face of President Donald Trump's 'travel ban' on refugees and immigrants from seven Muslim majority countries. This was the second demonstration held in the capital against Trump's policies in less a fortnight.
I've never attended any kind of demonstration in my life. I've never felt that anything could be accomplished by marching or chanting. I always found it better just to talk about issues in person over going out in a large crowd with the potential of danger.
Caroline Lucas: Trump is a 'racist bigot'
Curiosity got the better of me this time; I wanted to see the British reaction to the 'Muslim ban'. People from every nationality and religion were in attendance with chants against Prime Minister Theresa May's invitation for Trump to visit the UK. Signs ranged from calls to open borders to ones against America's brand of capitalism. Two placards stuck out in particular: one was a blown up statement tweeted out by Vice President Mike Pence when he was governor that read, "Calls to ban Muslims from entering the US are offensive and unconstitutional," an example of the hypocrisy that has become the norm in American politics. The other was a simple black and white photograph of Anne Frank, a silent but strong reminder of the terrifying logical end point of the prejudice present in Trump's executive order.
I was moved by the size of the crowd in attendance and the unity shown from one nation to another. Though I've become aware of the vast differences in American and British culture, many people on both sides of the world are still committed to the values of tolerance, acceptance and open-mindedness.
The controversial orders Donald Trump has already issued

Show all 9
Attending the demonstration didn't change my life. I don't think I've become a converted protester. I can't see myself going out with signs and chanting, but I do feel empowered to take action against things I cannot accept myself in positive ways like volunteering with refugees and migrants in my own community.
I'm glad that my first attendance in a political protest was in the UK over the US. I'm not a British citizen and I don't have a say in their PM's policies, but I felt I had the right to be there just as anyone else. I may be a guest in the UK, but I've been treated as one of their own as everyone should wherever they go.
Join our new commenting forum
Join thought-provoking conversations, follow other Independent readers and see their replies