Trump let Putin off the hook at the G20 summit – but does it matter?
Trump and Putin share much of the same wiring. We'll see if that's a good or terrible thing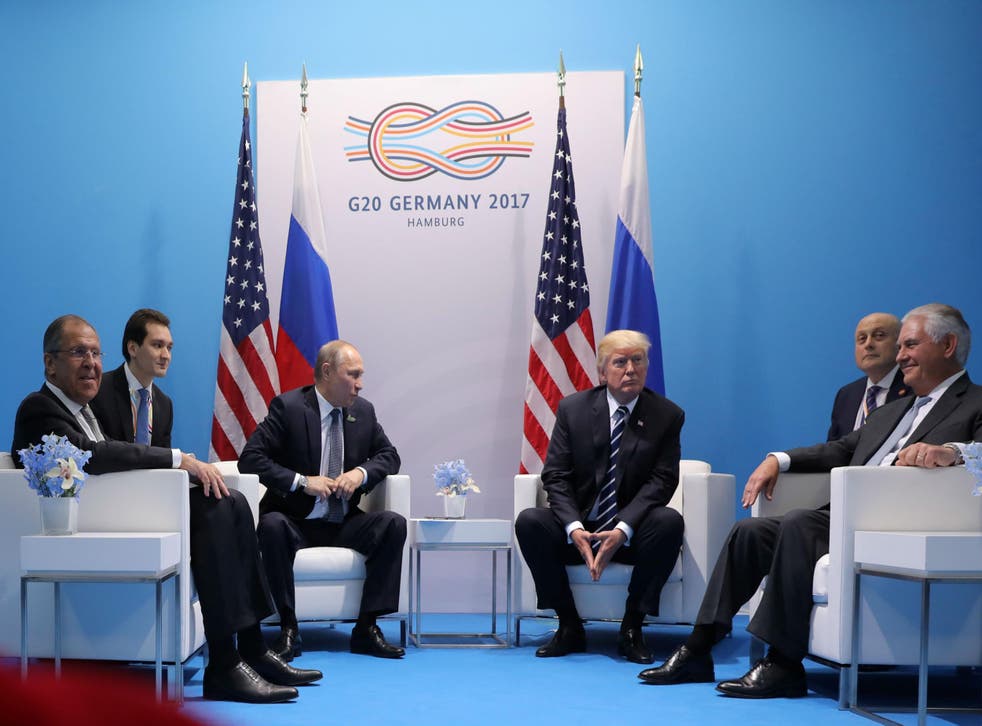 Donald Trump held all the cards going into his first meeting with Vladimir Putin in Hamburg. Russia has been caught red-handed trying to derail the American presidential elections, its economy has been hobbled by western sanctions for its misdeeds on the world stage – redrawing Ukraine's borders, shooting down a civilian airliner – and by falling oil prices. At the G20 summit, Trump was surrounded by natural allies; Putin was the pariah at the party.
That is not how it looked though, in part because of the skill of Putin and his foreign minister, Sergei Lavrov. They cast themselves instead as the grown-ups at the Germany summit. It was the US that was out of step – by backing out of the climate change accord and stirring the winds of trade protectionism – not Russia. Worry not, folks, Uncle Vlad is here. All will be well.
It's preposterous. But Trump has contributed to this distortion of the world order, in part by behaving the way he does. His first order of business just before his meeting with Putin was to tweet that "everyone here" was talking about Hillary Clinton's former campaign manager, John Podesta, and his alleged failure to cooperate with the FBI in the election hacking investigation. Pardon? Does Theresa May even know who John Podesta is? Doubtful.
Nothing that happened in Hamburg should have surprised us, of course. Partly it's about comparative experience. Between them, Putin and Lavrov have clocked up about 80 years in government (Macron was still at school when Lavrov was the wily Russian envoy to the United Nations). As for Trump and Tillerson, they had not quite one year under their belts.
True, the Trump-Putin parley did go on much longer than anyone expected. It was scheduled to last just 35 minutes. About 75 minutes into it, Trump's wife, Melania, wandered in to inquire if they were about wrap up. They weren't. Two and a quarter hours was the final notch on the clock. An overrun like this between leaders always makes for good optics. The two men got on so well – had so much of importance to talk about – they just didn't know how to stop.
Both predictable and preposterous was the way Putin dispensed with the allegations of attempted Russian interference in the US elections by simply denying them. Actually, Putin went further, saying that America should "prove it" if it means to labour the issue any further. "The President pressed President Putin on more than one occasion regarding Russian involvement," Tillerson insisted to reporters after the meeting. "President Putin denied such involvement."
It was Trump's view, apparently, that he indeed won't press the issue further if that's going to be Russia's stance. The two sides agreed to set up working groups to ensure Russia's non-interference in future US elections. Wait a second. Russia is innocent, so it's necessary to impanel a bunch of bureaucrats to make sure that it will be equally innocent in 2020?
Critics of Russia on Capitol Hill will be not be impressed with any of this. Even senior Republicans admonished Trump that Russia needed a proper scolding for trying to upend American democracy. But there are reasons that that is not what happened.
First, don't forget how extremely delicate the entire topic is for Trump. The investigation into the Russian meddling and whether or not his campaign colluded with it now threatens his entire presidency. Second, Trump just does have the the hots for Putin, even if he has had to moderate his expressions of awe of late precisely because of the collusion probe in Washington.
Putin and Trump joke about journalists being hostile to them
Which brings us to the good news from their meeting. Yes, there is some. For starters, cast your minds back to how Barack Obama and George W Bush handled Putin. Abysmally. The Obama-Putin dance looked like Serbia in January. Bush said he had looked into Putin's eyes and seen his soul – and never recovered from the comment. Theirs was a romance dead on arrival.
Trump's romance with Putin is well developed, even if it has, by necessity, been put on hold of late.
These men clearly share some important wiring. They see little point in taking long-term lessons from past accidents or misdeeds, but would really rather get on to what ever is coming next. Call it ethical/moral blindness if you like – I molested that woman, that country, really? Oops – or call it pragmatic politics. And of course they both draw strength from indulging their macho self-fantasies.
Back before he had to back off a bit, Trump would repeatedly mock those who said that becoming friendly with Russia again was somehow to be discouraged. Only by overcoming past squabbles could the two countries start getting creative together, get things done again on the world stage, especially on combating Isis and returning peace to Syria. He chose Tillerson as Secretary of State in part because as the former CEO of Exxon he had had warm ties with Putin's Kremlin.
Maybe Trump is right. What did Obama's scornfulness of Putin yield, after all?
Usefully, the two men have now set themselves a test to prove the theory. Out of their confab in Hamburg came a plan to institute a ceasefire and de-escalation of conflict in south-west Syria that they will, with help from Jordan, attempt to oversee and enforce. There are reasons to be sceptical that any pause in hostilities will work, but let's see. Just possibly, this will prove to be start of precisely what Trump was talking about: a joint approach to end a war that has already killed 400,000 people and sent hundreds of thousands more fleeing their own country.
Trump let Putin wriggle from the hook in Hamburg. He presumably thinks this will pay off in the longer term if it means the friendship he has sought with the Kremlin can actually take root. As is often the case with Trump, we will have to wait to see if this is bonkers or brilliant, craven or clever.
Register for free to continue reading
Registration is a free and easy way to support our truly independent journalism
By registering, you will also enjoy limited access to Premium articles, exclusive newsletters, commenting, and virtual events with our leading journalists
Already have an account? sign in
Join our new commenting forum
Join thought-provoking conversations, follow other Independent readers and see their replies