I'm a human rights lawyer who travelled to Erdogan's Turkey to see his political opponent tried in court. This is what it's really like
Allegations against one man include that he founded a terrorist organisation, the PKK, a group which fought for years for Kurdish autonomy within Turkey. Yet the group was established when Demirtaş was just five years old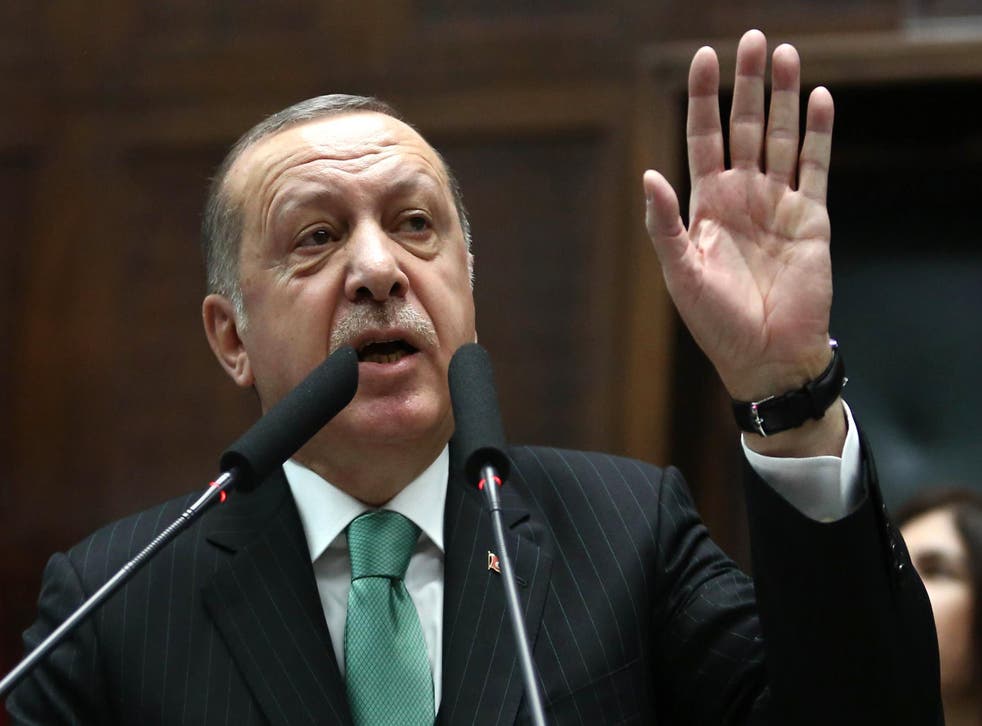 You notice two things about Ankara as soon as you arrive. The first is President Recep Tayyip Erdoğan: the face of the man labelled by the opposition as a "fake sultan" is plastered on advertising billboards, LED displays, and every lamppost on the main highways through the Turkish capital. The second is the omnipresence of police. On the road from the airport, down into a haze-filled valley, they sit at every intersection, in their cars, blue and red lights flashing; at night their presence is inescapable as they tear along the streets in every direction.
I travelled to Turkey to observe the trial of a leader of the opposition People's Democratic Party (the HDP), who had been arrested on terrorism charges 16 months before, and held in custody ever since. On 15 July 2016 an attempted coup in Turkey failed. Since then, the country has been sliding into a dictatorship. President Erdoğan and his ruling Justice and Development Party (the AKP) have purged the civil service, judiciary, military, and legal profession of 150,000 people whose loyalty has been questioned. The failed coup was in Erdoğan's own words a "gift from God". Many suspect the hand of the Turkish intelligence services in planning the abortive coup, on behalf of the government in order to provide a pretext for the purge.
President Erdogan watches on as staff beat up protestors in Washington
Selahattin Demirtaş was until 11 February 2018 the co-chair of the HDP: the HDP operates a co-leadership system to make sure women and men have an equal voice. He and the co-chair with whom he was originally elected, Figen Yüksekdağ, have been imprisoned since November 2016. Yüksekdağ was replaced as co-leader after a politically-motivated trial saw her stripped of her parliamentary seat; Demirtaş too has now been replaced after it became apparent that he would not be released from prison any time soon: the prosecution are seeking a sentence of 142 years' imprisonment in his case. Until the start of his trial the charges against him were not even known in detail, having been kept under seal by the prosecution. Allegations include that he founded a terrorist organisation, the PKK, a group which fought for years for Kurdish autonomy within Turkey. Yet the group was established when Demirtaş was just five years old. The evidence against him comes from his public speeches, media interviews and even his attendance at Kurdish New Years' celebrations.
At Demirtaş' trial all foreign observers were barred from entering the court building. Both Turkish and international law are clear that trials should be held in public, but only Turkish lawyers were guaranteed entry. The court was located in a specially constructed building in a high security prison miles outside Ankara. It was surrounded by armed police, five water cannons, and areas reserved for members of the AKP, who were encouraged to intimidate observers.
These intimidation tactics are nothing unusual: the HDP headquarters has an on-sight police officer to monitor them, and another temporary police station constructed across the road. When the headquarters was firebombed last year, there were reports that these police directed the attackers to it. Whilst I was in Ankara, an HDP branch office was shot up by unknown gunmen; luckily no one was hurt.
The intimidation is not only violent. As I arrived in Turkey, Serpil Kemalbay, another former co-chair of the HDP, was arrested over her public comments against Turkey's invasion of Afrin in Northern Syria. The HDP's politics are similar to those of the people of Northern Syria: ignored by the West, the Democratic Federation of Northern Syria, also known as Rojava, is a radical experiment in secular, non-sectarian direct democracy, feminism and socialism. Erdoğan feels as threatened by this beacon of hope on his doorstep as he is by the prospect of any opposition at home.
Russian ambassador to Turkey shot dead in Ankara

Show all 13
Demirtaş's defence team have made clear to the court that they know that in this climate he is not facing a trial by law, but by politics. Demirtaş spoke for two days in his own defence, pointing to the absurdity of the charges against him and laying out the political nature of the case. His lawyers also pointed out that he in fact still has parliamentary immunity, and so cannot lawfully be prosecuted until it is revoked. However, the defence accept that the system is rigged, and anticipate that despite the weakness of the case against him, the threat to judges if they do not follow Erdoğan's wishes will ensure his conviction. A result from the trial has now been adjourned until at least April.
As Turkey slips deeper into dictatorship, the rule of law weakens every day. Opposition politicians are jailed, judges who refuse to do Erdoğan's will are fired, and the police turn a blind eye to those who attack the AKP's political opponents. Erdoğan's impunity is such that he has started an illegal foreign war and is taking steps to crush all those who oppose it domestically.
It is time for the world to wake up to the destruction of the rule of law in Turkey, and to stand by those who seek to defend it.
Stephen Knight is a human rights lawyer
Register for free to continue reading
Registration is a free and easy way to support our truly independent journalism
By registering, you will also enjoy limited access to Premium articles, exclusive newsletters, commenting, and virtual events with our leading journalists
Already have an account? sign in
Register for free to continue reading
Registration is a free and easy way to support our truly independent journalism
By registering, you will also enjoy limited access to Premium articles, exclusive newsletters, commenting, and virtual events with our leading journalists
Already have an account? sign in
Join our new commenting forum
Join thought-provoking conversations, follow other Independent readers and see their replies