Refugees are fleeing Trump's America and crossing the border into Canada. This is what Trudeau needs to do
Hundreds of refugees have been braving waist-deep snow and freezing cold temperatures to claim asylum in Canada. But an agreement between the two countries is forcing them to cross illegally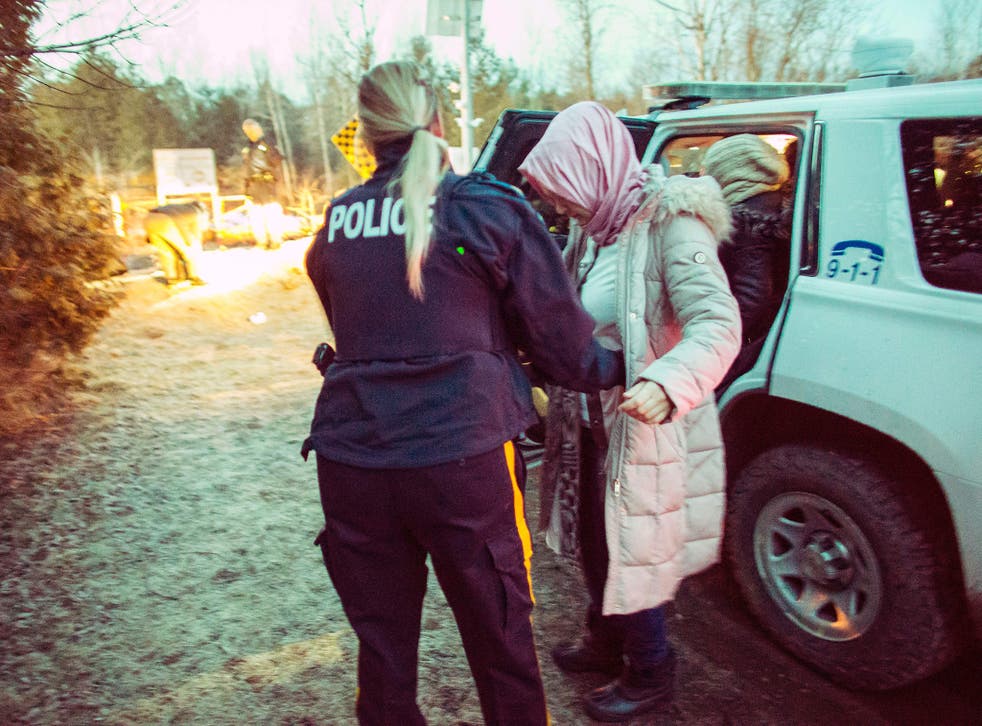 When Saturday Night Live first portrayed Donald Trump's chief adviser, Steve Bannon, as the Grim Reaper, it didn't take long to figure out who – or, more appropriately, what – the duo's first victim might be. It is likely that one day the pulse of the American Dream will beat again. For now, with the recent surge of deportations, blocked entries at customs and a travel ban on seven majority-Muslim countries, it is as good as dead.
For so many refugees, the promise of America must feel like a mirage; to finally arrive at a destination that from afar seemed synonymous with democracy, liberty and opportunity, and now, up close, has revealed itself to be just as prone to some of the darker properties of despotism as the countries from which they have fled. Now that the lamp beside the golden door seems to have been snuffed out, the huddled masses have little choice but to pin their hopes on the US's northern neighbour, Canada. Trudging through waist-deep snow and braving the bitter cold, hundreds of refugees in the US have been risking their lives this winter trying to make it into the country to the north.
What makes the journey so perilous is that, in order to get into Canada, asylum seekers are forced to make their way to unguarded parts of the border, due to an agreement between Canada and the US that states refugees must apply for asylum in the first country in which they arrive. Those who show up at official border crossings are likely to be turned away, whereas those who suddenly appear on Canadian soil will be given to the chance to make a refugee claim.
The Safe Third Country Agreement, signed between Canada and the US in 2004, is rooted in the idea that both countries are equally safe for refugees. But now that so many asylum seekers are willing to risk life and limb to flee the US, that may no longer be the case – and Canada must decide just how long it is willing to help maintain the status quo.
The SNL sketch that has Donald Trump 'especially upset'
Canadian Prime Minister Justin Trudeau has already faced criticisms from both left and right for failing to come up with a swift solution to the border crossings. The opposition Conservatives have called for an increase in border enforcement to stop the crossings altogether, painting a picture of hordes of migrants racing across the country's fields illegally, when in fact, their numbers have been a drop in the pond when it comes to Canada's refugee programme.
Canadians are not immune to right-wing sentiments and in Emerson, Manitoba, where many of the refugees coming from the US have been crossing over the border, local news outlets have reported growing tensions among residents. In a report by CTV, one resident complained to local MPs: "Why don't these people come to our country the way everyone else had to? The legal way." He added: "You're bringing people from the US and giving them accommodation and feeding them and giving them money to survive."
"The legal way" could be more easily achieved, members of the New Democratic Party have said, if the Prime Minister chose to suspend the Safe Third Country Agreement so that asylum seekers can be processed safely at official border posts.
In 90 seconds: Trump and Trudeau differ over border control
The Canadian Council for Refugees (CCR) has also called on the Canadian government to withdraw from the pact. "The US was never safe for all refugees, and is now even less safe," the CCR said in a statement last month. "Withdrawing from the Agreement would mean that those needing Canada's protection could apply in an orderly way at the border, rather than being forced, as now, to cross the border irregularly, putting themselves at physical danger and promoting opportunities for smugglers."
But, so far, the Trudeau government's approach has been to simply "wait and see" what happens. The country's immigration minister Ahmed Hussen told the House of Commons last month that Canada has no plans to rescind the agreement – even if it is effectively encouraging asylum seekers to put their lives on the line in pursuit of safety and freedom.
Perhaps that's why, as a Canadian, I find it difficult to see as heartwarming the videos and photos of smiling border officers greeting (or, more likely, arresting) asylum seekers once they have made it onto my home country's soil. It is one thing to turn a blind eye to those crossing the border, as the Trudeau government has chosen to do; it is quite another to extend a welcoming hand.
With the Trump administration showing few signs of slowing down, despite assurances of "compromise", and as the winter snow gives way to spring, we can only expect that the number of asylum seekers showing up at Canada's border will continue to grow.
Rather than waiting to see how long it takes for the crossings to turn into a crisis, the Trudeau administration should prioritise the need to encourage safe and legal immigration. And the first logical step would be to stop honouring an agreement that Donald Trump's presidency has rendered obsolete.
Register for free to continue reading
Registration is a free and easy way to support our truly independent journalism
By registering, you will also enjoy limited access to Premium articles, exclusive newsletters, commenting, and virtual events with our leading journalists
Already have an account? sign in
Register for free to continue reading
Registration is a free and easy way to support our truly independent journalism
By registering, you will also enjoy limited access to Premium articles, exclusive newsletters, commenting, and virtual events with our leading journalists
Already have an account? sign in
Join our new commenting forum
Join thought-provoking conversations, follow other Independent readers and see their replies