Calling vegans 'extremists' leads to violence – what we really want is to talk
I can honestly say that nobody I know through veganism has ever wished death on an individual, even when some of them witnessed slaughterhouse workers urinating on pigs as they stepped out of a lorry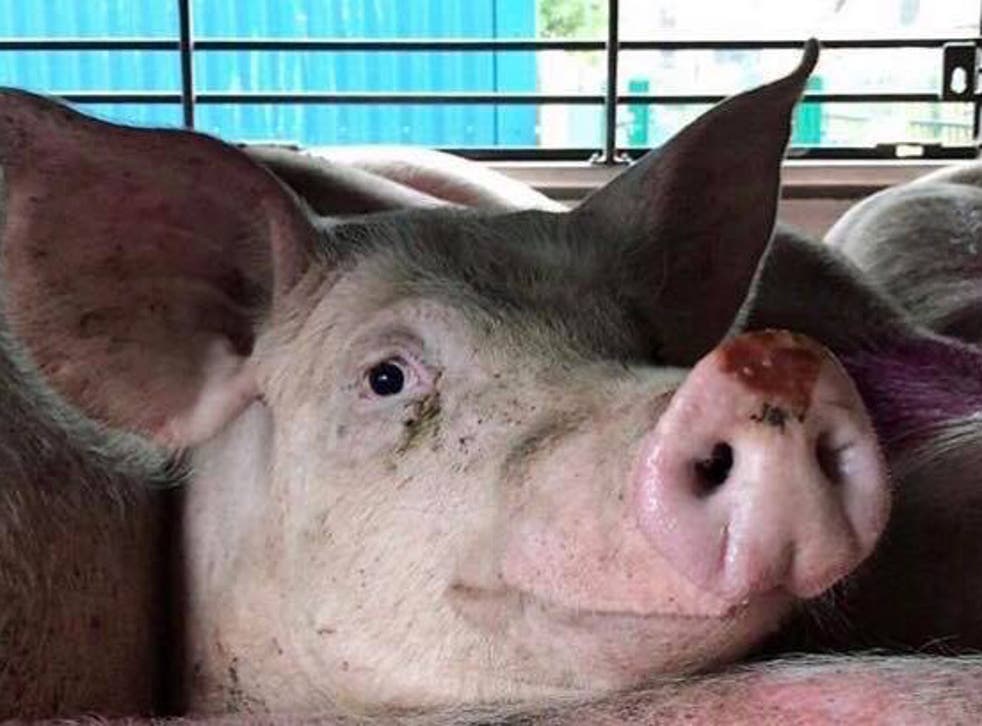 February was a terrible month for the vegan movement. Alison Waugh, a trainee farmer in Northumberland, said her family had received notes from vegans that said "go die".
She later admitted that she had not actually received any death threats specifically aimed at her, but the damage was already done. Farmer after farmer came forward to say that they had experienced the same.
Vegans defended themselves by breaking the internet with screen shots of threats they had received from the other side. An animal rights activist filmed slaughterhouse workers throwing animal filth and blue dye at her over a wall. Just a week later, activists in Birmingham were attacked by a slaughterhouse worker, who was arrested after he threw an individual to the floor and kicked him repeatedly in the head.
Prominent vegan campaigner Earthling Ed was lunged at when he was laying roses for animals outside of a livestock market.
It's as though a public declaration of annoyance at vegans has given people licence to attack them.
Vegans storm steak Melbourne restaurant in protest
And who can blame the public, when it has become disturbingly normal to label active vegans as "extreme"? Extremism means something very different to me. As a former humanitarian aid worker, I have visited Pakistan and the Syrian border, and witnessed first-hand the real impact of proper extremism. Rape, murder and extreme violence. Decapitation. Shootings. Murder for homosexuality. This is real extremism.
It should never be compared to standing outside of a slaughterhouse with a placard and asking for two minutes to bear witness to animals, or breaking livestock out of farms.
Calling vegans "extremists" is dangerous. It implies that vegans perpetuate violence against farmers, slaughterhouse workers or animal eaters generally, and this, in most cases, is just not true. I can honestly say that nobody I know through veganism has ever wished death on an individual, even when some of them witnessed slaughterhouse workers urinating on pigs as they stepped out of a lorry.
For the most part, we get on with people. The Save Movement, for example, have good relationships with slaughterhouse workers up and down the country. They have written agreements with some of them. When a video of an attack on activists was recently published online, slaughterhouse workers from other locations messaged the vegans involved to make sure that they were ok.
This communication is more of what we need, because we really must do something about farming. Calling vegans extreme stops people from listening to our very serious message.
Last year a report by WWF confirmed that excessive animal consumption is destroying the planet. The UK food industry alone is directly linked to the extinction of 33 species. Eating animals you could survive perfectly well without is worsening climate change. If we're not careful, there won't be anything left for our children.
It may feel like you could never give up animal produce, but you could. Veganism is the UK's fastest-growing lifestyle movement. Thousands of people are doing it. Many of them, just like you, probably thought the same at some point.
There's even help out there for farmers. The Vegan Society's Grow Green campaign showcases success stories of those who have already made the switch from animal agriculture to growing plant proteins. They're reporting lower running costs and better stability, as well as an improved sense of purpose and personal wellbeing.
This letter to farmers, from tellitlikeitreallyis.co.uk, is a great start. With more communication like this, we can make a real difference. It's time we all stop shouting at each other and start talking.
More listening needs to happen, too. It's the only way we can work together to change the future for our planet and its animals – and that, no matter what you may have been led to believe, is all vegans actually want.
Join our new commenting forum
Join thought-provoking conversations, follow other Independent readers and see their replies