We affect praise for Corbyn's 'authentic' voice, yet mourn the loss of Bowie's endless reinventions
I'm all for strange, which is why I love pelicans, but the millions of mourning fans cannot be strange to each other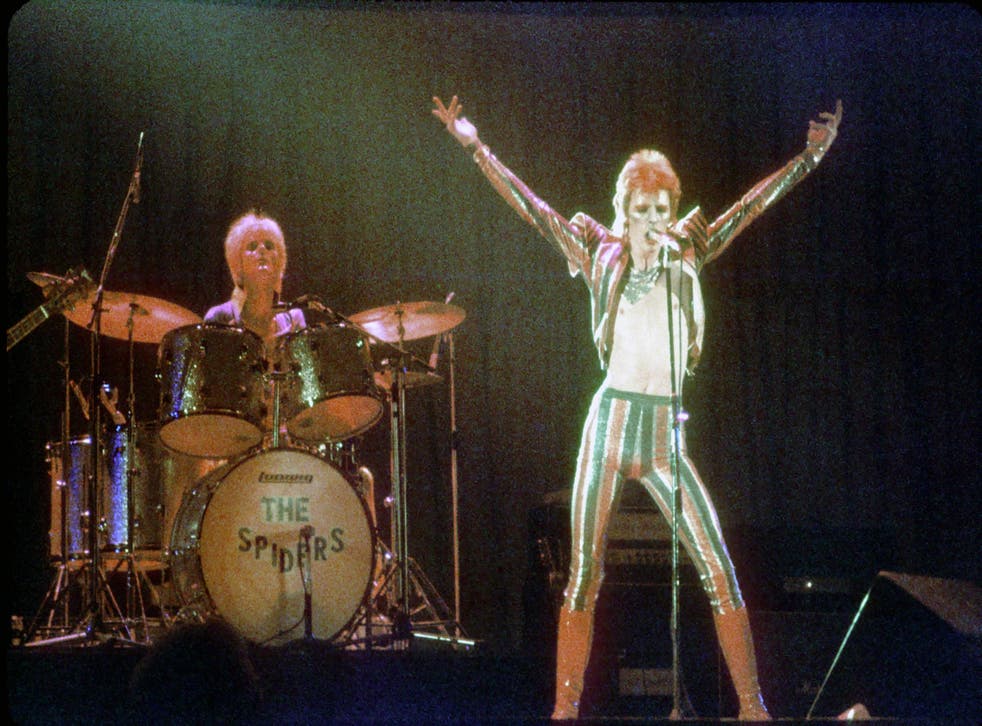 So who's your favourite – Bowie or Corbyn? Am I saying you have to choose? Well, of course you don't have to do anything. You can pair whomsoever you like. Mother Teresa and Madonna, Hitler and Gandhi, Bruce Forsyth and Nijinsky. There's no law that says you have to be consistent in your preferences. But sometimes one nail does drive out another. And if you believe it is the highest virtue for a person to remain for ever himself, it is hard then to assert that the highest virtue is for a person to be for ever someone else.
The buzzword last year was "authentic". For some of us its reappearance was like encountering an old friend. Authentic! God, how long was it since we'd bandied that about? Fifth form, was it? When we were discovering Sartre, Norman Mailer and Dostoyevsky's Notes from the Underground. We were all Kierkegaardian existentialists by the time we made it to the lower sixth, solemn, troubled and vain, and vying with one another to be the most authentically individual, true to nothing except ourselves.
It was reading Hamlet that ruined the concept of authenticity for me, not because Hamlet lacked existentialist credentials himself – indeed, as an earlier discontented Dane he could be said to have laid the ground for Kierkegaard – but because the line "to thine own self be true" was spoken by that humourless old ninny, Polonius. If Polonius was into authenticity, then it was time I got out of it.
I thought of Polonius when Jeremy Corbyn turned up last summer, as expectant as a June bride without a groom, in contention for the vacant Labour Party leadership, a job which obviously no one else really wanted. I'm not saying that Corbyn is a humourless old ninny, only that to his own self he had been true. Anemones are the flowers that designate authenticity, and behold, he bore anemones in his bouquet.
Further evidence was found in old newsreels fished out by enemies and supporters alike, wherein he was to be seen saying the same things in 1975, the year Bowie produced his Young Americans album, that he'd be saying in 2015. Plus c'est la même chose, plus c'est la même chose.
For those who are sixth-formers in actuality, or are still sixth-formers in their heads, Corbyn's steadfastness of opinion is a thrilling earnest of his integrity. Those who have moved on ask where's the virtue in believing what you've always believed if what you've always believed is wrong. Still waters run deep, aver his admirers. Still waters run stale, his detractors reply.
And now, as though we need to be reminded that the freshest waters run the freest, David Bowie receives tributes from all sides on account of his ability to reinvent himself endlessly. I met him a few times in the late Eighties or early Nineties when I was on the editorial board of an art magazine called Modern Painters and he, at his own request, came along to meetings to give the magazine a fillip, create a bit of art world mischief with the novelist William Boyd, and generally add a bit of glamour. Modern Painters was sometimes accused of being old fashioned. OK, so which of the more avant-garde publications had Bowie advising and writing for them?
It would be wrong to call this another of his changes of direction because contemporary art had always been among his passions. But it was no dilettantish passion and proved his versatility right enough. He spoke with authority and great knowledge about the artists he liked and more than held his own against experts in the field, sometimes championing work none of us had seen, and not just work done by the cutting-edge artists of the hour.
The patronising assumption is that someone as of-the-moment as a rock star must have exclusively of-the-moment – and therefore transitory and merely fashionable – tastes. But the very fact that Bowie was prepared to be associated with Modern Painters at all – a magazine named after Ruskin's great work, and not head over heels in love with the artists who were winning Turner Prizes in those days – proved his seriousness and independence.
What it also shows is that he cannot be claimed exclusively by those who belong to the Corbyn tendency. I never believe any politician talking about popular culture. But there is no particular outrage, apart from the inordinacy of their praise, in people such as George Osborne or Boris Johnson claiming Bowie as an influence.
He was himself as much a conservative as he was a rebel. Indeed, the suits he wore for Modern Painters meetings would have put a banker to shame for sobriety. Grey, as I recall, with a fine stripe. Had he been offering mortgages I'd have taken one. In our company, at least, he neither swore nor glottal-stopped, nor did he affect prole-speak. Whoever finds it hard to comprehend the idea of Bowie as a conservative has spent too much time inside that cocoon we call "authenticity".
Beyond Bowie's passion for English art I had no reason to be particularly interested in him. I never sought his music out, didn't set store by dressing up or wearing make-up, and couldn't connect to gender uncertainty. I had enough on my plate knowing what I was. So I leave it to others to be devastated.
There is, though, a paradox in this expression of universal love for a man who urged us to be strange. I'm all for strange. It's why I love pelicans. But pelicans do their own thing. Yet the millions of mourning fans are all doing the same thing. They might be strange to me, but they can't be strange to one another. So it all goes to show – there's a nonsense in idolatry, whether your idol has a fresh idea every time he gets out of bed or hasn't had a new one since he first read Kierkegaard.
Do you want to be strangely various or do you want to be purely yourself? Either way, revere no one.
Register for free to continue reading
Registration is a free and easy way to support our truly independent journalism
By registering, you will also enjoy limited access to Premium articles, exclusive newsletters, commenting, and virtual events with our leading journalists
Already have an account? sign in
Register for free to continue reading
Registration is a free and easy way to support our truly independent journalism
By registering, you will also enjoy limited access to Premium articles, exclusive newsletters, commenting, and virtual events with our leading journalists
Already have an account? sign in
Join our new commenting forum
Join thought-provoking conversations, follow other Independent readers and see their replies