Where exactly has the Dalai Lama's compassion gone after his latest shocking comments about refugees?
In suggesting that Germany might "become an Arab country" if it takes in too many migrants, the world leader has displayed little more than everyday xenophobia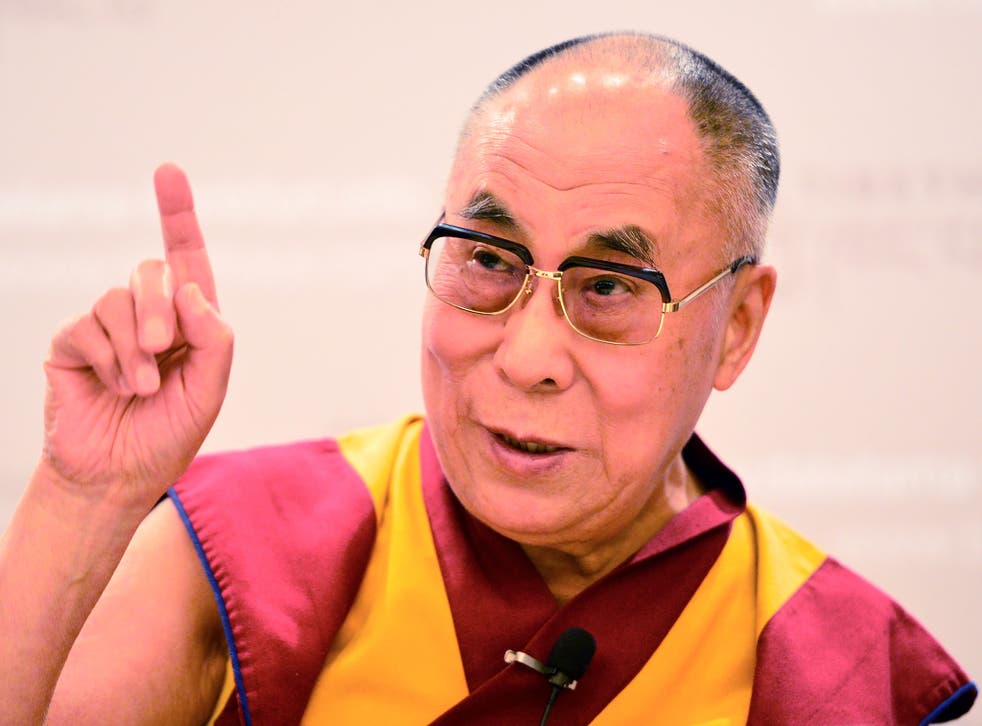 This week the Dalai Lama, the embodiment of humanity and compassion for millions around the globe - and a migrant himself, to India - has spoken against Europe taking in migrants.
"Europe, for example Germany, cannot become an Arab country," he said to a German newspaper while discussing the plight of refugees. "From a moral point of view, too, I think that the refugees should only be admitted temporarily."
I'm a massive fan of the Dalai Lama, but we need to think twice before we accept such casual xenophobia.
Of course there are vast political differences between EU migrants and asylum-seekers escaping war-torn lands. But the basic message that "different" is bad might just leave us with a Brexit result later this month that is based on mistruths and groundless fears. Supporting the widespread prejudice about European countries somehow being "taken over" or "becoming Arab" by taking in refugees and migrants from Arab lands is insidious and dangerous.
Prime Minister David Cameron has made no secret of how he really thinks of the lives of those desperate enough to come to a country governed by his neoliberal fist. Taking a lead out of Ukip leader Nigel Farage's book, Cameron has referred to a group of migrants as a "swarm" and a "bunch": a faceless mass, rather than a humanitarian crisis.
Let's not forget that his party was recently forced to backtrack on an amendment that was initially voted down to take in lone child refugees from Europe.
Germany's Chancellor Angela Merkel initially opened Germany's doors to migrants in an unprecedented act of unity, but has since backed down on her generosity.
Under a deal she made earlier this year, Turkey is taking back migrants who travel to Greece illegally if they do not apply for asylum or if their claim is rejected. However, there are concerns that Turkey isn't a safe country for migrants because of the conditions of refugee camps.
Germany is also poised to install tougher conditions on migrants - adding two years onto the existing wait to qualify for permanent residency and adding conditions such as language skills and classes in German culture.
Turkey's two million Syrian refugees

Show all 11
The eagerness of Turkey to join the EU is gold dust for the Leave campaign. The (false) fear that Turkey, as it stands today, could be a member of the EU is enough for people to vote for a Brexit because we see Turkey as corrupt and politically backward. We don't think about its citizens - who are too scared to speak out against the government, and who might want a better life that the UK could offer.
A study last year found that British hostility to immigrants and the EU threatens London's status as one of the world's leading business cities.
We want to keep migrants out of the UK to preserve Britishness, whatever that is. But we risk our national identity by blindly refusing to integrate others. We are becoming socially isolationist.
In a rare and refreshing change of tone to the EU debate, Pope Francis recently urged the world to show "common humanity".
"The world has not forgotten you. The world will be judged by the way it has treated you," he told refugees.
Moment huge ship full of refugees capsizes
We don't have enough influential voices speaking out against the anti-migrant vitriol - and its less malevolent cousin, confusion - to lead Britain through its self-inflicted identity crisis.
The Dalai Lama's comments are further proof that we need someone from the In side of the EU referendum to publicly, and very clearly, put some humanity back into the Brexit debate. Because standing up for the UK's multiculturalism is nothing to be ashamed of.
Join our new commenting forum
Join thought-provoking conversations, follow other Independent readers and see their replies