Who believes in 'the Islamic rape of Europe'? Quite a lot of us, apparently
A Polish magazine this week published a cover showing a white woman being groped on all sides by dark-skinned hands. It was a sad continuation of a familiar narrative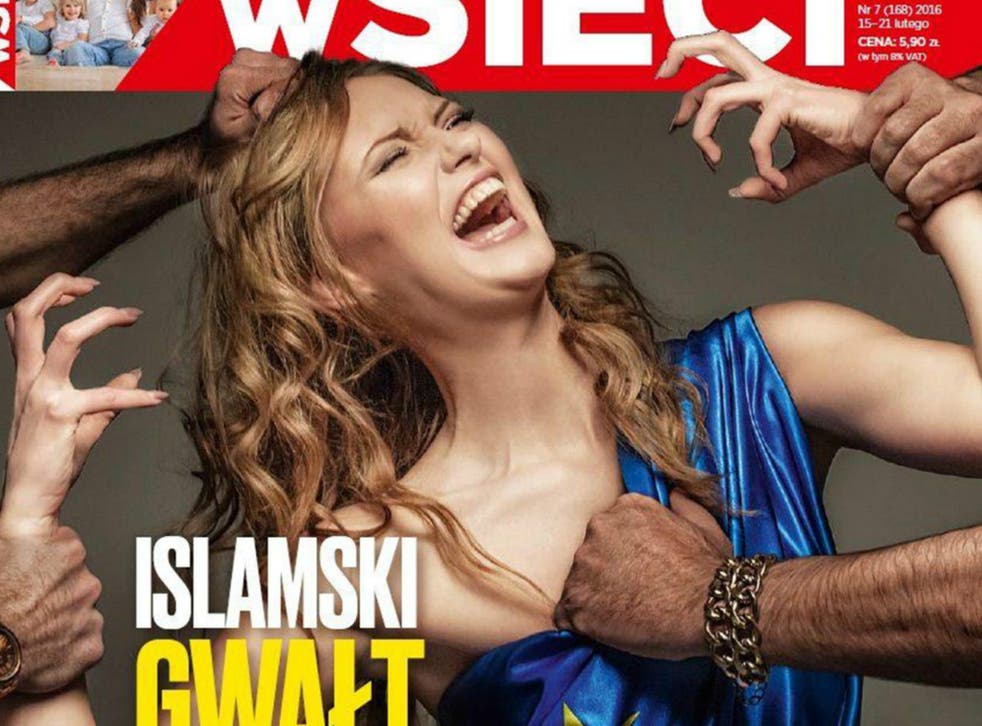 "The Islamic Rape of Europe" was headline for the front page of Polish magazine wSieci this week. An accompanying image depicts a blonde-haired white woman being groped on all sides by dark-skinned hands.
The imagery is metaphorical - the woman is wearing a dress made of the European Union flag - but also a direct allusion to the recent case of migrant men sexually abusing women in Cologne and other European cities. And, crass as it is, it is a long-standing motif within Western history.
From the earliest days of European colonialism, art and literature regularly depicted brown and black "savage" man raping or sexual abusing innocent white woman.
Take for example 19th and 20th century British erotic literature, with bestsellers such as 'The Lustful Turk', 'A Night in a Moorish Harem' and 'The Sheik', all of which are fictional accounts of a sexually aggressive foreigner abusing and usually raping an innocent white woman.
In art, depictions of white woman as sexual slaves in the harems of Arab and Middle-Eastern sheikhs were just as common.
Following the horrific sexual abuse in Cologne on New Year's Eve, Germany handed out guides instructing migrants on proper conduct, including cartoon depictions stressing they should not grope women – guidance wonderfully skewered by satirist Karl Sharro.
The same paternalistic and patronising advice assumes that the sexual abuse was not so much a crime committed by a minority of people, but a general case of migrant men not being aware of the higher moral values of Europe.
The racializing of crimes, particularly sexual abuse, gives fire to the rhetoric of far-right groups. Tommy Robinson, at the inaugural march of his new organisation, PEGIDA UK, railed that, "We have a big problem. The facts are I didn't rape 800 women, I didn't attack 800 women, Muslims did".
It also encourages the idea that certain races or groups deserve to suffer communal guilt for such crimes, seen most horrifyingly in the case of the murder of elderly Muslim Muhsin Ahmed, whose accused killer is said to have beaten the man to death in a "raging fury", calling him a "groomer".
Whether Europe would like to admit it or not, the Orientalist myths that pervaded colonial art and literature of yesterday are still prevalent now. They influence the way we judge and respond to issues of crime, migration, race and religion.
They dictate whether a case of sexual abuse is a scandal or another sad story, whether we are outraged at a group or simply dismayed on behalf of an individual.
The first step towards getting rid of these stereotypes is to recognise they exist. And one Polish magazine this week made it very, very obvious that they still do.
Join our new commenting forum
Join thought-provoking conversations, follow other Independent readers and see their replies