Why gay people like me shouldn't listen to Boris Johnson and his calls for us to vote to leave the EU
The EU was banning workplace discrimination against LGBT people 'back when Boris Johnson was writing that gay marriage could lead to three men and a dog getting married'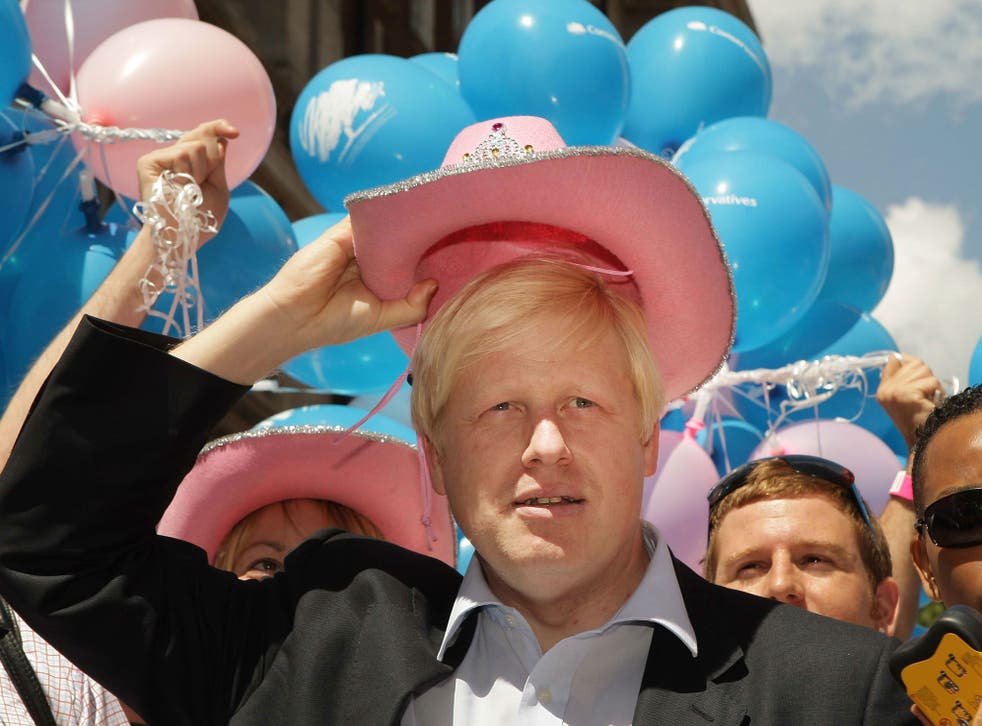 I was amused yesterday to hear that the Mayor of London Boris Johnson is calling on gay Britons to vote to leave the European Union in June's UK Referendum. Apart from finding his comments absurd, they once again reminded me that he is an opportunist politician.
Boris Johnson says that LGBT people should vote to leave the EU because this will ensure their rights are protected, saying the UK has the "most progressive attitudes to LGBT issues anywhere in the world". Yet, under the EU's treaties and law, LGBT rights are already protected.
In all member states sexual activity between those of the same-sex is legal, and discrimination in employment for example has been banned since 2000. This means, Europe has been protecting our rights as gay people for over 15 years.
It's no secret that when it comes to same-sex unions and marriage, along with adoption issues, each state in the EU has different laws which might not please all. However, it would be disingenuous of us Brits to throw stones at glass houses when marriage equality has only just become law in Britain. In Northern Ireland, it is still illegal in the year 2016. It was Europe as a Union that paved the way with marriage equality, with countries like the Netherlands and Spain well ahead of the UK. As British LGBT people, we may have more rights now, but it wasn't always like this. The EU has played its part in making life for gay people more equal, with our European brothers and sisters often leading the LGBT way.
The pioneers of LGBT rights in 2015

Show all 6
As the London Assembly Member Tom Copley pointed out yesterday, the EU was banning workplace discrimination against LGBT people 'back when Boris Johnson was writing that gay marriage could lead to three men and a dog getting married'. So, Mr Copley is right when he says we should treat the current Boris 'stunt' with the contempt that it deserves.
It's important not to dwell on the past, but let's not forget that it was Mr Johnson's party that introduced the Section 28 law which prohibited local authorities from promoting homosexuality or gay 'pretended' family relationships. The MEP Seb Dance commented on this saying, 'While the European Union was working to extend LGBTI around the world, Boris Johnson talked up the merits of Clause 28 and its ability to stop 'leftwing local authorities to waste taxpayers' money on idiotic and homosexual instruction'. It wasn't until a Labour government, that this discriminatory act was finally repealed.
I'm neither in the 'stay' or 'leave' camp and don't speak for either, but you don't have to be a politician to know that being part of Europe is good for Britain and its LGBT people. We are stronger because we're in the EU, and a vote to leave would jeopardise this. For LGBT people, leaving Europe really would be a leap into the dark.
Register for free to continue reading
Registration is a free and easy way to support our truly independent journalism
By registering, you will also enjoy limited access to Premium articles, exclusive newsletters, commenting, and virtual events with our leading journalists
Already have an account? sign in
Register for free to continue reading
Registration is a free and easy way to support our truly independent journalism
By registering, you will also enjoy limited access to Premium articles, exclusive newsletters, commenting, and virtual events with our leading journalists
Already have an account? sign in
Join our new commenting forum
Join thought-provoking conversations, follow other Independent readers and see their replies