Instead of telling women to avoid being harassed, maybe we should just tell men to never leave the house
Women are being told to jog in groups to stay safe, but I rather enjoy going outside alone – the autonomy makes a woman feel almost as though she might be regarded as equal to men, or at least squirrels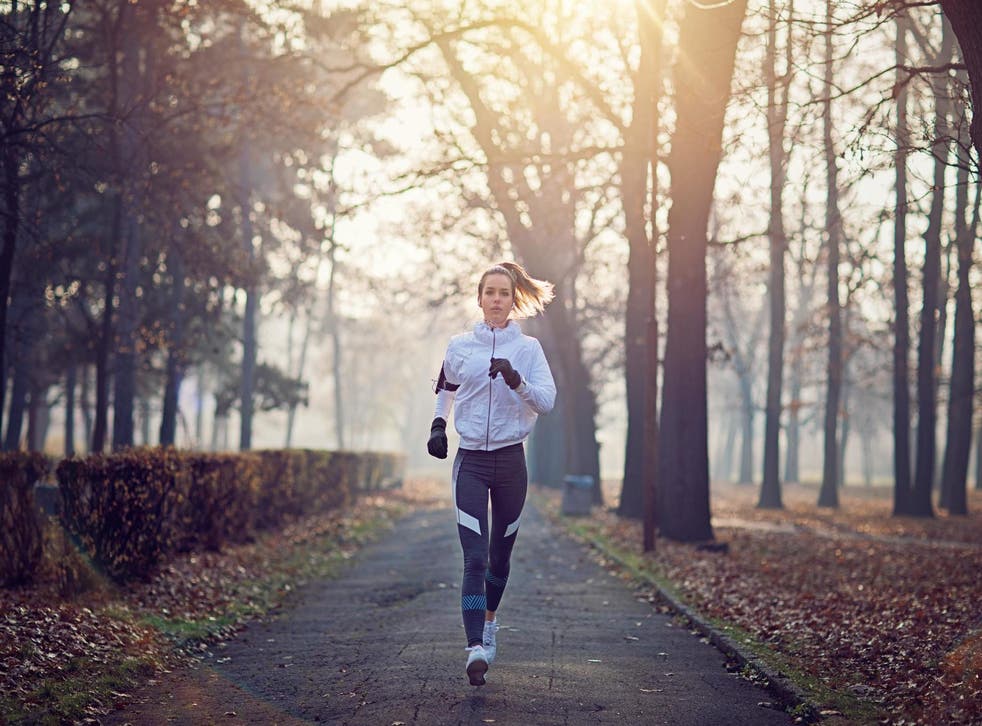 After much head scratching and numerous complaints by women, the Avon and Somerset Police has concluded that there is a correlation between women leaving the house and them being harassed. The more women leave the house, they've found, the more they are harassed. If they leave the house alone – and in jogging gear (God forbid) – this correlation becomes ever closer. Like Newton's apple to the head, all has revealed itself.
Their solution to reduce this harassment? For women to cease jogging alone, of course.
The advice comes as part of the force's #JogOn campaign, launched in partnership with anti-harassment group Bristol Zero Tolerance. Aiming to enable women to feel safe while running in the region, the campaign stipulates that it will empower them to run outside without feeling intimidated, by providing "practical tips and guidance on how to stay safe and feel confident in [their] local streets, park or footpath".
Detective superintendent Marie Wright acknowledges that women can feel "uncomfortable, intimidated or scared to go out for a run", suggesting that instead of braving the great outdoors alone, women could exercise in a group as a "great way to feel safe, keep you motivated and deter threatening behaviour". She suggests women might consider joining a running club.
It's difficult to ascertain which part of this advice, exactly, the force considers to be "practical". Never mind needing to change your entire routine to fit with that of a running club and having to run alongside strangers with whom you might have no desire to speak (possibly having gotten into running in the first place to be alone with your thoughts), the idea that it is considered in any way empowering to be told not to run alone would be laughable if it weren't so terribly troubling.
Women's march 2019 – global protest in pictures

Show all 30
Once again, women are told, in no uncertain terms, that they bring harassment upon themselves, with their form-fitting leggings and that oh-so-enticing perspiration. Should we wait until the running club meets once a week and remain locked up indoors in the interim? Or may we walk outside alone, too? I, for one, rather enjoy leaving the house alone – something about that sense of autonomy makes a woman feel almost as though she might be regarded in equal standing with men, or even squirrels rather than pack animals.
Sadly, this sort of moronic advice isn't new. Last year, following a spate of sexual assaults in northwest London, the Metropolitan Police urged women to avoid using headphones while walking home alone, in order to remain alert. They seemed to be oblivious to the fact many women use headphones as a device with which to deter harassers – something numerous women pointed out on Twitter at the time. And let's not forget the absurd suggestions of female-only train carriages, which were troublingly making the rounds in 2017.
While I'd like to commend Avon and Somerset for at least attempting to tackle the problem of female joggers feeling unsafe – while other forces still don't make tackling misogyny a priority – the reality of "suggestions" like these is that they do far more damage than they purport to prevent. They strengthen a systemic blind-eye-turning to sexism, placing the onus upon women to deter these incidents and ensuring that female progress remains stagnant. They are symptomatic of a policing system rife with ignorance – one content with proposing reactionary suggestions to women in order to merely dismiss a problem rather than actually tackle it head on.
Telling women to move in packs doesn't moderate harassment, it tells us to – once again – adapt our behaviour to fit that of the attacker. Harassers continue to dictate the terms of women's existence and their behaviour is thus legitimised, even tolerated.
And why stop at running? Why not follow in Taliban footsteps and ensure women be accompanied by an escort every time they leave the house? Are we really still this backward? This sort of misguided advice is exactly why so few women report harassment and attacks: for fear they are blamed rather than supported. So now, as well as having to explain our choice of clothes, we have to explain why we dared go running alone? Funny how few men are told to move around in groups to prevent stabbings and muggings. How can safety in numbers apply when we make up half of the population?
Support free-thinking journalism and attend Independent events
It's exhausting how many times women have written about, marched against and spoken out around the stubbornly pervasive fable that harassment, assault and rape are in any way the fault of the victim and yet, like Teflon, the statistics, the facts, the reality of the problem never seem to stick.
As women, we shouldn't have to repress our lives so that harassers can operate freely – we need our police forces to place the burden of crime on the perpetrators, not fuel the fable that these incidents could have been prevented had we just not had so much to drink, worn a more demure outfit, been jogging with a friend... or whatever redundant excuse happens to be thrown around on a given week. One wonders if the police had made the correlation between men leaving the house and harassment, whether we'd have seen a different campaign: "Harassers! Please don't leave the house. Please don't approach women, speak to women or even look at women. Why not consider only moving around with handcuffs on?"
We can't solve a problem if we don't name it. This sort of advice is more than just tone deaf, it's dangerous. Let's stop pandering to the perpetrators, shall we?
Join our new commenting forum
Join thought-provoking conversations, follow other Independent readers and see their replies