A female manager at the World Cup shows how far women in sport have come – and how far is left to go
This year we've seen and heard more female presenters, pundits and commentators than ever before – and they all understand the offside rule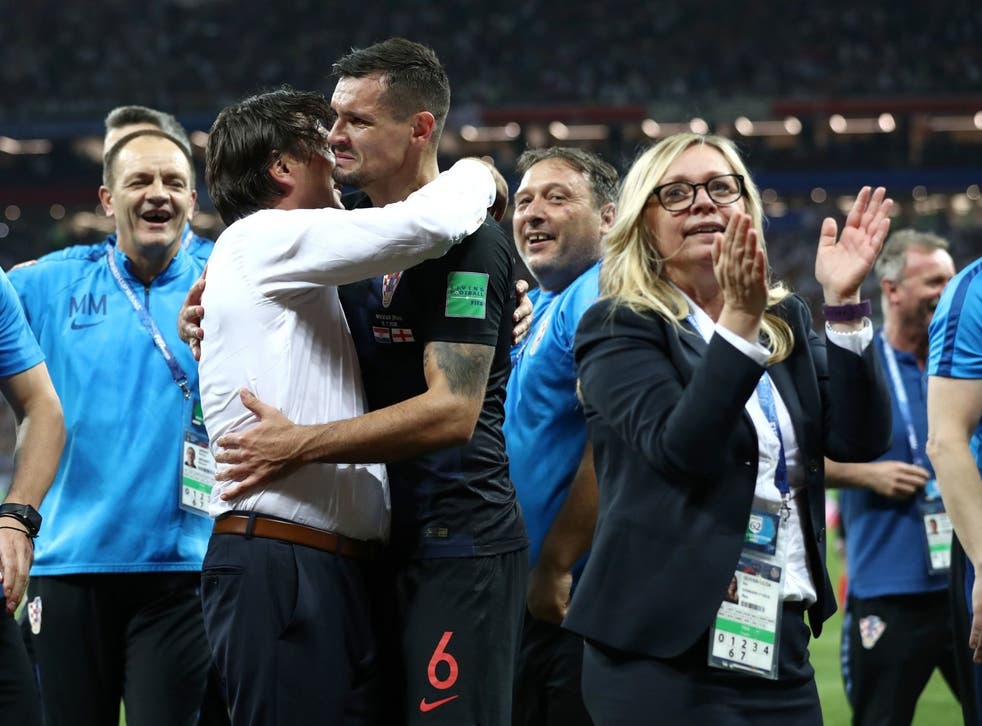 When England lost to Croatia on Wednesday, it was the first time England had played in a World Cup semi-final since 1990. Except, of course, it wasn't – as many pointed out.
In 2015, England reached the same stage at the Women's World Cup, captained by Steph Houghton, Manchester City skipper and a three-time goal scorer in the London Olympics.
But it was, however, the first time a woman has ever sat on the Croatian bench at a World Cup match.
Croatia's head coach and top manager Zlatko Dalic was joined by team manager Iva Olivari: a vocal advocate of women's representation in football who has been described by the team as "their guardian angel".
Incidentally, she is also a former tennis champion and one of the greatest female players in the sport, who once beat Steffi Graf. We'll get another look at her in today's World Cup final.
Silvia Dorschnerova, who serves as a delegate for Spain's national team, has also been on the sidelines in this tournament: her fifth World Cup.
So casual ignorance aside, this World Cup has seen great strides for women in football. The BBC director of sport, Barbara Slater, has massively increased coverage of the women's game, and we've seen multiple trailers advertising female football during the corporation's broadcasting of the competition.
Croatia's (first) female president, Kolinda Grabar-Kitarović, was widely praised for being on the sidelines at the quarter-final against Russia in a team jersey, before jetting off to the Nato summit.
An online movement was launched to tackle sexist perceptions of football viewers, called #WeAreFemaleFans.
The "Not-So-Beautiful Game" campaign highlighted recent studies that have shown how much violence against women increases when England play (26 per cent), and how much when they lose (38 per cent), drawing widespread attention to the correlation between domestic abuse and football.
Both BBC and ITV have women on their punditry teams, including reporter Seema Jaswal and former England internationals Alex Scott and Eniola Aluko respectively. In the US, former England striker Kelly Smith has appeared on Fox Sports as an analyst and journalist Viviana Vila heads the coverage for Spanish language network Telemundo Deportes. Jacqui Oatley, arguably the face of women's football on the BBC, has hosted the World Cup for ITV.
But it was only 11 years ago that she became the first women to commentate on Match of the Day, in 2007 – a move dubbed by the tabloids as "From Motty to Totty".
It was also only this year that Chelsea stopped referring to the women's side as "Chelsea Ladies" and the men's team as the "first team" (ironic, considering the women's side actually won the FA Cup and Super League this season).
And it was only this summer that BBC Sports journalist Vicki Sparks made history by becoming the first ever woman to commentate live on a World Cup game, during Portugal's clash against Morocco. Of course, she suffered the inevitable misogyny from trolls on Twitter, but by and large this was a widely celebrated move.
Oatley is a key example of how far we've come – but how far we still have left to go before women have an equal playing field.
In 2017, footage from a camera phone showed then Sunderland manager David Moyes threatening Sparks. "You still might get a slap, even though you're a woman. Careful the next time you come in."
The 53-year-old was forced to apologise in a mortifying press conference – but his apology had just a whiff of the Donald about it: "I think if you look at my history, I have actually been one of the biggest ones campaigning for women's football.
"In the heat of the moment, I made a mistake in my comment … I have spoken to the girl, who I apologised to, and she accepted it."
(He referred to her as "the girl" twice in the press conference. Never by her name.)
When asked "do you think it will cost you your job", he replied: "No." And he was right. He was fined £30,000 by the FA, which was nothing more than a slap on the wrist.
I suppose he was emboldened by the former Paris Saint-Germain manager Laurent Blanc, who in 2013 responded to a question from Swedish sports journalist and AftonBaldet reporter Johanna Fränden: "Women talking football tactics, it's so beautiful … You know what 4-3-3 means, don't you?"
Blanc's response is almost a parody of sexism in football, and yet it barely made headlines.
(Fränden said the episode was "far from the most egregious or shocking" sexism she's had to put up with. In her words, the comments were a "reflection of an industry where men have been interviewing men about football since the dawn of time – and where the rest of us are still exotic elements in the great masculine football family".)
And the paterfamilias, former president of Fifa Sepp Blatter, never made any secret about his feelings towards women, with a long history of gaffes and foot-in-sexist-mouth disease.
In 2013, when Lydia Nsekera became the first woman appointed to Fifa's executive committee, he blundered: "Say something ladies, you are always speaking at home, now you can speak here."
That same year, international corruption expert Alexandra Wrage resigned from Fifa's independent governance committee because of "blatant sexism". Heather Rabbatts, the only female director of the FA and the first person of colour, resigned from Fifa's anti-discrimination taskforce after Blatter's re-election.
And who could forget that time he suggested that a way to get fans interested in women's football was to play in "more feminine clothes, like they do in volleyball", and "tighter shorts".
And don't think this sort of thing doesn't happen in a so-called "post #MeToo world".
There is still widespread and vocal resistance to female commentators, who are told to "stay in their lane" and talk only on women's sports because they're so very different– which, of course, is never said about male commentators for female sports.
Aluko and Scott both hit the news this summer as one faced patronising applause from Patrice Evra, and the other had her own analysis repeated back to her by Phil Neville.
Just two weeks ago, broadcaster and former Chelsea and Tottenham player Jason Cundy was forced to apologise for remarks he made on Good Morning Britain, claiming that women's voices were "too high-pitched" for football commentary. "It's like, would you rather listen to Ed Sheeran or Celine Dion?"
Piers Morgan, for the record, called him a sexist pig.
In March, female sports journalists in Brazil launched an anti-harassment campaign after a number of incidents of sexism, harassment and assault.
Gabriela Moreyra, one of the women behind the campaign, pointed out that while police and organisations were making constructive steps to battle racism, the misogyny had yet to be talked about.
The movement is called #DeixaElaTrabalha – "let her do her job".
In this World Cup, Julieth Gonzalez Theran, a Spanish language reporter for German TV news channel Deutsche Well, was grabbed and kissed by a man while broadcasting live from Saransk.
Julia Guimaraes, a Brazilian reporter, experienced similar manhandling when broadcasting outside the Ekaterinburg Arena, and was widely praised for her reaction.
Women's participation in sport may be at an all-time high, but a recent report revealed the extent to which women are still experiencing gender discrimination in the sports industry. Less than half the national governing bodies of sport have achieved the minimum requirement of 30 per cent of women on the board.
Nevertheless, the wave of female-led activism against sexism in football is visibly gathering momentum. Tonight we'll have a woman on the bench managing a team of men, and this World Cup we've seen and heard more female presenters, pundits and commentators than ever before – and they all understand the offside rule. Although we must resist complacency, it's something to be proud of.
The England women's side might have been forgotten and dismissed this year, but they finished third in 2015, and show every sign of challenging for the 2019 Fifa Women's World Cup. Perhaps next year we'll simply be referring to them as "the England team" as well.
The lions may be going home, but the lionesses are coming, and they're the true hunters of the pride.
Register for free to continue reading
Registration is a free and easy way to support our truly independent journalism
By registering, you will also enjoy limited access to Premium articles, exclusive newsletters, commenting, and virtual events with our leading journalists
Already have an account? sign in
Register for free to continue reading
Registration is a free and easy way to support our truly independent journalism
By registering, you will also enjoy limited access to Premium articles, exclusive newsletters, commenting, and virtual events with our leading journalists
Already have an account? sign in
Join our new commenting forum
Join thought-provoking conversations, follow other Independent readers and see their replies