I'm a young, married, professional black father. And I don't exist
Being a young black dad at a mid-week parenting group, you're in for a good couple of hours of staring and awkward encounters. But I can't blame the people there – it's not their fault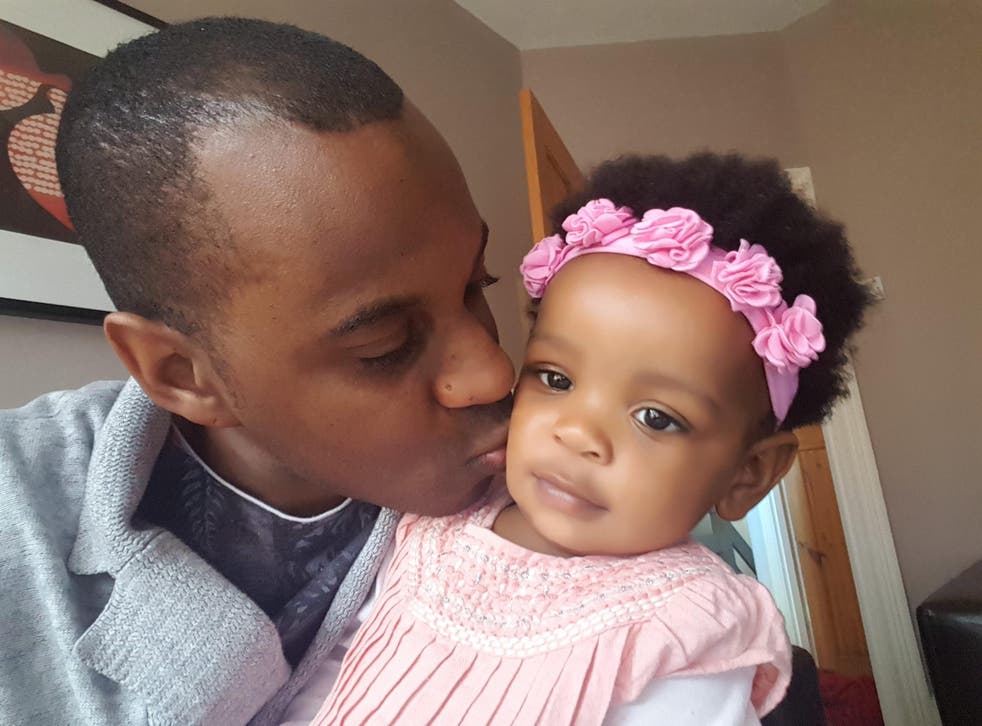 I'm a black, degree-educated, professional, committed husband and father in my early thirties. And to large parts of society and the media, I don't exist.
There are loads of us – most of my friends are the same. We work good jobs, make good money and are heavily involved in the upbringing of our children. We are involved in parenting purchasing decisions, take joint decisions on key issues like education, and some of us even work part-time or not at all in order to be the primary carers of our children.
You wouldn't believe it, but some of us are even stay-at-home dads. But turn on the TV, take a look at mainstream newspapers and magazines (even the parenting-focused ones), have a look at the advertising industry, and you wouldn't even know we existed.
Being a black daddy at a mid-week baby group is an interesting experience. I wish you could try it. Firstly, you're a man – so the gender barrier and all the issues that come with that are already in play. Add to that the fact you are black and young, and you're in for a good couple of hours of staring and awkward encounters. I can't blame the people there – it's not their fault. After all, I don't exist.
I can see the myriad of conclusions that people arrive at: "He must be unemployed", "He can't be with the mother of the child", "He mustn't see the child much", "This must be his one day with the baby". And I know some want to ask me questions: why am I not at work? Do I even have a job? Where is the mother? Why is he wearing his hat like that?!
So what do we do in situations like this? We work extra hard to overcome the awkwardness and standoffish nature of our fellow participants, by being normal, friendly, sleep-deprived parents who aren't quite sure what they are doing. Because we are all normal, friendly, sleep-deprived parents who are not quite sure what we are doing, aren't we?
And if we are, why am I not represented in the media?
A few months back, I was approached about contributing to a Fathers' Day article for a top parenting magazine with some other dads. All was going well until I sent in my photograph, after which there was a significant decline in communication and to my (non) surprise I was excluded from the final article. I came to the conclusion that the editor must have assumed that I wouldn't appeal to their target audience, which in turn means that me and people like me continue to be invisible. So I can't blame the people at the baby groups who read these magazines and watch similar TV programmes, and then act surprised when I walk in.
The 20 best places to raise children in the UK

Show all 20
I want to change the narrative and normalise the young, black, engaged father. I want the mainstream media to realise that they are missing out by not representing and advertising to a new demographic – one with money, spending power and influence.
I started blogging on New Years' Day in 2016. My daughter was three months old. I had loads of questions about fatherhood and wanted to hear about other's experiences. I had all the normal questions that new parents have – like how they were managing with the lack of sleep and a complete upheaval in their lives, and how their relationships with their partners were changing.
All these questions were on my mind and while there were platforms out there with this content, none of the articles were written by people like me, for people like me. There was nowhere online that I felt I could read or discuss all the questions I had. This led me to create a "Mumsnet for dads", which I called MusicFootballFatherhood. I'm trying to make people like me less invisible.
So next time you see that young black guy at a mid-week baby group, remember he's just a normal, friendly, sleep-deprived parent who's not quite sure what they are doing. And please treat him as such.
Elliott Rae is the founder of MusicFootballFatherhood, a safe space for the modern father. You can visit their website here
Register for free to continue reading
Registration is a free and easy way to support our truly independent journalism
By registering, you will also enjoy limited access to Premium articles, exclusive newsletters, commenting, and virtual events with our leading journalists
Already have an account? sign in
Register for free to continue reading
Registration is a free and easy way to support our truly independent journalism
By registering, you will also enjoy limited access to Premium articles, exclusive newsletters, commenting, and virtual events with our leading journalists
Already have an account? sign in
Join our new commenting forum
Join thought-provoking conversations, follow other Independent readers and see their replies