Untying the knot: Why more women are seeking divorce in West Africa
In conservative Niger, women are taking advantage of changing social mores to escape bad marriages and find love. Dionne Searcey reports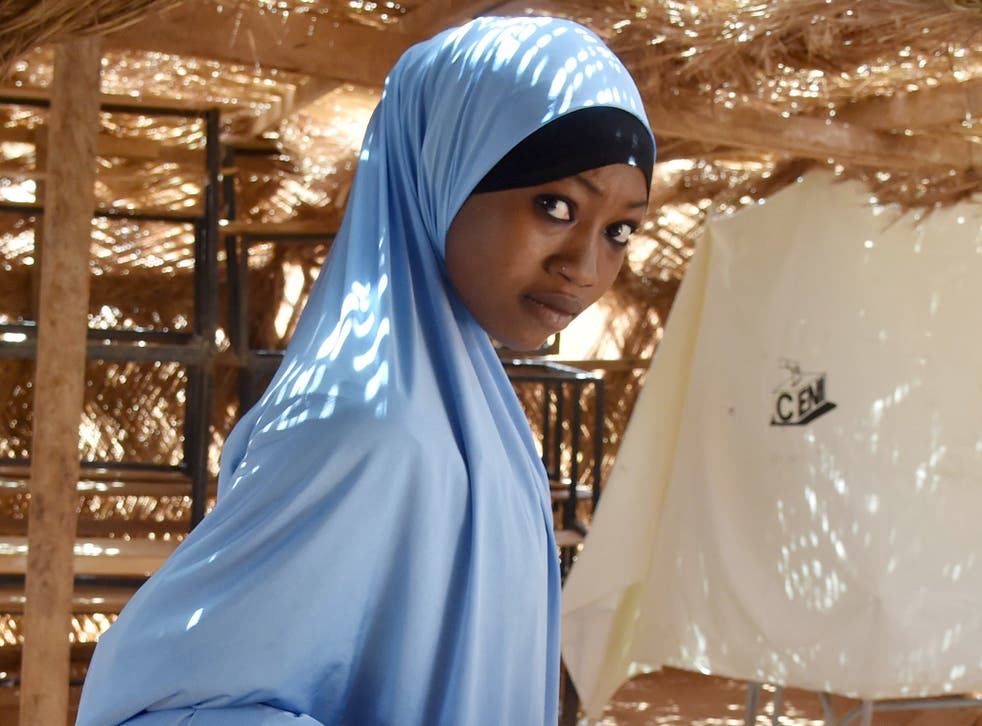 He didn't hit her. He didn't yell. He didn't cheat, as far as she knows. It was just that, less than two years into their marriage, Zalika Amadou's husband had changed. He'd become far too neglectful and indifferent for a young woman who expected, well, more. Her mother, who at 14 had married a stranger twice her age, couldn't understand the fuss. She'd stuck with her husband for five decades until he died.
But for Amadou, who married at 16, simply having a husband was not enough. So, on a busy morning in Maradi, Niger, she sits in front of a judge at a crowded Islamic court on the sidewalk and asks for what young women across the region are seeking like never before: a divorce.
For centuries, women have been expected to endure bad marriages in many conservative pockets of West Africa. Divorce happens, but most often the husbands were the ones casting off their partners. "It's the end of the world when a husband and wife don't stay together," says Amadou's mother, Halima Amadou.
But here in Niger, a place where women have less education, lower living standards and less equality with men than just about anywhere else in the world, a quiet revolution is playing out. Many women like Amadou come to this sidewalk court every month to push for a divorce, frustrated not only by their husbands' inability to earn a living during a time of economic hardship, but also because their basic views on relationships have changed.
They want to choose whom and when to marry, not be pushed into marriages. They demand respect and, better yet, love. And when their husbands fall short, women are the ones driving this new culture of breakups.
"Young women now go into marriages with certain expectations," says Alou Hama Maiga, secretary general of the Islamic Association of Niger. "If these expectations are not met at some point, then divorce is inevitable."
The Islamic judge who presides over the street-side religious court in Maradi, Niger's third-largest city, says that divorces initiated by women have doubled in the past three years, with nearly 50 women a month coming to end their marriages. "These young women don't want to suffer any more," says the judge, Alkali Laouali Ismaël. "There is a solution to their problems, and they know they can find it here."
Lawyers, women's associations, local officials and academics who study the region say the increase is happening across West Africa – in urban and rural, as well as Muslim and Christian, areas – as women assert more control over their relationships.
The total divorce rate is relatively stable or even declining slightly in some parts of West Africa, they note, but underneath that are huge changes in divorce patterns and society at large.
Women are more educated now and in some areas marry later in life, factors that academics say lead to more stable marriages. At the same time, more women are moving into cities and joining the workforce, empowering more of them to discard bad marriages.
Dakar's Association of Female Lawyers says it now helps three times as many female clients seeking divorce as it did even just four years ago.
"Many women in Dakar are independent and have jobs and have money," says Daouda Ka, a lawyer who handles divorce cases. "In the past, they were just tolerating bad marriages. Now, if it doesn't work out, they leave."
In Ghana, 73 per cent of divorce cases handled by the Legal Aid Scheme of Greater Accra were filed by women in 2016/17, a big shift from the past. Divorce, once considered taboo for conservative Christians, is being presented in some church sermons as a better option than ending up with domestic violence or adultery.
Amadou spent her childhood in Maradi, a busy city of small shops and open-air markets ringed by clusters of farming villages. It was at a wedding that a friend played matchmaker for Amadou, pointing out a man twice her age, Noura Issa. Amadou hadn't necessarily been looking for a husband. She was busy taking sewing classes that she had persuaded her family to pay for.
"I wanted to be able to support myself," she says. Still, when her friend called the next day to ask whether Issa could visit her, Amadou agreed. The couple married and moved into his home outside the city centre. Soon after they were settled, Issa told her the sewing classes were a waste of money. He didn't want her leaving the house. But his tailoring business was struggling. Nigeria's economic crisis had spread across the border to Maradi, a major trading centre between the two countries.
Already impoverished, Niger has been particularly hard hit by the spillover of problems from Nigeria, including nearly 10 years of war with Boko Haram, the radical Islamist group that has torn through the region.
A few years ago, Issa was earning the equivalent of nearly £11 a day, sewing and hemming clothes. Suddenly, he couldn't earn half that much. "Husbands can't support their wives the way they used to," says Ismaël, the religious judge.
The economic problems are compounded in Niger because polygamy is so common. Men in the mostly Muslim nation can have up to four wives. The country also has the highest birthrate in the world, with women in Niger giving birth to seven children on average.
Ismaël says most of the women who come before his court seeking divorce cite financial problems. Despite the changing mores, child marriage rates are among the highest in the world, and teenagers in Niger have more children than anywhere in the world, according to the United Nations.
Driving the early marriages is a fear that girls will shame their families by becoming pregnant before they wed. "A girl must be married to avoid being in trouble," says Laouali Oubandawaki Iro, the village chief of Giratawa, a town on the outskirts of Maradi, explaining the area's traditions. He is in his early 60s. Two of his wives are teenagers. But the push to limit child marriage has helped shift attitudes. In recent years, aid groups have poured in to alleviate poverty and stem population growth by focusing on child and forced marriages. Local groups and Niger's government have joined in.
Amadou figured that her case was clear-cut when she went to the sidewalk court.
But the judge tells the couple to go home to try to work it out one more time. If they still want a divorce, he tells them, come back in two days. After the hearing, Issa drops his head, conceding that finances are tight and that he doesn't give Amadou all the little gifts she would like. "But that wasn't in the marriage contract, to give her presents," he says.
"I'm tired of coming here," he huffs. "I've decided."
Two days later, the couple arrive at court from opposite sides of the street. "You told us to come back if we couldn't work it out, so we're back," Issa says. "Now what do we do?"
The couple go about the tedious process of publicly divvying up their belongings – salt, spices, plates, a pitcher used for washing before prayers. The judge says Amadou will have sole custody of their son until he is seven, and that Issa will pay for the child's meals for the next two years.
"No problem," Issa says.
The couple sign the divorce papers. "Is this good for you?" says the judge, turning to Amadou. "I think this is a relief for you."
She nods, a wide smile spreading across her face.Amadou plans to marry again, to someone who loves her back.
© New York Times
Register for free to continue reading
Registration is a free and easy way to support our truly independent journalism
By registering, you will also enjoy limited access to Premium articles, exclusive newsletters, commenting, and virtual events with our leading journalists
Already have an account? sign in
Register for free to continue reading
Registration is a free and easy way to support our truly independent journalism
By registering, you will also enjoy limited access to Premium articles, exclusive newsletters, commenting, and virtual events with our leading journalists
Already have an account? sign in
Join our new commenting forum
Join thought-provoking conversations, follow other Independent readers and see their replies