Whether you're a marathon enthusiast or simply trying to shed a few pounds, fitness trackers offer users information about their workouts to help them with their overall training regime. Heart rate monitors are commonplace in trackers for a range of sports, but recently we've seen more complex GPS features included in wristbands for runners, which hike the price as well as the level of feedback you get from your route. FitBit is the market leaders for creating simple, yet comprehensive software, while Garmin and TomTom have carved out niches with hardware, using GPS and body fat monitors. The options available are dizzying.
Your fitness tracker needs may be very different to someone else's. Hopefully, we're here to help inform your choice.
1. Fitbit Blaze: £159.99, Argos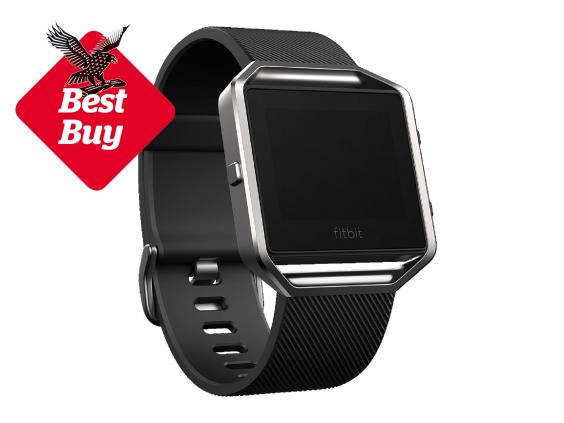 It's easy to see why Fitbit is market leader when you wear the Blaze. A brilliantly clear display and an unimposing design, combined with an easy-to-use FitBit app, make this a very attractive fitness tracker. The home screen watch face succeeds at providing an at-a-glance update of your daily step count and your resting heart rate, while flicking between exercise programs has never been easier – either a regular cardio session or bodyweight exercises through the FitStar addition which instructs you in guided programs you can follow through the watch face. The only downside is the lack of a GPS and that you cannot take it in the pool. You can check your sleep quality and patterns though through the FitBit app, which remains the easiest to use on the market. The inclusion of push notifications from your phone, a range of styles available in elastomer, metallic or pink/gold wristbands, and the ability to adjust music from your wrist, using an effortless touch screen make this, at just north of £150, the stand-out tracker available.
2. Garmin VivoSmart HR+: £169.99, Garmin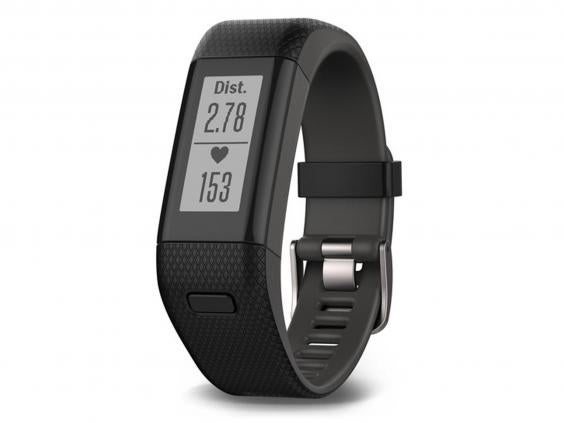 If you like charts, breakdowns and all the information you can possibly gather from your run, then this is your fitness tracker. The VivoSmart HR+ feels a little chunky on the wrist but it looks pretty unobtrusive, and it makes up for this in many ways. Push notifications work brilliantly on this device, the Connect app is very detailed and the GPS means you don't need to bring your smartphone with you on your run to get reliable distance data and route analysis. There's not a great deal of multisport tracking – for instance, no dedicated swim mode or bodyweight exercise programs – but the tracking of cardio exercise is second-to-none in detail. Add into the mix an impressive battery life and colour options in black, blue or purple and this fitness tracker should win over dedicated runners.
3. TomTom Touch Fitness Tracker: £129.99, TomTom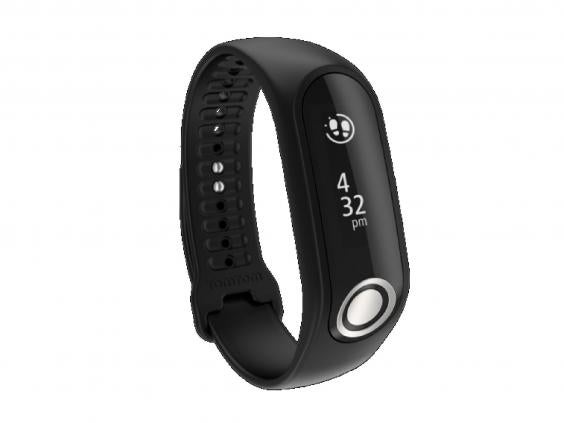 The unique selling point of the TomTom Touch is that it will tell you how fat you are. In a good way. The body composition tech included in the band will send a discharge of current, measuring how long it takes to circulate around your body, the theory being that electricity takes a different amount of time to pass through bone, muscle and fat. On top of this, a sleek design, good battery life, phone notifications and GPS tracking make the TomTom Touch a very attractive proposition, especially for runners. Available in red, dark or light blue, or black – and it's not too expensive either.
4. Garmin Forerunner 235: £279.99, Garmin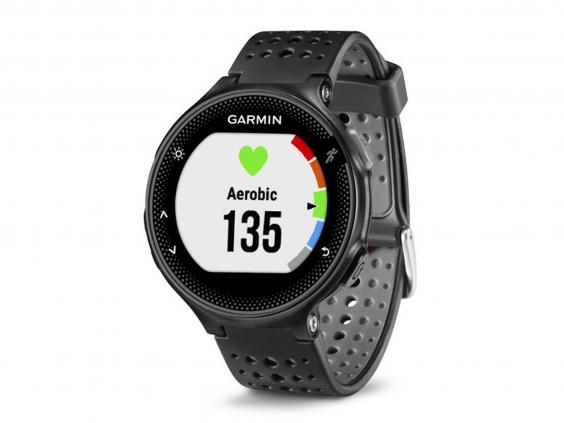 This is by far the most expensive model of the fitness trackers we've reviewed and it's easy to see why, with a range of different activity modes, features and displays available to you as you exercise. The GPS keeps track of your route, the heart rate monitor tells you when you're in the zone as you run, and a recovery tracker alerts you to when it's time to get back on the bike. To have these wristbound, without needing to check your phone, is extremely welcome. The accompanying Garmin Connect app also offers a dizzying range of metrics and feedback such as gradient and terrain, step cadence and the ability to plot fitness regimes; however, less experienced runners may prefer the simplicity of the apps that accompany Fitbit or Under Armour devices. Smartphone alerts are also a welcome addition in such a hardcore fitness watch and the Forerunner 235 also boasts a very impressive battery life. If you take exercise seriously then this gadget is appropriately sophisticated. 
5. Moov Now Wearable Audio Coach: £56.85, Amazon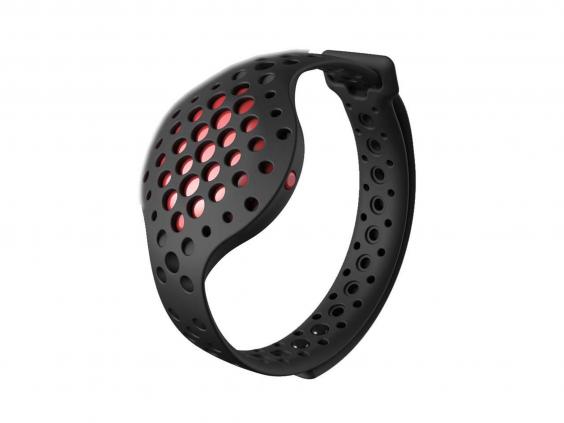 You'll only be wearing this one while working out, and for good reason. If you're not running fast enough the Moov coach will bark at you to pick up the pace – a distraction you don't need at a sedentary office job, but a real motivation during press-ups. The tracker can monitor a wider range of motion than most, using an accelerometer, a magnetometer and a gyroscope, and it's capable of giving you detailed feedback on anything from your running style to your speed through the Moov app. Although the tracker doesn't have a screen, you can check step cadence, learn more about your cycling efficiency or stroke rate while swimming, or even your punch power through the Moov App. As a result, it's a little clunky on your wrist or your ankle at first, but you get used to it, and a hefty battery life is more than worth the weight. If you want a daily accessory this isn't for you, but if you want a wrist-bound personal trainer, it is. 
6. Under Armour Band: £149, Under Armour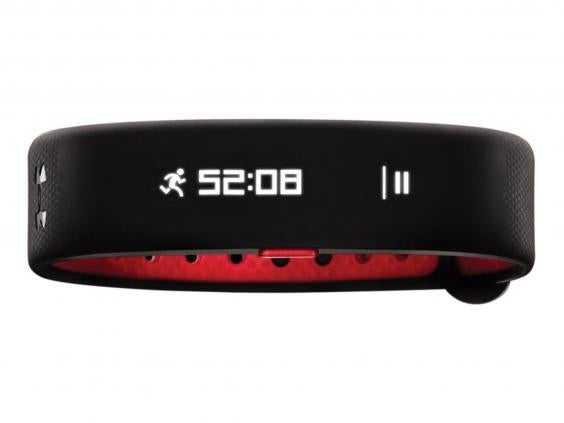 We think this fitness tracker works best as part of the larger Under Armour package. The software it uses is also compatible with smart scales and a heart rate monitor – these two devices come packaged with the fitness tracker as part of UA's Healthbox offering (£350). So if you're a fitness guru who wants a software-oriented exercise programme and are prepared to spend the money, the package can transform your phone into a personal trainer. That said, the band's touchscreen isn't as functional as some of the others and it's not the best looking.
7. Sony Smart Band 2: £74.95, Amazon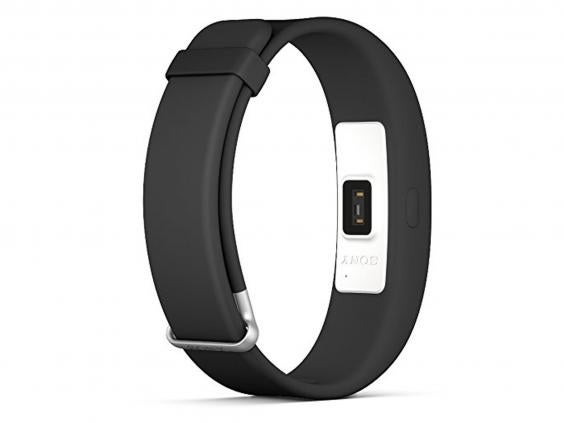 This band is comfortable and sleek, with an IP68 waterproof standard, meaning you can use it casually in the pool. The heart-rate and sleep tracking features work well, while call alerts and a wake-up alarm are welcome additions. It's a fashionable option you won't mind wearing in the office as well as in the gym. However, its low price does occasionally show – for example, the step count seemed to be too generous when we tried it, and the accompanying apps aren't the smoothest. But if you're on a budget, this may well be the option for you. 
8. Jawbone UP3 Heart Rate Activity and Sleep Tracker: from £64.69, Amazon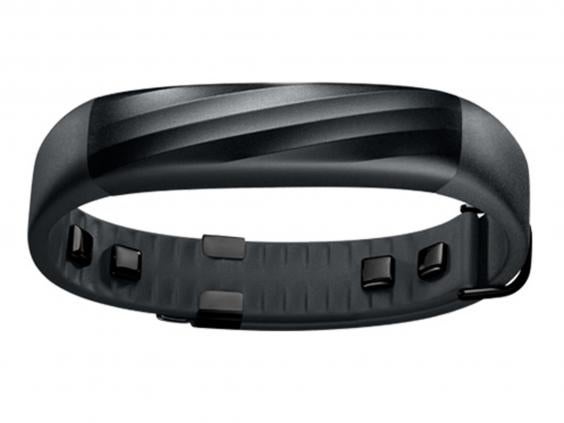 Jawbone's UP app offers a fairly comprehensive experience with plenty of third-party add-ons available – you can link it to Sleepio, IFTTT or Withings to monitor your sleep, your weight or combine with IFTTT's smart algorithms (for instance, you can automatically log a meal if you check in to a restaurant on Foursquare or if you post a photo of your meal to Instagram with a certain hashtag). The design of the band is understated and the band does a decent job with regards to feedback on your workouts. But, as might be expected at this price, the display is basic, consisting only of a few blinking lights to tell you what state the band is in. If you run your life through IFTTT then it's certainly worth considering.
The Verdict
Your choice of fitness tracker largely depends on the type of exercise you regularly take – I prefer running and bodyweight exercises in day-to-day use and for that reason the Fitbit Blaze was spot on for my needs, offering comprehensive programs and feedback in a very simple setup. More experienced runners will definitely see the attraction of the Garmin VivoSmart HR+, as a market leader when it comes to GPS fitness trackers which offer far more complex analytics such as step rates, gradient and terrain through Garmin Connect. It's hugely impressive how much information the Garmin can provide, making it the easy choice for advanced runners. However, being instructed in an eight-minute abs workout with a few button presses with FitBit was so easy to do, and the screen is the best and easiest to use on the market by a distance. The FitBit informed my workout so comfortably and beautifully, it's easy to pick as the most appealing product on the market for general use.
IndyBest product reviews are unbiased, independent advice you can trust. On some occasions, we earn revenue if you click the links and buy the products, but we never allow this to bias our coverage. The reviews are compiled through a mix of expert opinion and real-world testing
Reuse content