Dressing tables should involve a bit more fun than your average bedroom furniture – whether exuding vintage glamour with luxury materials, or featuring hidden drawers and compartments for keeping your beauty regime top secret. The best ones are made for pampering but offer a bit of practicality too. Are you happy to accessorise something basic with your choice of mirror and trinket boxes? Or do you prefer a design that has storage and mirror built in? Our selection gives some points to consider.

1. La Redoute Interiors Clairoy Dressing Table: £101.25, La Redoute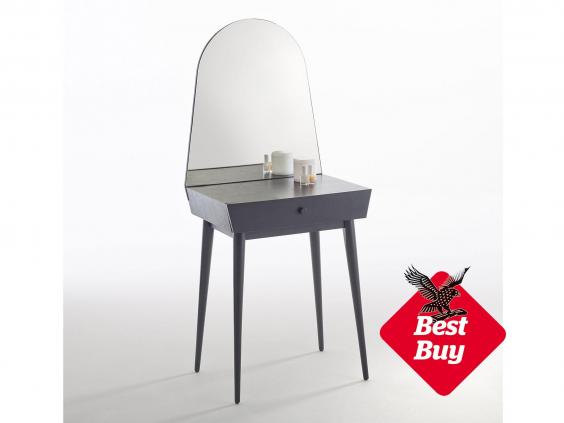 This fun piece looks straight out of the 1950s, but a closer look reveals its contemporary style. La Redoute's table has a fixed mirror in a large arch shape, one drawer for hiding all the necessities, and sharply tapering solid oak legs that give it some real character. Just 59cm wide by 43cm deep, this table is small enough to fit awkward corners of the bedroom. 
Buy now 
2. Gillmore Space Lux Two-drawer Dressing Table: £499, Gillmore Space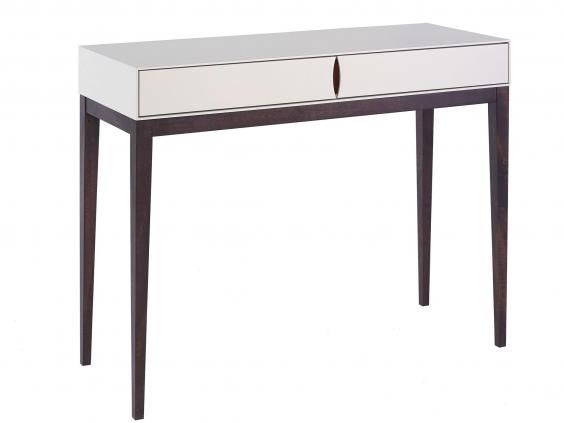 Two gently curved cut-out drawer handles give this modern table a touch of subtle elegance. The rectangular top contains two shallow drawers, and is finished with white lacquer to contrast with the tapered frame and legs in walnut veneer. It's a compact piece, 105cm wide by 40cm deep, suiting smaller bedrooms. There's a matching range of bedroom furniture too. 
Buy now

3. Evelyn Dressing Table: £379, Marks & Spencer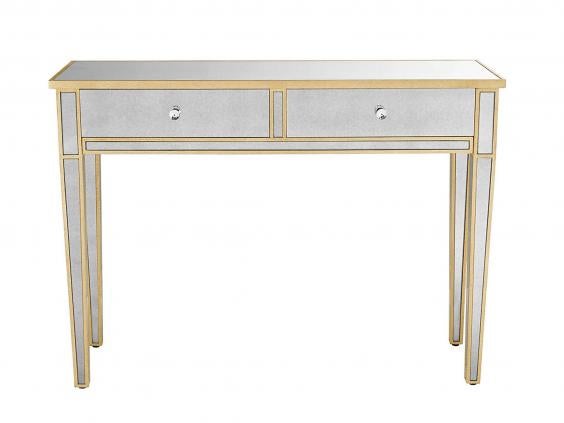 Nothing shouts Hollywood glamour more than gold- and mirror-finishing, which is just what M&S's Evelyn table has to offer. The antique-look gold trim, which extends all the way down its legs, adds an Art Deco appeal without going overboard. The glass handles to the two drawers are also a touch of luxury. The table measures 108cm wide by 40cm deep.
Buy now
4. Made Aldo Dressing Table: £279, Made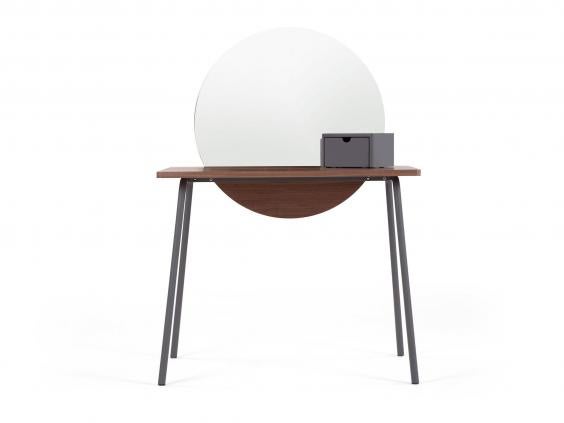 Designed to make a statement, this table's main feature is a large circular mirror that intersects the rectangular top. Powder-coated metal legs contrast with a walnut finish on the surface. It's a shame there isn't a drawer for added functionality, but the table does include a matching trinket box. It comes in an ash and teal version too; and measures 90cm wide by 55cm deep.
Buy now

5. J by Jasper Conran Farringdon Dressing Table: £455,  Debenhams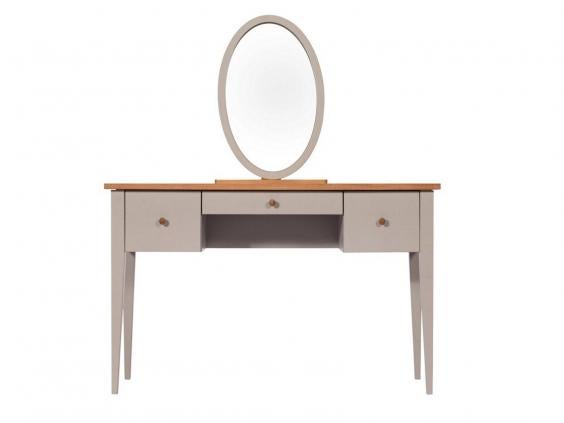 Jasper Conran's design brings back memories of our mothers' dressing tables – with an elegant oval mirror, three drawers, soft edges and oak surfaces. It has a contemporary twist, paring down the fuss of antique tables and taking inspiration from traditional Shaker designs. A larger piece, it measures 126cm wide by 45cm deep. It comes with a one-year warranty.
Buy now

6. Made Fonteyn Dressing Table: £399, Made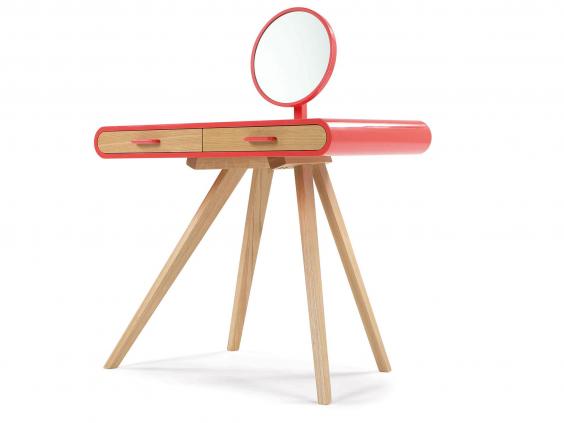 You can guess from the name that this dressing table was inspired by a dancer. This attention-grabber has a rounded two-drawer top in high-gloss lacquer – particularly striking in coral – and two pairs of splayed oak legs in a matte finish. Fixed to the top is a circular mirror. Beyond its looks, this table isn't the most functional; the mirror can't be adjusted and the drawers are slim. 
Buy now

7. Eastern Panels Dressing Table: £510, Furnish.co.uk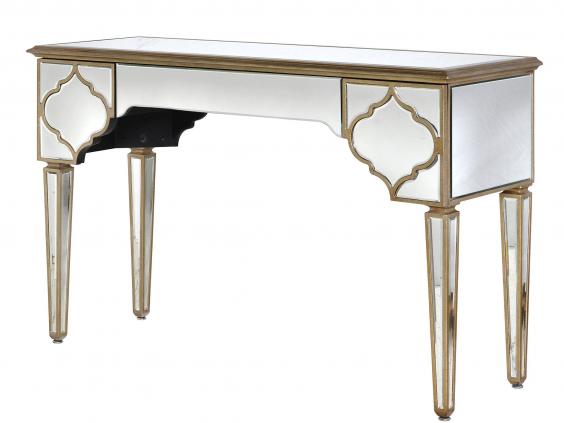 This table gives the classic gold and mirror finish an eastern spin, including two Arabic motifs. It looks like a vintage find from a Moroccan holiday, but the clever front panels conceal a very modern segmented drawer for hiding your hair and beauty essentials in an organised fashion.  The table is made from MDF and measures 120cm wide by 40cm deep. 
Buy now 

8. Bloomingville Make-up Table: £995, Out There Interiors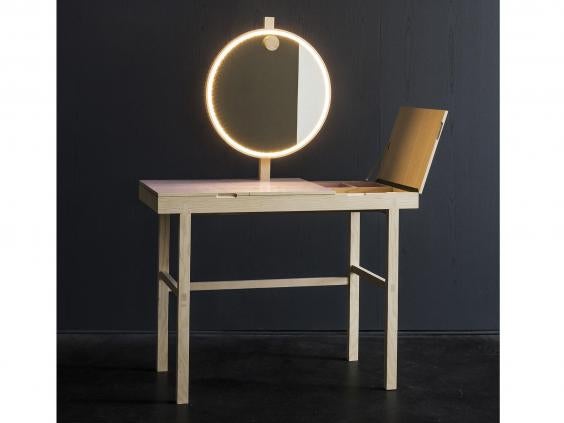 This budget-busting make-up table is made for those who like to spend serious beauty time. The Scandinavian-inspired design is handmade in natural wood, and has two hidden drawers which offer segments for organising, and are lined in pale pink. The large fixed mirror has mains-powered lights around the rim – helpful for applying precise make-up. 
Buy now 

9. Lautner Dressing Table: £90, B&Q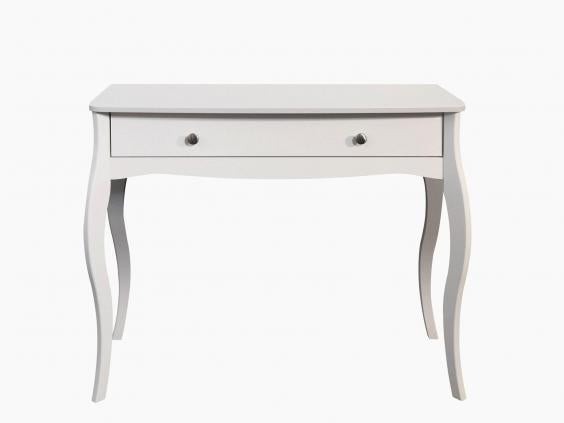 A simple, well-priced table that references the style of classic dressing tables in a minimal way. The Lautner dressing table has vintage-style curved legs, a matte white finish, and a drawer with a smooth action, thanks to metal roller runners inside. It measures 100cm wide by 40cm deep, and belongs to a set of matching bedroom furniture. 
Buy now

10. Napoli Dressing Table: £299, John Lewis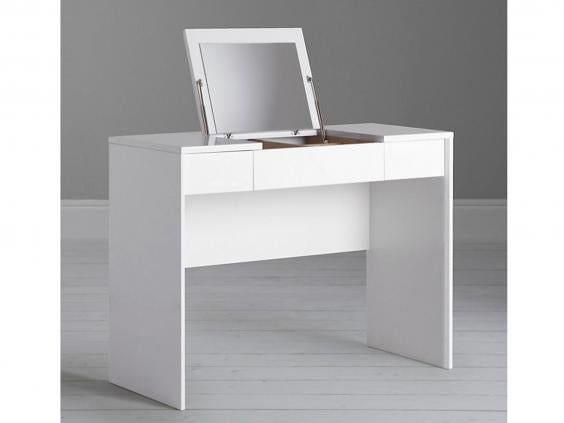 For those who can't stand clutter, this Italian-made dressing table conceals a mirror and secret compartments – all within a slick rectangular cabin finished with white gloss. There are also two small soft-close drawers for extra storage. Self-assembly is required, which may prove tricky; a bit of precision is needed to get all the panels aligned and looking smart. 
Buy now

Verdict
Best on a budget is the Clairoy table from La Redoute. It's well-priced, compact, modern and, above all, fun. If you're pushing the boat out, the Eastern Panels table from furnish.co.uk offers glamour and practicality with its impressive hidden drawer. 
Reuse content