''People ignore design that ignores people,'' said Frank Chimero, a Brooklyn-based designer and author of The Shape of Design. When it comes to cutlery, the basic design has never really changed. It didn't need to: a knife must cut, the fork must stab (or pierce), and a spoon must scoop up liquids. Man has used a knife-like implement for a thousand years or more. In the 19th century, knives were made of silver or silver-plated as blade metal was said to ruin the taste of the food.
This all changed in the 1920s with the invention of stainless steel. Its resistance to corrosion and low or high temperatures certified it as the ideal cutlery material. Its different compositions vary from the higher quality 18/10, down to 18/8 and 18/0, which both contain less copper and nickel and are therefore less durable and temperature resistant. With such an established and solid design, when it comes to cutlery today there are still a few key criteria that must be met: how it feels, how it looks, how effective is it, and is it good value for money. 
The sets here contain forks, knives, spoons and teaspoons, with the Robert Welch cutlery being the one exception, as it includes dessert forks, dessert spoons, and soup and serving spoons too. 16-piece sets cater for four people and 24-piece sets for six. The Robert Welch 44-piece set caters for six, albeit with an expanded arsenal of cutlery. 
We put these sets to the test on some accidentally overcooked pork chops. The selections here will suit a range of budgets and dining table styles. 
1. Robert Welch 24-Piece Stanton Cutlery Canteen: £125, John Lewis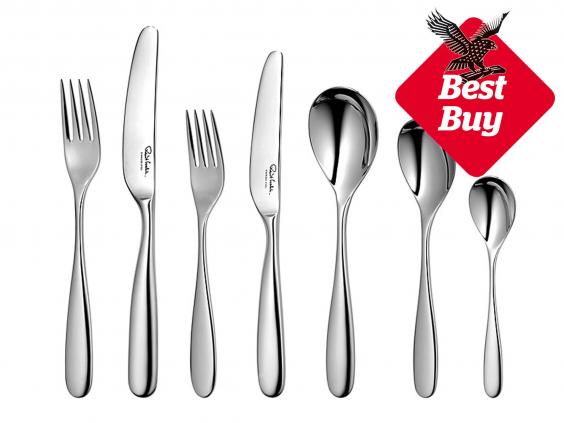 We were really impressed with cutlery specialist, Robert Welch's offering. At £125, this set carries a mid-range price tag for a top-end product. As with the Radford (see number ten), the relationship between knife and fork is exaggerated, with the knife standing proud. The spoon has a deep and satisfying bowl, and the soft curves and weight of the 18/10 stainless steel is comforting and assured. The timeless elegance of this set makes it a purchase for life, so we think it's well worth the price. Treat yourself or gift to a friend.
2. George Oil Slick 16-piece Set: £20, George at Asda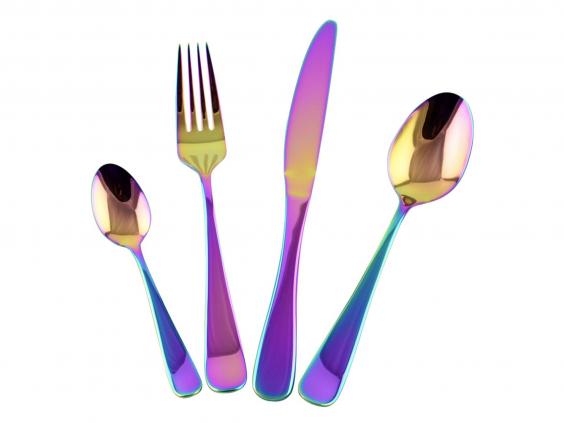 At  just  £20 for a 16-piece set, this brightly coloured cutlery by Asda's reliable homeware brand is a real talking point and great value for money. Fun colours will certainly liven up your table display and this one is cheaper but in our opinion, as good as other high street rivals. The cutlery is light to hold and longer than some on the list. The knife cut into our overcooked pork chops easily and the spoon had a deep bowl, allowing a generous mouthful of food. It's a fun, statement set - our only gripe was that it marks quite easily. 
3. Habitat 16-piece Turini Cutlery Set: £95, Habitat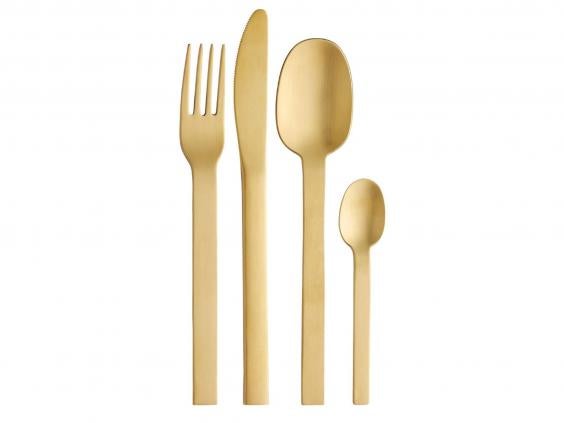 With gold being a big trend in the cutlery world, we were eager to try out the Turini from Habitat. A simple, contemporary design with a luxurious finish, thia 16-piece set makes every meal feel like a special occasion. The gold finish could be a tad OTT but the simplicity of this design balances things out. Made in Portugal in 18/10 stainless steel, we found the weight and size spot-on and the chunky and contemporary design made it easy to hold. The only downside was the shallow spoon, in our opinion. These are dishwasher safe but keep them away from abrasive materials.
4. Marks and Spencer 16-piece Vintage Cutlery Set: £25, Marks and Spencer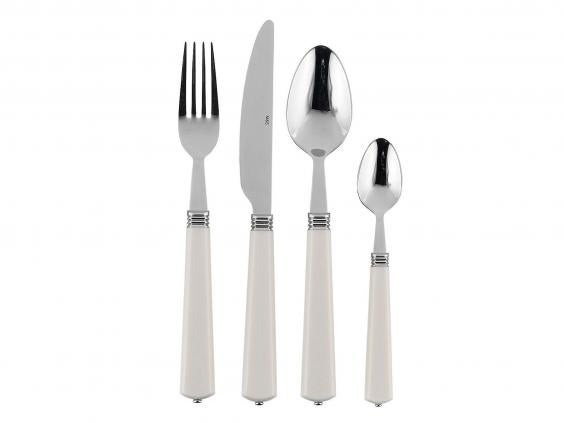 This is a stylish and practical set. We think this vintage-style cutlery would look good on any contemporary dining table. The plastic handles are comfortable and soft, which is ideal for those with metal allergies. The classic aesthetic will never date and the set is easy to wash and dishwasher safe. This cutlery is a little on the light side, though, so you do need to apply some pressure to make the knife cut smoothly.
5. Cutipol Goa 24-piece Cutlery Set: £197, Amara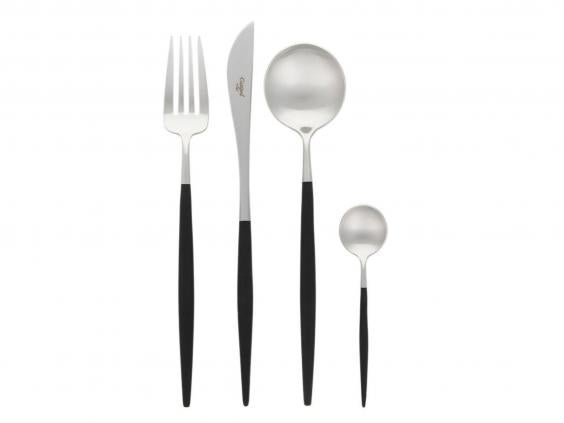 Crafted by award-winning Portuguese designer José Joaquim Ribeiro, this set has an art-deco vibe that shouts "look at me". The elegant resin-handled luxury cutlery is perfect for dinner parties. Made from high quality 18/10 stainless steel, the pieces are long, with a sleek trident-like fork and a beautiful knife that cuts effortlessly. These are slimmer than your average set, so feel a bit different in the hand to the rest in the round-up. The manufacturer advises that due to them being handmade, sizes may vary slightly.
6. Alessi 24-piece Giro Cutlery Set: £229, Black by Design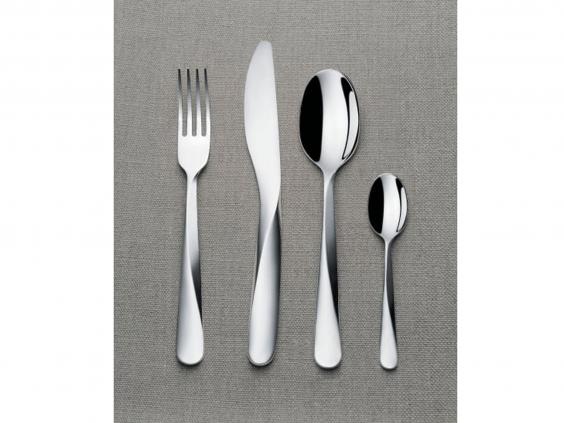 From Alessi's Giro range, the Dutch architectural practice UNStudio has used its engineering expertise to create an ergonomic set of cutlery. With these, a twist originates from the point where the handle transforms into a blade and graduates along the length of the utensils. Each piece fitted snugly into our palms. The flat, square style with the three-pronged fork was a delight, and the Alessi knives cut our overcooked chops like butter. The smooth, effortless cutting action made this the standout knife for us.
7. Lexington Kitchen and Dining Set: £14.90 per piece, Lexington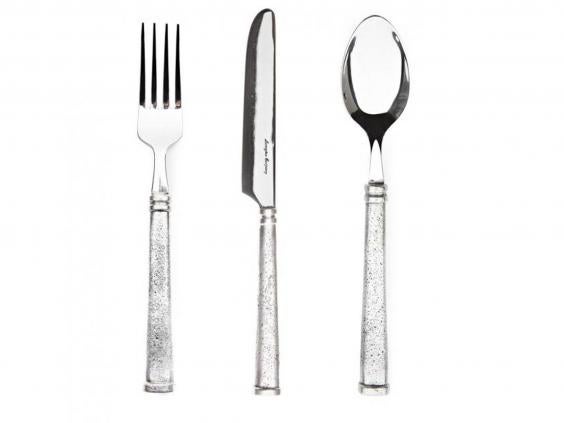 This stainless steel kitchenware from American homeware and clothes retailer Lexington is priced at the higher end of the market but you get what you pay for. Heavy, chunky, solid, the hammered metal handles make this set stand out from the pack. This was by far the heaviest cutlery set but that made it feel more regal. The spoon offered up a handsome mouthful and though the knife didn't cut the chops quite as effectively as some, if you want cutlery that's a talking point  - and you're better with your cooking timings than us - this could be your set. 
8. Villeroy and Boch Louis 24-Piece Cutlery Set: £53.99, Dove Mill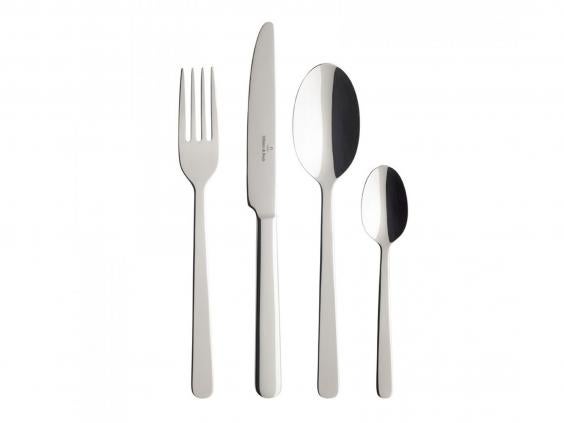 Who knew that Villeroy and Boch made cutlery? Not me. So we're pleased to report that the traditionally elegant and beautiful 24-piece Louis set is a show-stopper. A timeless classic, it will inject grandeur to any table setting. The design is sleek and we found the weight spot on in our pork-chop test, the knife played its part, giving a sharp and clean cut to tough meat. This cutlery is set in quality stainless steel with an understated modern design and comes in a charming cutlery cassette, making it an ideal wedding gift.
9. George 16-piece Matt Black Cutlery:  £20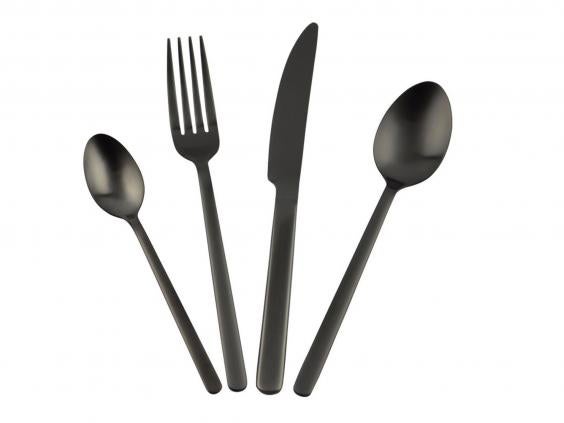 Finally, since black seems to be the new gold, we went for the 16-piece set from George at Asda. And for the fashion conscious, this set (at just £20) is a fantastic buy. Bring a sleek look to meal times with the matte black finish, which includes four knives, forks, spoons and teaspoons. Aesthetically pleasing and very on-trend, this set was heavy and chunky to hold, which made it comfortable in the hand. The knife cut well and the bowl of the spoon offered a hearty mouthful of pud. The only downside was the fact that there were some fingerprint marks, but it is dishwasher safe.
10. Robert Welch 44-piece Radford Cutlery Set: £256, John Lewis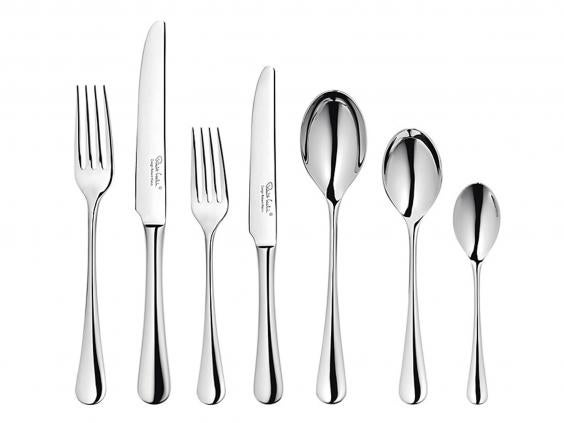 This set from the timeless Radford range by Robert Welch has a mirror-polished finish and is made from quality18/10 stainless steel. The 44-piece set also represents good value - here you get all the cutlery you would need for a six-person dinner party. The spoon has a beautiful deep bowl, and the mouth to spoon ratio is really satisfying. There is a marked and exaggerated relationship between the knife and fork, with the knife definitely the daddy of this set. The weight here was on the heavier side but the soft and curvy bevelled edges gives this cutlery a sumptuous feel. The knife did its job more than adequately and easily cut through our overcooked chops. This set would make a great gift and will make any table look elegant. 
The Verdict: Cutlery sets 
While cheap and cheerful wins most days, and certainly helps if we want to stay on-trend with our cutlery choice this season, you really cannot beat the timeless elegance of Robert Welch.
IndyBest product reviews are unbiased, independent advice you can trust. On some occasions, we earn revenue if you click the links and buy the products, but we never allow this to bias our coverage. The reviews are compiled through a mix of expert opinion and real-world testing
Reuse content