Discover AlUla and the ambitious project to reshape the region into the jewel of the Arabian peninsula
The 15 year Masterplan - dubbed 'Journey Through Time' - combines many sustainable initiatives across several sectors such as tourism, arts & culture and agriculture, all with the common goal of protecting AlUla for the future
Wednesday 07 April 2021 20:00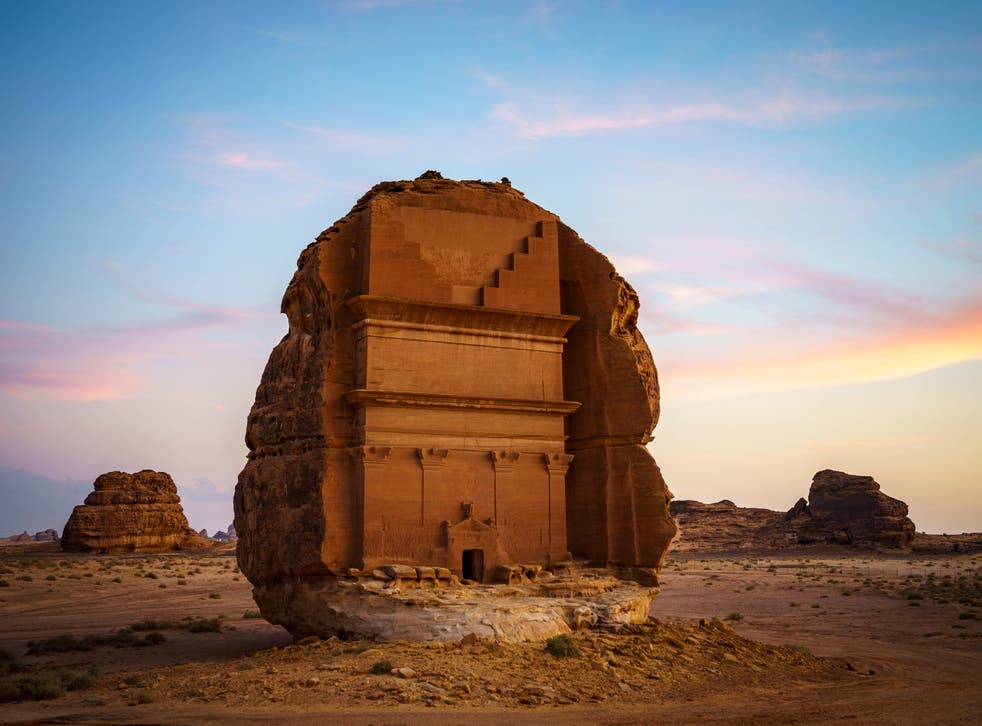 With human history stretching back more than 200,000 years, AlUla is one of the biggest cultural heritage sites in the world. And yet, you probably haven't heard of it until now.
That's because this incredible destination in the deserts of north west Saudi Arabia has been largely off limits to tourists until very recently. But that will all change through an ambitious development project to sensitively transform it into a bucket-list destination in the Kingdom by 2035.
The 15-year Journey Through Time Masterplan behind the initiative has been carefully designed under the leadership of HRH the Crown Prince Mohammed bin Salman and the guidance of HH Prince Badr, the Saudi Minister of Culture and the Governor of the Royal Commission for AlUla (RCU). It will contribute towards the nation's Vision 2030 program to reduce its dependence on oil as well as the Saudi Green Initiative to tackle climate change.
Feeding into the vision are extensive archaeological, geo-archaeological and archaeobotanical surveys, research and studies led by Saudi and international experts. Underpinning the Masterplan is a zero-carbon policy, which ensures sustainability is at the forefront of any development.
But the experts also scrutinised over how the development plan can be sustainable in terms of protecting and restoring the natural and cultural environment, be economically viable and be beneficial for existing and future residents. It's a plan that will bring the past into the present and will endure well into the future.
Central to the Masterplan is eco-tourism, starting with a new 20km tree-lined trail known as the Wadi of Hospitality. Plotted along this route are five distinctive districts: AlUla Old Town, Dadan, Jabal Ikmah, Nabataean Horizon and Hegra Historical City. Each one will create separate and unique experiences for visitors, centred around a protected heritage site, with new museums, galleries and cultural centres to enhance visitors' understanding of the legacy of AlUla.
Nabataean Horizon, for example, will feature a village carved into the rocks, to mirror the architecture of the Nabataean people. Visitors can explore the area on horseback, like the nomadic tribes would have done centuries ago. And at night, luxury, eco-minded accommodation can be found at Ashar, where tented camps are designed in harmony with the unique landscape.
To actively reduce the carbon footprint of visitors, there will be a 46km low-carbon tram line to connect AlUla International Airport to each of the five districts. All along the Wadi will also be bicycle, equestrian and walking trails to reduce car usage and the environmental impact of tourism in the area in general.
Eco-tourism initiatives are just one of the ways that the Masterplan's zero-carbon policy will be implemented. To achieve net carbon neutral status by 2035, the Masterplan is also looking at ways to increase the use of renewable energy, to increase land regeneration and to recover and reuse materials where possible.
Conservation and preservation is another key element in the Masterplan, even during its design.
For example, three conservation surveys and stabilisation programmes were commissioned to look at how tourism could be sustainably introduced without overwhelming the natural and cultural environment. As part of that, two mosques in AlUla Old Town were restored and seeds from plants that have historically been part of this habitat were recovered.
Much of the preservation and conservation work will continue through the Kingdoms Institute, which will not only become a centre for knowledge, archaeological research and restoration of the region's heritage sites but it will also educate visitors and support the work of visiting researchers and scientists.
The 'Journey Through Time' Masterplan

Show all 9
The ancient oasis that first attracted human settlement to the region will be rejuvenated as well, through research and innovative solutions to replenish the 9km core Cultural Oasis.
Sixty per cent of this land had been abandoned due to a lack of water and unsustainable farming practices in the past that damaged the delicate desert but it's hoped that this regeneration will enable a major expansion of green space in AlUla - up to 10 million sq kilometres.
It will not only breathe life back into the region but also reverse the desertification process. And to further address the problem of desertification, a new model for sustainable agricultural production and water management will be introduced.
Finally, there are the socio-economic benefits, another facet of sustainability but one that's often forgotten.
As part of the wider development strategy for AlUla, the population will grow to 130,000 people with new public spaces for its residents as well as community-driven cultural and educational initiatives.
Some 38,000 new jobs will be created by 2035 as part of the wider development strategy for AlUla. And to further address the problem of desertification, a new model for sustainable agricultural production and water management will be introduced.
Work is well underway to support the AlUla's development. Notably, AlUla's international airport has already been expanded by 300 per cent thanks to the RCU, to ready it for the steady flow of tourists.
There's also the 500-seat Maraya, the world's largest mirrored building and an award-winning events venue that's already hosted the likes of Andrea Bocelli and Lang Lang. And among the new accommodation options will be world-leading luxury resorts from Banyan Tree, Habitas, and Jean Nouvel.
You may not have heard of AlUla until now, but this jewel of the Arabian peninsula will soon be impossible to miss.
Learn more about AlUla and the Journey Through Time Masterplan HERE