Edinburgh Fringe 2015: The best music, books and Art, from The Flaming Lips to Val McDermid with Nicola Sturgeon
Also Sufjan Stevens, David Hare and John Chamberlain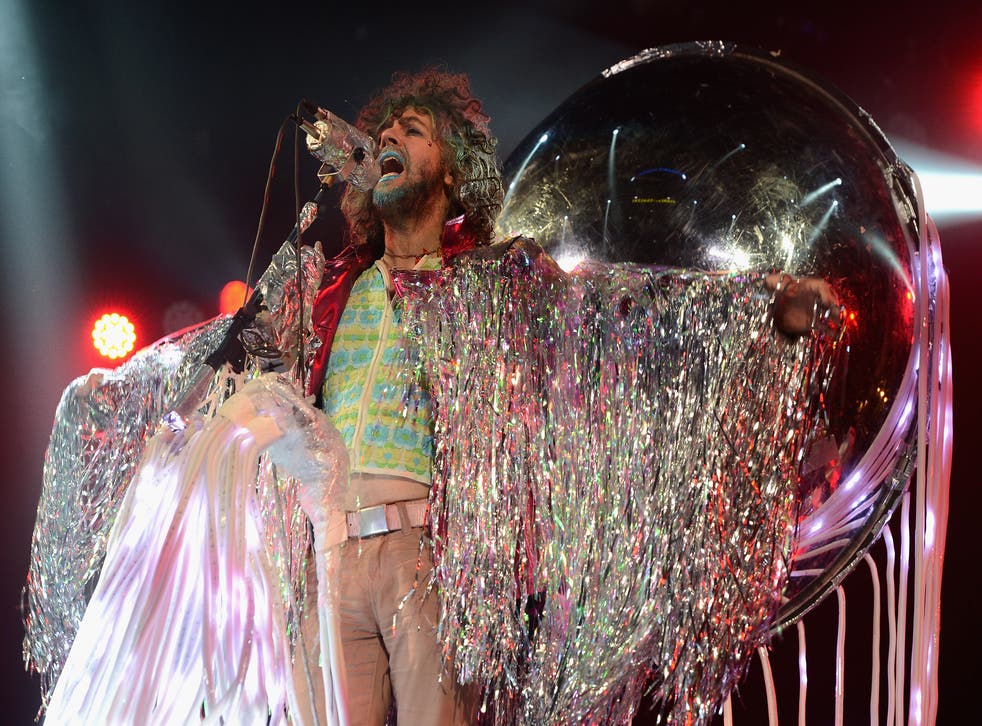 Pop Music by Dave Pollock
The Tubes
Bridging the gap between glam and punk and presaging the knowing excesses of New Romanticism and art-rock, Fee Waybill's US rockers wrote the proto-punk anthem "White Punks On Dope"', appeared in Olivia Newton-John's disco flick Xanadu and went bust thanks to the carnivalesque, S&M-themed sets they took on tour. The Fringe is the best place for them.
12 August, Liquid Room
Sun Ra Arkestra
Pioneer of space-jazz and afrofuturism Sun Ra passed on more than two decades ago, but his Arkestra lives on in this current guise led by original member and alto saxophonist Marshall Allan. An already essential show on Summerhall's excellent, eclectic Fringe music programme will be enhanced by the supporting presence of Glasgow-based experimental musician Richard Youngs.
20 August, Summerhall
FFS (Franz Ferdinand & Sparks)
Drawing critical praise earlier in the year for their self-titled debut album and a reportedly thrilling short live tour, the archest combination in rock – grandiose LA duo Sparks and feisty Glasgow post-punks Franz Ferdinand – bring their unlikely collaboration to the Edinburgh International Festival.
24 August, Festival Theatre
The Flaming Lips
It's been far too long since the Ross Bandstand's perfect location in the shadow of Edinburgh Castle was used as a Fringe concert venue, but now it's back for a trio of high-profile outdoor concerts under the Magners Summer Nights banner. James and the Waterboys also play, but Oklahoman psych-rock adventurers the Flaming Lips have us most excited.
27 August, Princes Street Garden
Sufjan Stevens
Following blanket critical acclaim for his seventh album Carrie & Lowell earlier this year, Detroit singer-songwriter Sufjan Stevens gives the Edinburgh International Festival his exclusive first European date since its release.
30 August, Playhouse
Classical music by Michael Church
The Harmonium Project
John Adams's great choral work Harmonium will be the centrepiece of this extraordinary street event, in which the Royal Scottish National Orchestra and the Edinburgh Festival Chorus will serenade an audience outside the Usher Hall, aided by projected animations.
7 August, Festival Square
The Last Hotel
The world premiere of a new chamber opera "about life, death, duty, and guilt" by playwright Enda Walsh and composer Donnacha Dennehy. This work promises to combine post-minimalism with an Irish sensibility. Andre de Ridder – the go-to man for cutting-edge scores – conducts.
8 August, Royal Lyceum Theatre
The Marriage of Figaro
This may only be a staged concert version, but musically it should be first-rate. Ivan Fischer conducts his Budapest Festival Orchestra, with Hanno Muller-Brachmann in the title role, Ekaterina Siurina as Susanna, Markus Werba as the Count, and Miah Persson as the Countess.
13 August, Festival Theatre
Gilchrist, Ogden, Tilbrook
Tenor James Gilchrist is a superlative recitalist, guitarist Craig Ogden is a stylish chamber player, and pianist Anna Tilbrook is one of the most brilliant accompanists in the business, so this concert of works by Britten, Dowland, Schubert, and Schumann should be a treat.
20 August, Queen's Hall
The Magic Flute
Barrie Kosky – whose extraordinary production of Saul is the hit of Glyndebourne's current season – now brings his celebrated Komische Oper Flute to Edinburgh, complete with live action in the style of Twenties silent movies. Maureen McKay and Allan Clayton head the strong cast as Pamina and Tamino. This show is worth the trip to Edinburgh in itself.
27 August, Festival Theatre
Books by Arifa Akbar
Marilynne Robinson
Orange prize and Pulitzer prize-winning novelist Marilynne Robinson will make her first ever appearance at the festival to give a talk called "The Restless Reader". Part of a series of events hosted by Virago publisher, Lennie Goodings, who will introduce the event.
15 August
Jesse Jackson
To tie into one of the festival's 2015 theme of human rights, the Reverend Jesse Jackson will, in this keynote event, discuss a life of campaigning for civil rights including his work with Martin Luther King in the 1960s.
22 August
Val McDermid with Nicola Sturgeon
Queen of the psychological thriller, Val McDermid, has yet another fan in Scotland's First Minister, Nicola Sturgeon, who will meet McDermid to discuss her latest Tony Hill thriller, Splinter the Silence.
26 August
A Tribute to Seamus Heaney
As a festival farewell to the late Nobel Laureate, Seamus Heaney, a full-length dramatic reading of his modern translation of Beowulf will be staged in a co-production with Tron Theatre Company. Guest readers are still yet to be announced.
22 August
Cedric Villani
The "rock-star mathematician" and French winner of the maths world's equivalent of the Nobel Prize will take his audience on a journey through his intellectual discoveries.
15 August
David Hare
The celebrated playwright will discuss his memoir, The Blue Touch Paper, which takes us from his days as a student at Oxford to the 1970s and his early breakthroughs as a playwright. He will be in conversation with playwright and former Channel 4 head of drama Peter Ansorge.
29 August
Anne Enright
The winner of the 2007 Man Booker prize will talk about her latest novel, The Green Road. Chaired by Viv Groskop.
29 August
Viv Albertine with Ian Rankin
Her memoir Clothes Clothes Clothes, Music Music Music, Boys Boys Boys was a talking point for its painful honesty and tales of punk feminism on publication last year, and former Slits guitarist Albertine's discussion of it here with crime novelist and music obsessive Ian Rankin should be a big draw at the Edinburgh International Book Festival.
23 August
All book festival events are at Charlotte Square Gardens
Art by Kitty Leech
Phyllida Barlow
Given the brief to "turn the Fruitmarket Gallery upside down" Barlow has created a series of sculptures that take over the gallery, spilling over the staircases and engulfing a number of floors.
To 25 August, Fruitmarket Gallery
Tara Donovan
Donovan's large-scale sculptures resemble precious stones and minerals, but they are in fact everyday, ordinary objects, like scotch tape or drinking straws, placed under a microscope. Her large free-standing sculpture Untitled (plastic cups) is on display in Bonnington House Ballroom, which is open to the public for the first time, and consists of 500,000 drinking cups arranged to mimic the undulating natural landscapes outside.
To 27 September, Jupiter Artland
John Chamberlain
The first solo exhibition in a UK public gallery of the work of the American artist. Known for his dynamic metal sculptures created from used car parts and recovered materials, this exhibition spreads his work into the gardens of Inverleith House.
To 4 October, Inverleith House
The Amazing World of MC Escher
Dizzying staircases and optical illusions galore. A chance to get up-close with and bedazzled by some of the most popular pieces of modern graphic art ever created in this comprehensive exhibition dedicated to the Dutch artist.
To 27 September, Scottish National Gallery of Modern Art
Register for free to continue reading
Registration is a free and easy way to support our truly independent journalism
By registering, you will also enjoy limited access to Premium articles, exclusive newsletters, commenting, and virtual events with our leading journalists
Already have an account? sign in
Register for free to continue reading
Registration is a free and easy way to support our truly independent journalism
By registering, you will also enjoy limited access to Premium articles, exclusive newsletters, commenting, and virtual events with our leading journalists
Already have an account? sign in
Join our new commenting forum
Join thought-provoking conversations, follow other Independent readers and see their replies