Cannes 2014: Quentin Tarantino declares 'cinema is dead' ahead of Pulp Fiction screening
Tarantino spoke as he arrived at the festival, where he recreated the iconic Jack Rabbit Slim's dance with John Travolta and Uma Thurman
Heather Saul Comments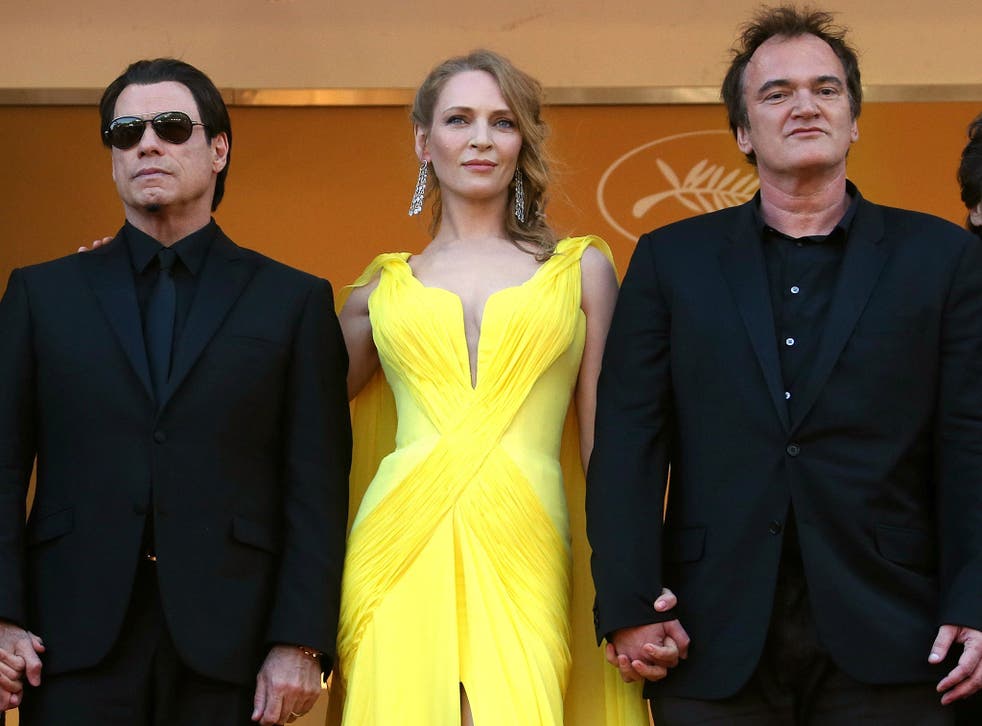 Quentin Tarantino has declared "cinema is dead" at the Cannes film festival, where he argued screening films in digital is simply forcing an audience to watch television in public and lambasted established film makers for turning their back on 35 mm film.
Speaking at the festival where the director won the Palme d'Or prize in 1994 for his cult film Pulp Fiction, Tarantino condemned digital projections as a poor substitute for the "real thing".
Tarantino joined Uma Thurman and John Travolta for the 20th anniversary celebration of Pulp Fiction, shortly before a 35mm screening of his hit on the beach on Friday night.
The 51-year-old filmmaker told journalists and critics: "As far as I'm concerned, digital projection and DCPs is the death of cinema as I know it."
"The fact that most films now are not presented in 35 mm means that the war is lost. Digital projections, that's just television in public. And apparently the whole world is OK with television in public, but what I knew as cinema is dead."
Cannes 2014 in pictures

Show all 57
When asked how cinema could be saved, he described this generation as "quite hopeless" but said he remains hopeful the next one "would demand the real thing".
"I'm hopeful that we're going through a woozy romantic period with the ease of digital," he added. "I'm very hopeful that future generations will be much smarter than this generation and realise what they lost."
"Back in my day, you at least needed 16mm to make something, and that was a Mount Everest most of us couldn't climb.
"But why an established filmmaker would shoot on digital, I have no ******* idea at all."
An excited Tarantino broke out into an impromptu dance and recreated Pulp Fiction's Jack Rabbit Slim's scene as he arrived at Cannes before greeting Travolta and Thurman with a high five.
Access unlimited streaming of movies and TV shows with Amazon Prime Video Sign up now for a 30-day free trial
Sign up
The trio held hands while posing for cameras and then headed to the premiere of Clouds of Sils Maria at the Palais des Festivals before Pulp Fiction was shown.
After arriving at city's beach for the screening of his breakthrough film, Tarantino told an excited audience: "I've seen Pulp Fiction under every circumstance a person can see it except this one," and instructed them to "rip out a joint and light it up".
Register for free to continue reading
Registration is a free and easy way to support our truly independent journalism
By registering, you will also enjoy limited access to Premium articles, exclusive newsletters, commenting, and virtual events with our leading journalists
Already have an account? sign in
Join our new commenting forum
Join thought-provoking conversations, follow other Independent readers and see their replies