THE INDY FILM CLUB
In Inland Empire, David Lynch presents female suffering as it should be – a living nightmare
The film, which seems to stem entirely from Lynch's subconscious, reminds of his great empathy for his female characters, writes Clarisse Loughrey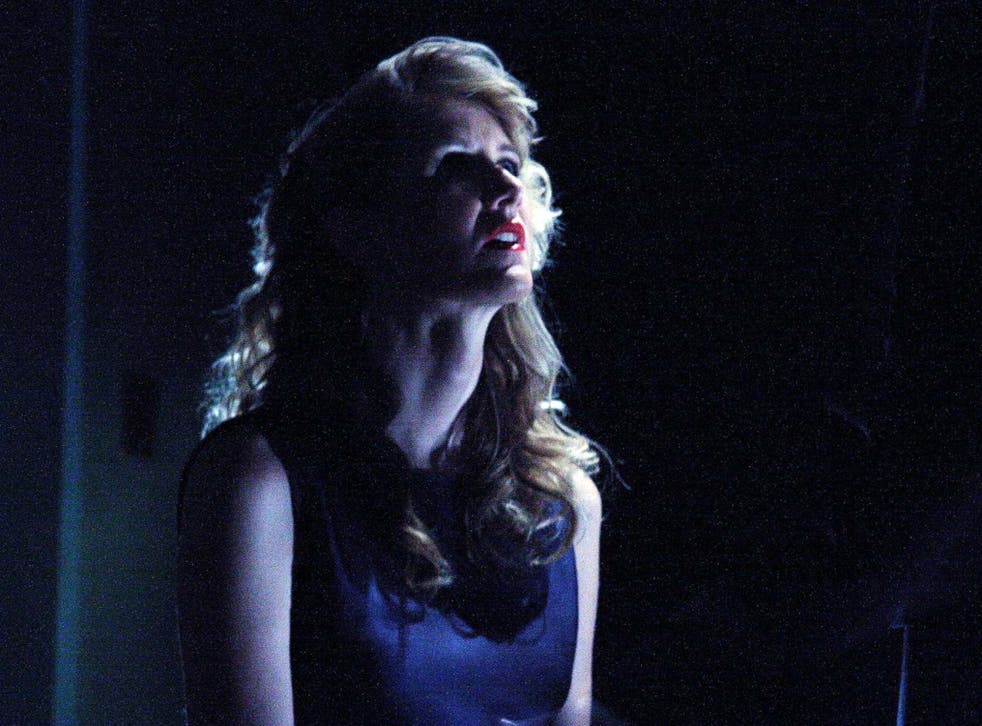 There's an unexpected intimacy to David Lynch's Inland Empire (2006). For a director so often talked of as a weaver of dreams (and the occasional nightmare), he still creates work, like Mulholland Drive (2001) and Eraserhead (1977), that feels consciously cinematic – you never lose the feeling that there's someone behind the lens, directing your gaze. That's not quite true of Inland Empire, which seems to skip straight past the camera and project visions from behind Lynch's eyelids, as he sinks deep into an REM state. A set of parallel narratives of filmmaking, violence, and adultery start to bleed into each other, as if you're watching the film melt before your eyes.
The director used an ordinary digital camcorder (there's no HD sheen here) to capture footage – the shadows are muddy and void-like, the sunlight unpleasantly harsh. Such compact equipment allowed him to move unimpeded through this world, moving in close on people's faces so that the whites of their eyes and teeth consume half the frame. The Los Angeles of Inland Empire is a crucible of deep, moral ugliness – unpleasant to look at and exist in.
Lynch took three years to shoot his film, darting back and forth between Los Angeles and Poland, where the film is ostensibly set. He wrote the screenplay as he went – actors would turn up on set and be handed the day's dialogue. After he was finished, he locked himself away in his home office and cut the final film together on Final Cut Pro. He wasn't able to work with his usual editor, Mary Sweeney, because, to quote the director himself, "No one knew what was going on except me." On set, stars Laura Dern and Justin Theroux would spend their downtime trying to piece together what the film's plot was.
At the surface level, Inland Empire is about Nikki Grace (Dern), a star on the decline, who's thrilled to get the lead in a highly publicised new production, only to discover that the film might well be cursed. As her director (Jeremy Irons) solemnly informs her, On High in Blue Tomorrows is actually a remake of an unfinished Polish film, whose stars were both murdered before filming could be completed. The revelation has a strange effect on Nikki, as the barrier between her and the role she plays, Sue, starts to disintegrate.
We see snippets of other realities – is one of these the Polish production? Or the folk tale it's said to be based on? Sometimes, we're watching an imaginary sitcom where people with rabbit heads sit in a dimly lit living room and spout nonsense phrases at each other. Time is never linear. Characters talk of their confusion as to whether it's today or two days from now. "I don't know what was before or after," Sue says. "I don't know what happened first, and it's kinda layin' a mindf*** on me."
The only hint that Lynch has ever given about the film comes in the form of a quote from the Brihadaranyaka Upanishad: "We are like the spider. We weave our life and then move along in it. We are like the dreamer who dreams and then lives in the dream. This is true for the entire universe." Reality is a mere construction. It is malleable. Characters can move between worlds, if they know how. At one point, Dern's character covers her eyes with her hands. She's in America. When she pulls them away again, she's in Poland. The season is different; so is the year.
However, since Inland Empire is a work of the filmmaker's subconscious, created piece by piece without an end goal in mind, it should be open to an infinite number of interpretations. Critics over the years have described it as a Hollywood-ised take on Alice in Wonderland, a commentary on the immersive powers of film, and an exploration of the digital world. Some have loved it (The Guardian's Peter Bradshaw wondered "how boring the cinema would be without David Lynch"), others have hated it (The Hollywood Reporter's Ray Bennett called it "an interminable bore").
It's easiest to describe the film as a melting pot for Lynch's usual obsessions – we see reality questioned, cinema both celebrated and reviled, and the patriarchy descend on the innocent as a smog-choked cloud. The last of these is neatly hinted at in the film's tagline: "A Woman in Trouble". Lynch is guilty, like many a male auteur, of deifying and objectifying his female characters. But, unlike so many of his compatriots, his work also shows great empathy for the terror that women suffer at the hands of gendered violence.
Cinema has long been textured with women's suffering, turned beautiful and tragic for the benefit of men. Here, Lynch presents that pain as it should be – nightmarish, as lightning cracks and faces loom out of the darkness, twisted and monstrous in quality. A young woman, bathed in shadows, her lipstick smudged (or is that a bruise?), describes a lifetime of abuse. This scene, revisited several times over the course of the film, is both eerily still and emotionally brutalising. It's significant that it's Dern speaking here. All of the characters she plays in Inland Empire (and there are several, though they often blend into each other) have suffered at the hands of men – the actor, the sex worker, the married woman. Whatever their station in life, there's no hope of escaping exploitation.
Access unlimited streaming of movies and TV shows with Amazon Prime Video Sign up now for a 30-day free trial
Sign up
Dern herself is as malleable and dreamlike as the film she stars in. Her face slips easily from fear to elation, then on to an emotion that doesn't quite exist in this world. It was Dern who first inspired the film and, in the run-up to the 2007 Academy Awards, Lynch was spotted at the corner of Sunset and La Brea in Hollywood, sat with a cow and a large "For Your Consideration" poster featuring the actor's face. Inland Empire is as much Dern's film as it is Lynch's – they together spin the web of strange dreams we find ourselves caught up in.
Register for free to continue reading
Registration is a free and easy way to support our truly independent journalism
By registering, you will also enjoy limited access to Premium articles, exclusive newsletters, commenting, and virtual events with our leading journalists
Already have an account? sign in
Register for free to continue reading
Registration is a free and easy way to support our truly independent journalism
By registering, you will also enjoy limited access to Premium articles, exclusive newsletters, commenting, and virtual events with our leading journalists
Already have an account? sign in
Join our new commenting forum
Join thought-provoking conversations, follow other Independent readers and see their replies