Lesley Manville interview: Oscar nominee talks Phantom Thread, Daniel Day-Lewis, and the Kardashians
'Some young actors don't get to act on ridiculous television shows because they don't have enough Twitter followers. It makes my blood boil'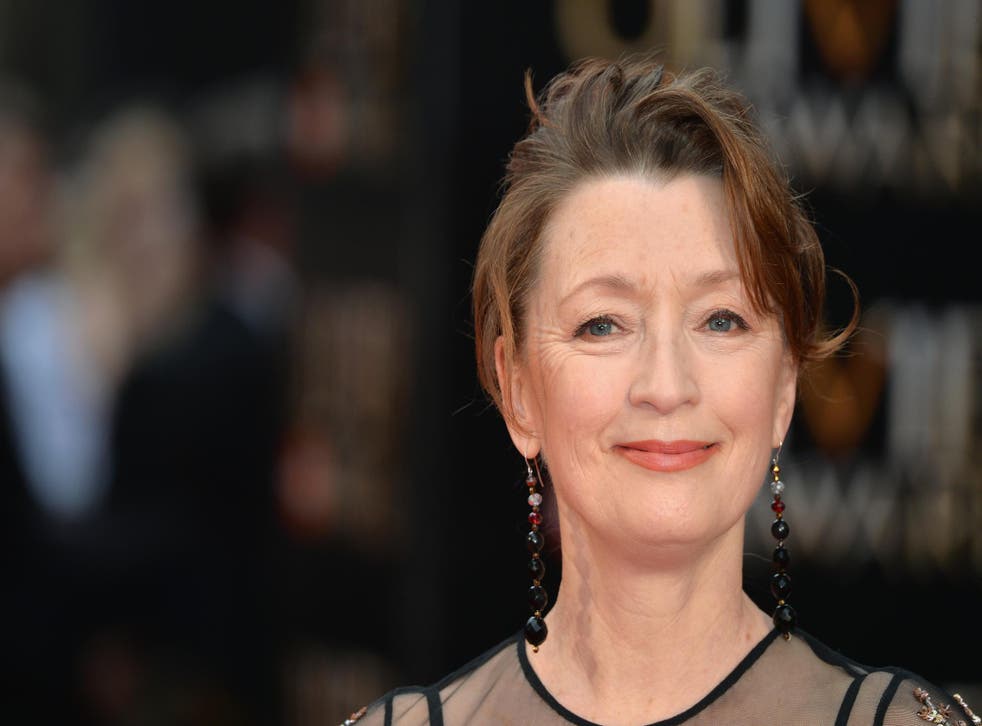 There's something quite unfortunate about Phantom Thread being Daniel Day-Lewis's last film. Not just because it means never again witnessing a fresh performance from one of the world's greatest actors, but also because his departure from the film world has completely dominated the conversation around the Paul Thomas Anderson-directed flick.
While justifiable – why would everyone not be talking about the three-time Oscar winner's last performance? — it's a real shame because Phantom Thread features two utterly spellbinding performances from actors that aren't Daniel Day-Lewis.
The first comes from Vicky Krieps, who plays the enticing partner of renowned fashionista Reynolds Woodcock (Day-Lewis). The pair have an electric chemistry that forms the aching heart of the movie, a toxic partnership that will leave audiences questioning the ones they love. The second comes from Lesley Manville, who plays the leading man's sister and confident, Cyril Woodcock. Manville brings surety to every scene, delivering lines with a sharp silver-tongue while remaining delightful company throughout. It's no wonder she's been nominated for a best supporting actress Oscar.
Manville is recognisable face to many British cinema-goers and TV watchers, appearing in multiple Mike Leigh films (Another Year, All or Nothing, Mr. Turner) and delightful TV sitcom Mum. Phantom Thread, though, will introduce the actor to a larger audience.
"Paul Thomas Anderson rings you up when he says he's going to ring you up — at 10 o'clock on the dot — and says he's written a script, asking whether you would like to be in a film with Daniel Day-Lewis," Manville tells me. "If I needed any more selling I would need my head examining."
27 films to look out for in the first half of 2018

Show all 27
Of course, that's not the only reason she took on the project. "I wouldn't have done it if it was a cough and a spit," she adds. "Paul wrote it but it was very up for grabs how I interpreted Cyril – how we created this duo, Daniel and I. It was a very, very fulfilling gig in every way. I was using all my creative genes. We were really working together as a team to make this come to life, which was wonderful."
Unlike Krieps, who spent no time with Day-Lewis before the shoot – Anderson wanted to capture their first reactions to each other on screen – Manville spent almost six months with the esteem actor before shooting. However, they would not rehearse scenes from the film, but instead took the time to get to know each another. "Daniel and I became friends," she says. "We talked about their background, obviously, but also became friends so we could take that ease of Lesley and Daniel and put into the ease Reynolds and Cyril inevitably have with each other, having been with each other all their lives."
When filming, Anderson allowed them both room to play with dialogue, the smallest scenes sometimes taking days to shoot. And while the auteur has a perfectionist streak – "We would do things again and again and again" – he was the opposite of a controlling director. "He was the most delightful of men," Manville says. "Very warm and kind. Giggly. But he's very clear on the details, knowing when the curtains are right, or the dresses are right. He just likes to start shooting and see what you're going to do. That's when he gets excited and floats in, to see what you're going to do. I don't think there was ever a moment where I felt we hadn't explored a scene fully."
That experience – seeing what happens on the day – sounds widely removed from theatre, where actors rehearse scenes again and again. Theatre, of course, is where Manville perfected her trade. Having first appeared in various TV shows, including Emmerdale Farm, she made her stage debut at the Royal Shakespeare Company, later performing for the Royal Court.
Access unlimited streaming of movies and TV shows with Amazon Prime Video Sign up now for a 30-day free trial
Sign up
"It's different," she says of working in theatre compared to film. "You're creating an evening that's absolutely on the actors. No one can stop and shout cut or edit and make it better. Actors are on stage, exposed, and you need to get it right. Filming is different. You're getting a moment right. You can go in and create something very good, very quickly. That's a different challenge to having five, six weeks to rehearse a play."
Last year, I spoke with director Benedict Andrew about his first film, Una. Classically a theatre director, Andrews spoke about not wanting to rehearse scenes beforehand, fearing an actor would perfect a moment off-screen when the camera was not rolling and unable to recreate it. I mention this to Manville: "That's exactly what you do need to do in theatres – to recreate a moment," she says. "That's the discipline, and that's a good discipline to learn, especially for young actors. Young actors need to do as much theatre as they can. But you have to be used an economical version of a rehearsal for film. We would do a lot of takes on Phantom Thread. I mean a lot! I don't think there was ever a moment where I felt we hadn't explored a scene fully."
Manville concedes that the world of acting has changed significantly compared to when she was an up-and-coming actor. "First of all, there's not as much theatre available now," she says. "The system is breaking down, simply because a lot of regional theatres don't exist anymore. In my day, you would go all over the place."
The other reason, though, comes down primarily to social media and an "enormous pressure to be famous". "Some young actors don't get to act on ridiculous television shows because they don't have enough Twitter followers," Manville says. "It makes my blood boil. Get off Twitter, get off Instagram. All that matters is acting and observing the world and being able to recreate that and look at characters in the real world and bring that to your work."
"It's all about self-promoting anyway. Why do I care to see somebody in a shop looking at a handbag? What's that about? I do not want the world to see how I function as a human being. It's private!"
I mention the Kardashians' habit of posting their every move online and Manville offers a sharp-tongued response worthy of her Phantom Thread character. "That's a perfect example of how not to conduct yourself. It's vulgar. In a circle of serious-minded people, the Kardashians are a joke, aren't they? There's nothing about that lot that's not laughable."
But, I argue, if an actor needs to be on social media to get onto TV shows then they cannot avoid doing so. "I know quite a few who just don't do it, and they're the ones with actually interesting careers. The ones that are really in earnest about it. Others are flavour of the month. And once your month is up, you're f**ked. Cause all you have is your Twitter followers, and that's it. Just do anything but be a social media actor. It's an empty form of acting."
Manville, though, does feel sorry for young actors, pointing out how one of the hardest parts has become the auditioning process, many casting directors asking for self-filmed tapes rather than meeting someone in person. So, what would be her advice for young actors?
"Be different, be a chameleon, don't be a personality actor because it might not last that long and it might get quite boring for you to play the same part all the time. And get on stage as much as you can. I still think the ultimate test is being on stage. It's so easy to make someone bad look good on film. In theatre, there's no hiding place."
With only one question left, the discussion turns back to Phantom Thread, the reason we're both sitting here. I can't help but ask about working with Day-Lewis on his last film.
"I don't think he knew this would be his last film at the time," Manville says. "It's a decision he's made since making the film. I have talked to him about it a bit, but he doesn't want to talk about it that much. It's a very personal, private decision. I guess it could have coloured some feelings that you have about him on set but I don't think it would have made a difference to the end result."
And the end result is spectacular.
Phantom Thread is in UK cinemas from 2 February
Join our new commenting forum
Join thought-provoking conversations, follow other Independent readers and see their replies