Regina King interview: 'We'll never know why Beale Street wasn't nominated for Best Picture at the Oscars'
Ahead of her potential Oscar win, nominee Regina King speaks to Jacob Stolworthy about her confusion over Beale Street's lack of a Best Picture nomination, why she thinks it's one of the most important films of our times and what to expect from HBO's forthcoming Watchmen TV series
Saturday 23 February 2019 09:29
comments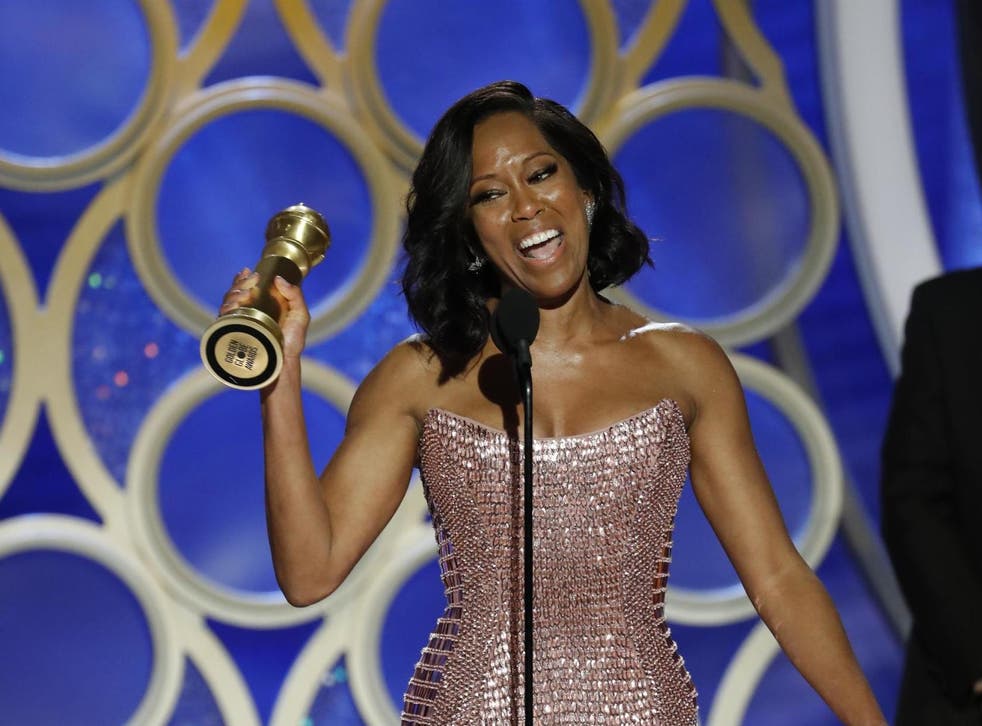 On a chilly February afternoon, Regina King is radiating warmth. As Sharon Rivers in If Beale Street Could Talk – the sumptuous James Baldwin adaptation from Moonlight director Barry Jenkins – she plays a woman stricken with sorrow and frustration, desperate to clear the name of her daughter's lover. But as I greet King in a London hotel room, two weeks after the 48-year-old received her first ever Oscar nomination, she is all smiles.
Such happiness is well-deserved. She has, after all, been in the industry for three decades, starring in films like Jerry Maguire, Enemy of the State and Ray. Awards attention is nothing new – but before now, it has mostly been for her varied TV work. She's won three Emmys – two for anthology series American Crime, the other for drama Seven Seconds – and could easily have been rewarded for any of her previous small-screen performances: young teen Brenda Jenkins in sitcom 227, world-weary detective Lydia Adams in Southland, or the formidable Erika Murphy in Damon Lindelof's HBO drama The Leftovers.
As Sharon Rivers in Beale Street, though, King has turned in what she believes to be her most important work – work that could very well see her take home the Best Supporting Actress trophy at the Academy Awards this Sunday.
Whether the night goes her way or not, King – dressed in a vibrant pink jumper that matches her sunny disposition – is clearly enjoying the ride.
47 brilliant films that didn't receive a single Oscar nomination

Show all 47
Barry Jenkins brought together such a talented cast for this film. Was he destined to be the person who adapted this novel?
I think so. I can't see the film in the hands of anyone else. It starts with his love for Baldwin and his ability to empathise. Look at Moonlight – he's just able to tell stories with such great empathy. They're both very different films, but with both, he's been able to be delicate but still grab you. When people saw Moonlight, they were just like, "Oh my God" and I feel the same with Beale Street. It just has this visual symphony. Barry was just so detailed. It's like watching a picture come to life. That guy's a genius, right?
The film's set in Harlem, but its eye-opening themes are universal. Could it be the most important film of the year?
I think of our times. And I know that sounds like a big thing to say coming from me, but the reason why I say it is because of what you just said: it's an eye-opener, but you can relate because you know what love is. You know what love feels like. And when you see someone go through a tragic moment and you see love is what's pushing them through, you can relate to that. That's universal. Barry was just great in forcing people to see and feel the humanity, because so often, stories are their stories or other people's stories. This is our story. While it is a black family and these are black faces, loving someone and supporting someone through tragedy is universal.
Despite the tragedy at the film's heart, it's also quite optimistic.
It's so interesting, because – and this is what I love about cinema – not everyone felt that way. I don't want to give the ending up, but there were some people who got to the final scene, and told me what they thought the ending was, and I was like, "No, that's not what it was!" Everyone's entitled to receive things differently.
Access unlimited streaming of movies and TV shows with Amazon Prime Video Sign up now for a 30-day free trial
Sign up
In your Golden Globes acceptance speech, you mentioned that, upon watching the film, your son said it was "the first time that he really saw himself". Is that something you predicted when you were making the film?
I had no idea that was going to be his reaction, but when he told me, it all made sense. Ian didn't grow up in the hood or anything like that but, like Fonny [the character played by Stephan James], he is strong and artistic and sensitive. I think so often for men, there is this idea that a man can't be strong and sensitive. He said that was the first time he's seen that before on-screen. It's usually always "the man is this" or "he's weak". As women and actresses, we talk about wanting to have layered characters, but actors fall into the same problem of not having multi-dimensional characters as well. The funny thing is, he might not have even gone to see the movie if I wasn't in it.
Earlier this month, the world was shocked by comments made by Liam Neeson during a junket interview
Oh my God. Richard E Grant actually told me about that story when we were in the Oscar nominees lounge [in Los Angeles]. He told me and Amy Adams. We were just like… [opens mouth in shock].
It's quite obviously sparked a backlash – but if there's one thing Beale Street teaches us, it's that deeply entrenched racism is nothing new. If the white bigoted cop, played by Ed Skrein in the film, went on to reform and owned up to his racist behaviour decades later, would he deserve forgiveness?
That's an interesting and strong question. It depends. In Beale Street, we have this story that is told through the eyes of Tish. Now, if it was told through the eyes of the cop, it would be a much different story. I don't know if it's a "forgive or not" type of situation; I think we have to accept differences. Back to Liam – will I say that after hearing it, did it change what I think of him? Unfortunately, yes, it did. Him not feeling like he needs to apologise? I don't know that he needs to, because that is clearly how he feels, and should you apologise for how you feel? That's honest.
Do you need to be responsible for what you make other people feel because you were expressing how you feel? Absolutely. So don't be surprised when someone doesn't want to work with you. Don't be surprised when you're not getting a job because they can't hire any other actors that want to stand beside you. That was a choice that you made. So, I feel like it's not a thing that's down to forgiveness. It's a responsibility. He made that choice to be responsible. I think we have to trust people will eventually show us who they really are – and they will. If it wasn't racist, then he wouldn't have addressed it as "a black man". It would have just been "a man". But he specifically had to put a race on it. So that's unfortunate.
Was that the reaction of your Hollywood peers too?
Yeah. I can't remember what conversation it was the three of us were having that made Richard bring it up. I guess it just hit the news and we just didn't know, so I only have had the reaction of Amy and Richard. He just kind of had a sickening look on his face as he was telling the story, just this "oh my God" look, and Amy went pale. I could have caught flies in my mouth. Richard was like, "I'm sorry. I didn't mean to f*** it up." So we gave each other a hug. Like, "We're here. And this is great." I haven't thought about it until you brought it up. But what I will say is, even if you didn't bring it up, every time I hear his name, I'm gonna think about that. Even if someone is just like, "Did you see one of his movies?", it's just gonna come to my mind. That one thing can erase every other thing.
Sorry for bringing the tone down.
No, it relates. 45 years ago, James Baldwin wrote this book. And, here we are. It is sad.
You made a vow in your Golden Globes acceptance speech that every project you do will have 50-50 gender parity. How have your fellow actors and directors responded?
It's been just huge. Everyone during the awards ceremony was like "Oh my God. You did that." Especially a lot of the Time's Up women that were in the audience or listening at home. I got a lot of texts. But I feel like we're in this place now where a lot of people are aware of the necessity of parity. Not just gender parity, but racial parity within all industries. I know that saying what I said, I'm putting a challenge on myself. I'm taking things into my own hands, and seeing what I can do with the power that I've received over the years and see how that lands. It's an amazing thing, but I have to say that the reason why I felt like I could make this vow on that stage is because I have such a huge group of people around me that are like-minded, and are in positions to help that happen. And when I say large group, I mean, male, female, black, white. So it's an exciting time. I cannot wait to take that crew photo that has 50-50 parity. The fact of the matter is the world population, I think, is 51 per cent female and 49 per cent male. Shouldn't our workforces look like that? We're getting there.
It certainly helps thanks to people like you.
Thanks to people like us. We all play our part. We're all connected. Whether we want to believe it or not, we're all connected. Even poor Liam's ass.
How do you feel about this year's Oscar race? It's been a controversial one.
I'm still in my feelings that Beale Street was not nominated for Best Picture.
Why do you think it wasn't?
I don't know. I don't know. And I guess we'll never know.
The Greatest Oscar Injustices Ever

Show all 10
You've reunited with The Leftovers creator Damon Lindelof for his forthcoming HBO version of Watchmen. Can you tell us anything about that?
Oh, gosh. He's [long pause] definitely going to shake things up. He's definitely touching on subject matter that is, like Beale Street in some ways, relatable and relevant. He's doing an amazing job of finding the levity in a serious space. I'm talking around things. I just feel like, every now and then, when I'm asked about it, some representative from HBO's gonna drop down from behind me. But I'm having a fantastic time. I got to see Jeremy Irons yesterday. I hadn't seen him since we've been shooting. We actually haven't had a scene together, so that was quite fun.
Does HBO envision it going on for a while?
Yes, I think that HBO wants to see what the response is going to be for the first season, but they seem to be very happy with the episodes that they've been seeing. I definitely know that there is nothing like this on TV. Damon seems to be very excited. He's just so smart, and despite him having such dark visions and stories, he is one of the most fun people I have ever been around. The guy can dance his ass off too. He's a great dancer.
Golden Globes 2019: Regina King pledges gender equality in her future projects
You recently said you didn't want to play mothers anymore. Is that something you're going to follow through on?
I will rephrase that, or retract that, and say that I would prefer not to play a mother soon, but if it's something beautiful, then I'll do it.
So, if Barry sends you another character who happens to be a mother…
Yeah, I'm in. I just hit him up the other day, because he's started production on his new show [Jenkins will direct all 11 episodes of new Amazon series, The Underground Railroad. I said, "Barry, you know, if you need anybody to come do any guest spots…"
If Beale Street Could Talk is in cinemas now. This year's Oscars ceremony takes place on Sunday 24 February
Join our new commenting forum
Join thought-provoking conversations, follow other Independent readers and see their replies