American aura story: The rise and rise of Sarah Paulson
Since she starred in 'American Horror Story', the actor has shown she can make any role her own. As she fronts new film 'Run', and following her turn as Nurse Ratched, Annabel Nugent pays tribute to the leading lady of the moment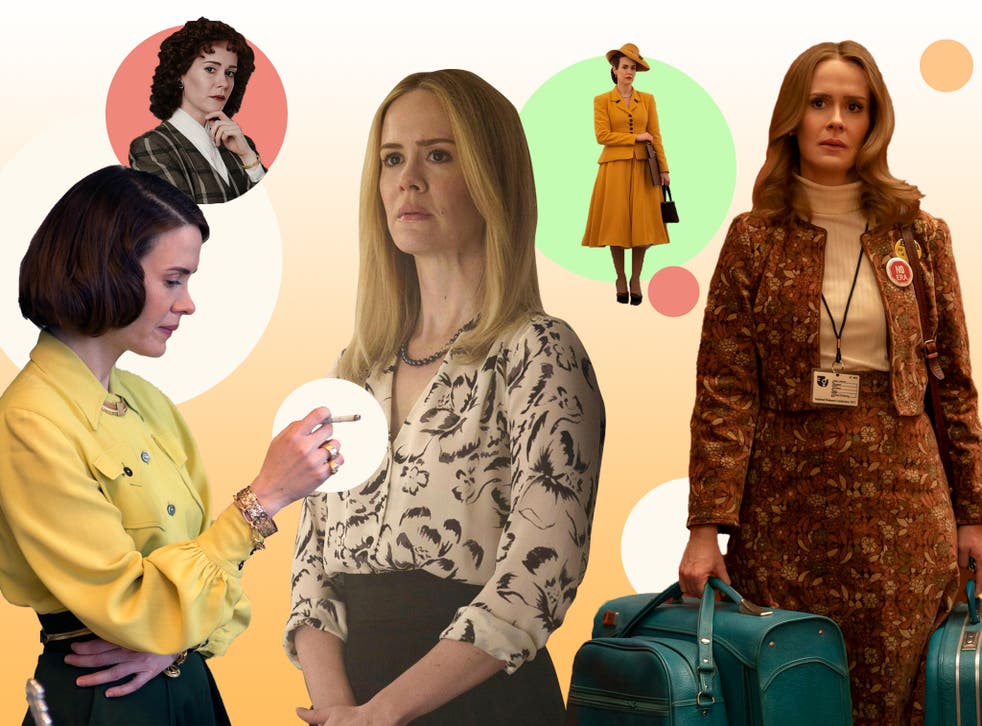 We often talk about versatility in actors. We applaud and, come the season, award those who succeed in changing our perceptions of them. The praise of an actor's range is almost always the result of one pivotal movie and more often than not it's a casting opportunity extended to men – Matthew McConaughey in Dallas Buyers Club, for example. Occasionally, a few women are afforded the same generosity: Charlize Theron and Margot Robbie come to mind.
Sarah Paulson, however, is an actor who has changed our very idea of what it means to switch it up onscreen. Over the past decade she has become famous but in her relatively brief career she has portrayed enough characters to span two lifetimes. In September, it was as the eponymous, villainous nurse in Netflix drama Ratched. Later this month, it will be Diane, a fatally overbearing mother in Hulu's forthcoming thriller movie Run. While "I couldn't recognise her!" is a common refrain when praising Theron for her Oscar-nominated role in Monster, or Robbie in I, Tonya, Paulson's specific brand of adaptability finds its appeal in the fact that you never forget it's her onscreen. Some actors disappear when they perform; others fill performances with their own humanity. Instead of transforming herself for a role, Paulson makes the role transform for her. She succeeds in turning every part, no matter how unlikely, into a Sarah Paulson part.
There is no Paulson type – the diversity of her characters assures that – but there is a particular image that comes to mind when you think of her: she's sweating, tearful, wailing in agony, covered in blood or about to be. The actor's first big-money job on Ryan Murphy's American Horror Story in 2011 cemented her status as a modern-day scream queen.
Every once in a while there is a working duo who are inextricable from each other: Tim Burton and Helena Bonham Carter, Nora Ephron and Meg Ryan, John Huston and Humphrey Bogart. AHS signified the beginning of Paulson and Murphy, a relationship she calls both "the creative marriage" and "greatest experience" of her life. Under his direction, Paulson metamorphosed from a plucky journalist into a tyrannical matriarch, by way of a junkie ghost, witchy headmistress with mummy issues, a Green Party voter and a pair of conjoined twins. "She just has a real faculty for being somebody else," Murphy told The New York Times. "If I said, 'Sarah, next year you're going to play Pope Francis,' she'd say, 'OK!'" And chances are that with the pair of them attached, the project would be a hit.
It is thanks to Murphy's revival of the anthology format (a revolving repertory of stars who assume fresh roles in new storylines every season) that audiences have been given the freedom and permission to not expect one particular thing from Paulson. This is true in terms of both her range of character – she is equally effective playing a torture victim as she is the one wielding the pliers – and in relation to her acting style. In every season of AHS the actor bellows, howls, yowls, cries, wails – oddly enough she never seems to shriek. "The Paulson Scream" has become a running joke, immortalised in TikTok videos and debated over in Reddit threads dedicated to ranking their every occurrence. By all counts, it's the type of theatrical broad stroke that could easily feel overcooked. But instead of being derided, Paulson's histrionic portrayal of fear has found icon status alongside Janet Leigh's Psycho shower scene and Edvard Munch's lone anguished figure.
She is not always kicking and screaming. Often she lets her characters experience emotions like the majority of us do: by trying not to reveal how we feel. It's more apparent in The People v OJ Simpson: American Crime Story, for which Paulson's portrayal of prosecutor Marcia Clark earned her both an Emmy and a Golden Globe. Her performance is astonishingly subtle. Episode six, the series' tour de force titled "Marcia, Marcia, Marcia", features a moment that is hard to forget: Clark – already beaten down by a sexist media trial – enters the courtroom sporting the now-notorious god-awful "Rick James" perm. At first, she's oblivious to the cruel gawking coming from the benches but then a flicker of recognition flashes across her face and she does what all of us do when trying not to cry. She looks down, clears her throat, takes a sip of water and bites her lip. It's 40 seconds but enough to demonstrate the subtlety of Paulson's acting prowess.
And so after the one-two punch of AHS and The People v OJ Simpson, Paulson became a new face in Hollywood. Although she wasn't exactly new. Even before a serendipitous meeting with Murphy, Paulson had already made a mark, albeit a faint one, as a character actor. She played divergent roles, such as a spectre on 1995's horror series American Gothic (Paulson has a self-confessed habit of choosing projects with the word "American" in their title). Similarly off-key, she gave a critically lauded performance as Laura Wingfield on Broadway's production of The Glass Menagerie opposite future AHS co-star and fellow icon Jessica Lange. Her first "sparkly job", as she puts it, was on Aaron Sorkin's 2006 series Studio 60 on Sunset as a conservative Christian comedian opposite Amanda Peet and Matthew Perry.
Her rising profile has been bolstered in recent years thanks to a string of supporting roles in blockbusters. HBO's political drama Game Change, the Cate Blanchett-led romance Carol, Steve McQueen's 12 Years a Slave, the all-female reboot Ocean's Eight, The Post, Mud, Birdbox – her roles in each are pretty minor compared to her small-screen feats but they are consistently strong performances. The only unfortunate misfire was 2019's The Goldfinch, a dud adaptation of Donna Tartt's bestseller, but that was hardly Paulson's fault.
This year, however, there's been a Paulson hat trick. Alongside Ratched and Run, she's had a lead role in Mrs America as Alice Macray, a scene-stealing sidekick to the anti-feminist movement's leader Phyllis Schlafly (played by Blanchett). It's Ratched though, where she is front and centre. The series, which tells the backstory of One Flew Over the Cuckoo's Nest's sadistic Nurse Mildred Ratched, has been underwhelming, with its garbled characterisation and unintelligible motives. And yet Paulson packs enough punch as the gruesome villain to carry the entire thing off. She is Ratched's saving grace, between those moments of aggressively green landscapes and shoddy dialogue. And that's because, behind the latex gloves and winged hat, she is still Sarah Paulson.
There's something else that makes us root for her: now 45, Paulson found fame further on in her career – especially late for a female actor in the sexist, misogynist-mired world of entertainment – and it's something that she says she owes to Murphy, whom she praises for working with "older women". There is little doubt that her career is caught up in his, but where it once seemed that Paulson had hitched her wagon to a star showrunner, it now appears to be the other way around. Her first-time absence from the latest AHS instalment last year was a devastating blow – the slasher-themed 1984 was its worst season yet.
Her winning streak will continue elsewhere. Later this month, Paulson is set to star in her first lead role beyond television. In Run, a Munchausen thriller inspired by the millennium-defining case of Gypsy Rose Blanchard, Paulson plays a single parent whose love for her chronically ill teenager (but is she really?) turns sour as she prepares to leave for college. The film is by no means a stretch for the actor – a virtuoso of apparently contradictory moods. But while there is safety in the familiar, if Paulson has proven anything, it's that any character is safe in her hands.
'Run' is out on Hulu on 20 November
Join our new commenting forum
Join thought-provoking conversations, follow other Independent readers and see their replies