Scott Eastwood interview: How Clint's son bounced back after being rejected for role in American Sniper
Star talks about his most recent film 'The Longest Ride'
Tom Teodorczuk
Friday 12 June 2015 09:10 Comments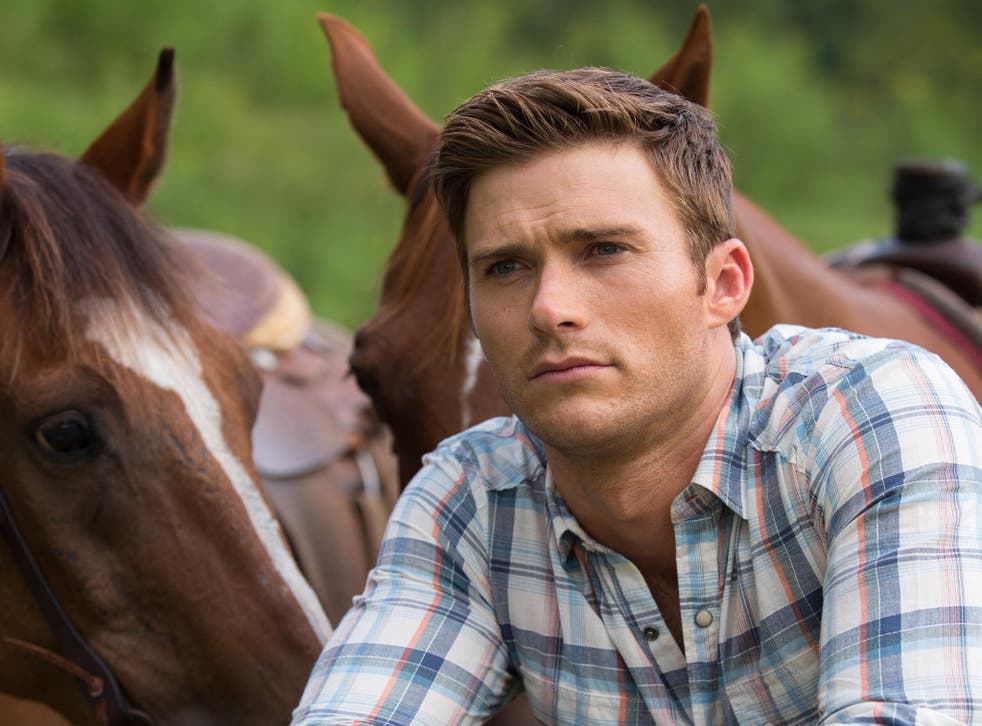 Clint Eastwood's son Scott has a first leading-man role in Hollywood in The Longest Ride. The film is the 11th adaptation of a Nicholas Sparks romance novel. Previous movies based on books penned by the "king of hearts", as Sparks is nicknamed, have helped Ryan Gosling, Liam Hemsworth and Amanda Seyfried break through to stardom, so the role of bull-rider Luke Collins might well serve as a springboard to future success for Eastwood. But things could have worked out differently.
Eastwood tells me that, just before landing The Longest Ride, he unsuccessfully went up for the part of the brother of US Navy Seal Chris Kyle in Iraq-war blockbuster American Sniper, directed by his father. "I auditioned for American Sniper and didn't get a role," he recalls. "But it was actually perfect because it was around the time this film was gearing up so it was maybe a better thing. I would have loved to have been part of American Sniper but then I wouldn't have the opportunity to do this film."
When we meet in a New York hotel, Eastwood's boyish charm, toned physique and pale blue eyes call to mind Ryan Gosling. He doesn't hide his debt to director-actor Clint, the "man with no name" whose career now has no parallel. He landed early supporting roles in his father's Flags of Our Fathers, Gran Torino and Invictus but insists he secured each part on merit.
"I was 18 years old when I called him and wanted to audition for Flags of Our Fathers," Scott recalls. "I was a young actor trying to make something of myself, working two jobs and hustling and he said: 'Well, we'll see. I'll give you a shot to audition.' I auditioned for one of the bigger roles in Flags... and that obviously didn't happen. But I did a good enough job so he hired me to do a couple of lines in the film. That's how it rolls with him on every project. I've auditioned for a lot of the bigger roles in his films and never got them."
Scott Eastwood's mother is flight attendant Jacelyn Reeves, with whom Clint had an affair during the mid-1980s. Growing up, he primarily lived with his mother.
I ask how Clint is still going so strong, pausing when I try to think of a euphemism for his age. Eastwood erupts with laughter. "You want to say he's old! He's 84 but he's a young 84. I think it's moderation. He's very healthy. He was shoving salmon and broccoli down my throat as early as I can remember. Making movies keeps him young. I always hear from him, 'the day you stop working is the day you start dying!'"
The public perception of Clint Eastwood is off-base according to Scott: "If people knew the truth about my dad, they would be like, 'Wait? What?' The truth is he's very old school, there are no hand-outs. It's the opposite. It's so funny because my dad was like: 'Go get a job. Go figure it out. You want to be an actor, go for it but you better get a day job because that doesn't pay the bills.'"
Scott found some early supporting roles but the reality of the actor's life almost led him to quit. "Acting wasn't inevitable for me," he says. "I've always wanted to do something that is active and engaging and helps people. I would have been a firefighter. Up till a few years ago, acting didn't pay well for me. Until recently I was still bartending in LA and San Diego and working as an actor. I was working multiple jobs and did it all – construction, car-parking valet. About five years ago I was like, 'I'll give it till the end of the year and see', because I can just go and be a firefighter. A couple of times I was about to throw in the towel. Then I got a role, made some money and gained momentum. In reality you can be hot and then you can disappear."
He won't be disappearing any time soon. In The Longest Ride he plays a North Carolina rodeo bull-rider who romances Sophia (Britt Robertson, from Tomorrowland) who dreams of making it in the New York art-world. Luke rescues an old man, Ira, played by Alan Alda, from a burning car, who then unspools his own love story that involved fleeing Nazi persecution during the Second World War. (In a nice nod to old Hollywood, the young wartime lovers are played by Oona Chaplin and Jack Huston, grandchildren of Charlie Chaplin and John Huston).
Access unlimited streaming of movies and TV shows with Amazon Prime Video Sign up now for a 30-day free trial
Sign up
"I thought it was different to some of his other stuff," Eastwood says of the latest Sparks adaptation. "I thought, when I read the script, 'if it's done right it could be touching', which I felt they achieved." He acknowledges the gender disparity when it comes to Sparks's films which, most notably with The Notebook, tend to attract a female audience. "The goal is if you're a man who gets dragged by his girlfriend or your wife, you're going to be like, 'the movie's cool'," he says. "It's a movie I'm proud of and I'm a guy! I like testosterone-driven, fun guy-movies and I was not into making a film like this if it wasn't going to be semi-appealing for dudes."
Scott grew up going to rodeo events with his mother and friends, an experience he calls "very Americana". He desperately wanted to ride the bulls during filming but "Fox [the studio that made the film] was adamant I did not get on. But I couldn't go around saying I did a bull-riding movie and never bucked a bull!" Once shooting had finished, he went to a ranch in Moorpark, southern California with friends who filmed him bull riding: "I lasted about two and a half seconds."
The Longest Ride,

like most Sparks' stories, received short shrift from critics, but it's edgier than his previous works, chronicling anti-Semitism and commerce in the art world and featuring a shower-sex scene between Scott and co-star Robertson. "I don't find it awkward," he says about filming love scenes. "Britt was super cool, she's sexy and, like the real thing, you gotta go for it!"
Currently single, Eastwood, a former model, eschews the publicity circus that engulfs many of his young Hollywood contemporaries. He ascribes this to living in San Diego and not Los Angeles. "I'm not some saint either. I go out and have fun. I like to date and be like a normal dude." At one point he voices his admiration for "people progressively trying to change the world", so I wonder if he shares his father's high-profile Republican leanings, but he won't go there ("I don't get involved in politics. That's not my business").
Next up for him is Snowden, Oliver Stone's biopic of the CIA whistleblower. Though tight-lipped about the film, Scott forecasts it will generate controversy ("Oliver Stone is a master at getting people talking"). He plays a National Security Agent. To research the film, he "talked to a guy who is an ex-NSA contractor. The reality is that there are not a lot of guys you can talk to because there is a lot of secrecy." He will also be playing a mystery role in David Ayer's DC Comics blockbuster Suicide Squad alongside Will Smith and Cara Delevingne.
But one role Scott Eastwood didn't take was Christian in the film version of Fifty Shades of Grey. "They [Universal] asked me to come in and test for it," he says. "They didn't offer me the film and didn't have a script. They said, 'you have to come in and if you get it, you're locked into a contract'. I said, 'I'm not doing that'. I only do movies that have good scripts. I'm director-driven and I only wanna be in good movies. I don't care if they make millions and millions of dollars."
What would he say if his father wanted him to commit to a film without a script? "You say: 'Yes! How high?' He's the best director in the business." Then he pauses, perhaps mindful of the auditions he undertakes for his father. "Or one of the best. There are so many great ones."
The Longest Ride opens on 19 June
Register for free to continue reading
Registration is a free and easy way to support our truly independent journalism
By registering, you will also enjoy limited access to Premium articles, exclusive newsletters, commenting, and virtual events with our leading journalists
Already have an account? sign in
Join our new commenting forum
Join thought-provoking conversations, follow other Independent readers and see their replies