Suicide Squad: What can we expect from Jared Leto as The Joker?
This summer's biggest movie finally arrives on Friday 
Jess Denham
Monday 01 August 2016 10:00 Comments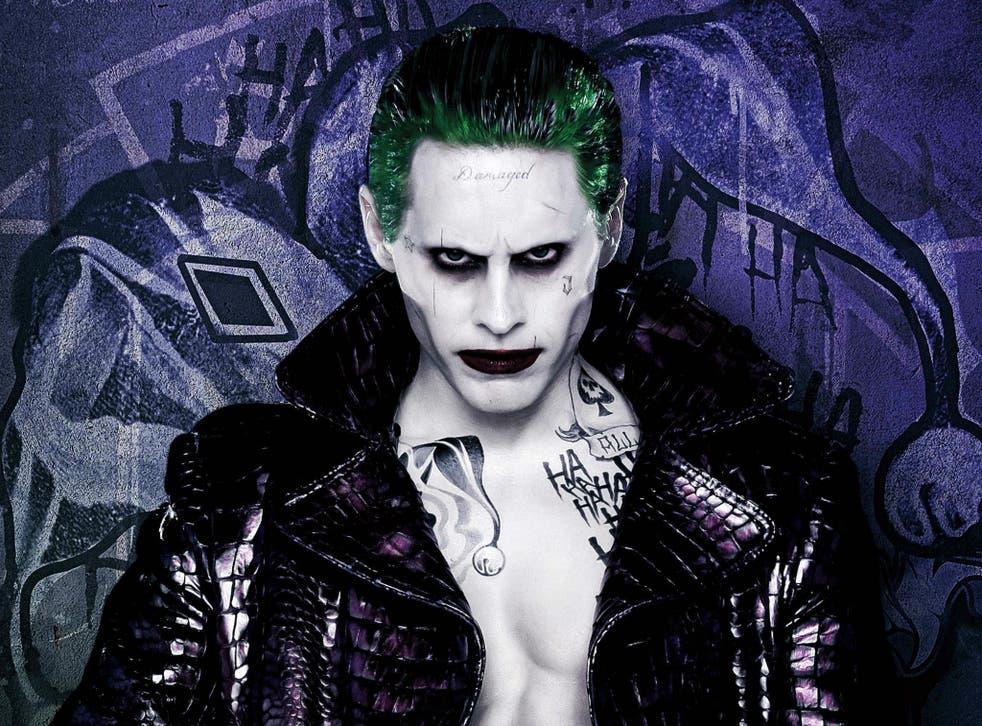 Suicide Squad is set to put Joker's smiles on the faces of studio bosses this weekend with a dead cert box office triumph, but while Margot Robbie's gloriously unhinged Harley Quinn and Cara Delevingne's intriguingly creepy Enchantress will help lure film lovers into their cinema seats, the eyes of comic book fans around the world are fixed firmly on Jared Leto and the most hyped performance of the year.
Leto has risen from being best known as the frontman of 30 Seconds to Mars to the Oscar-winning actor behind drug-addicted HIV-positive trans woman Rayon in 2013's Dallas Buyers Club. Next, he will tackle one of cinema's most iconic roles, stepping into the late Heath Ledger's psychotic clown suit as the Joker in David Ayer's blockbuster about a group of villains recruited by a secret government agency to carry out black op missions in exchange for reduced jail sentences.
There has been a deluge of marketing materials in the run-up to Suicide Squad's Friday release, from full cast photos and teaser clips to full-length trailers, bold cover features and recently, dedicated character videos to offer fans glimpses of their favourites in action. The colourful, edgy and alternative aesthetic has succeeding in hogging our attention for months now, but whether a clever promo team will translate to a smash hit remains to be seen. How will the film look in 20, ten, even five years times?
No character embodies the danger that this achingly modern movie will seem dated before the decade's out more than Leto's Joker. The first photos of the baddie's new look emerged last year, showing the actor covered in tattoos (from 'deranged' on his forehead and playing cards on his shoulder to 'Ha! Ha! Ha!' on his chest) with lurid green hair, thick black eyeliner, dark lipstick and a shiny silver grill in a nod to the hip-hop trend. He was seen wearing a long purple trenchcoat with trackies on the front of Entertainment Weekly. It's cool, but surely no word has meant more things in its lifetime. Our children and grandchildren may well end up looking at this Joker and laughing more manically than he does.
Nevertheless, it is brave to shake up expectations and director David Ayer can be applauded for that - comparisons between Leto, Ledger and previous Joker Jack Nicholson are so inevitable that opting for something shockingly different from the timeless, instantly recognisable Joker could prove a smart move.
Suicide Squad: Official Final Trailer

Importantly, Leto knows what he's following. Ledger's turn as the Joker in 2008's The Dark Knight earned him a posthumous Best Supporting Actor Oscar and unanimous critical acclaim, with Leto acknowledging in a recent interview that it was an "impeccable, perfect performance…one of the best ever in cinema". Last year, he posted a meme on Instagram showing Ledger and Nicholson together in character, overlaid with the words "Don't worry, Leto will make us proud" and a heart emoji as the caption. With so much to live up to, the 44-year-old was initially reluctant to take on the role but since deciding to do so, nobody can accuse him of not giving it his all.
Suicide Squad character posters

Show all 38

The list of bizarre things Leto has done to "get into character" as the Joker is endless. From spending time with psychopathic killers and taking inspiration from drug lords to sending dead pigs, live rats, bullets, anal beads and, allegedly, used condoms to his co-stars, it's been a crazy ride. Robbie recently admitted that she feared Leto might "beat her up on set" after first hearing about his method acting, while Will Smith, who plays Deadshot, revealed that he has met Leto as 'Mr J' but never as himself. To perfect his creepy laugh, Leto hit the streets of New York to scare unsuspecting civilians. Hopefully, the drama, tension and unease Leto created during filming will have led to hypnotisingly intense chemistry on screen.
"To the Joker, violence is a symphony," Leto said earlier this year, with Ayer making the bold claim that when he steps onto the set, "the world stops".
"It's like the birds stop flying," he said. "He's f**king terrifying."
Register for free to continue reading
Registration is a free and easy way to support our truly independent journalism
By registering, you will also enjoy limited access to Premium articles, exclusive newsletters, commenting, and virtual events with our leading journalists
Already have an account? sign in
Join our new commenting forum
Join thought-provoking conversations, follow other Independent readers and see their replies