Doctor Strange: Tilda Swinton diplomatically responds to whitewashing claims
The Tibetan mystic will be Celtic in Marvel's upcoming movie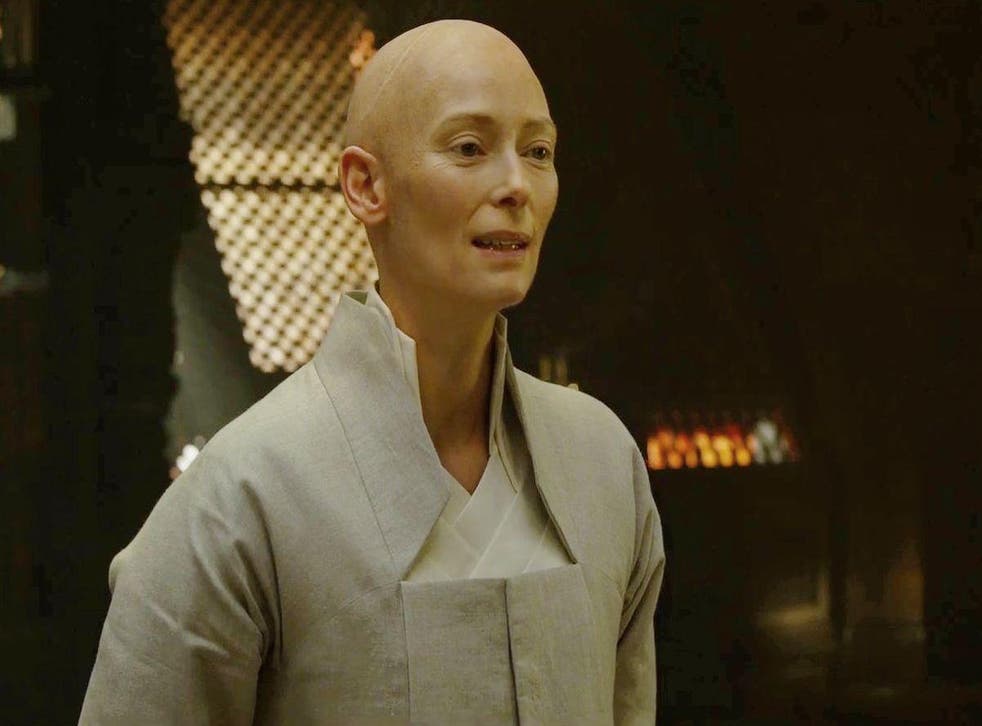 Tilda Swinton has defended Doctor Strange from whitewashing accusations after her casting as The Ancient One sparked controversy.
The Oscar-winning Scottish actor will play the elderly, male Tibetan mystic in Marvel's upcoming Benedict Cumberbatch-led movie. but insists that she "wasn't asked to play an Asian character, you can be very well assured of that". Instead, The Ancient One will be Celtic, female and much younger.
"Anybody calling for more accurate representation of the diverse world we live in has got me standing right beside them," Swinton told Entertainment Weekly. "I think when people see this film, they're going to see that it comes from a very diverse place, in all sorts of ways. Maybe this misunderstanding around this film has been an opportunity for that voice to be heard and I'm not against that at all. But I do think that when people see the film, they'll see that it's not necessarily a target for that voice."
Despite her diplomatic response, fans remain concerned that Doctor Strange is still heavily contributing to the problem of Hollywood whitewashing, with trailers showing white actors backdropped by the oriental visuals of the original comics. Benedict Wong, the British actor born to Chinese parents who plays the Sorcerer Supreme's servant Wong, confirmed in June that he is "certainly not going to be the tea-making manservant […] more of a drill sergeant".
Others have attempted to justify The Ancient One's rewrite by arguing that keeping the character Tibetan would alienate the Chinese box office due to political tensions. Doctor Strange's screenwriter C Robert Cargill insisted earlier this year that Swinton was cast on her talent and not her racist, adding that it was also partly a "political move" to prevent the Chinese government from banning the film.
Hollywood whitewashing controversies

Show all 11

Swinton's casting was revealed at the same time as Scarlett Johansson's in the lead as Japanese cyborg Motoko Kusanagi in Ghost in the Shell. High-profile Asian stars including George Takei and Margaret Cho expressed their anger and frustration at the news, with the former writing on his Facebook Page that Marvel "cast Tilda because they believe white audiences want to see white faces […] leaving Asians invisible on screen and underemployed as actors".
Marvel issued a statement on the controversy in response, explaining that The Ancient One is "a title that is not exclusively held by any one character but rather a moniker passed down through time and in this particular film the embodiment is Celtic". The studio added that it has a "very strong record of diversity" and "regularly departs from stereotypes and source material", with Marvel president Kevin Feige explaining that he "didn't want to play into any of the stereotypes found in the comic books, some of which go back as far as 50 years or more".

It remains to be seen how director Scott Derrickson has dealt with Swinton's character after writing in May that he was "listening and learning" after the criticism. "Raw anger/hurt from Asian-Americans over Hollywood whitewashing, stereotyping and erasure of Asians in cinema," he wrote on Twitter. "I am listening and learning."
Doctor Strange arrives in UK cinemas on 28 October, with Rachel McAdams, Mads Mikkelsen and Chiwetel Ejiofor.
Register for free to continue reading
Registration is a free and easy way to support our truly independent journalism
By registering, you will also enjoy limited access to Premium articles, exclusive newsletters, commenting, and virtual events with our leading journalists
Already have an account? sign in
Register for free to continue reading
Registration is a free and easy way to support our truly independent journalism
By registering, you will also enjoy limited access to Premium articles, exclusive newsletters, commenting, and virtual events with our leading journalists
Already have an account? sign in
Join our new commenting forum
Join thought-provoking conversations, follow other Independent readers and see their replies