Emma Stone gives emotional SAG speech after winning best actress
Backstage, she added:  'I would hope that people would fight for what's right, and what's just f**king human'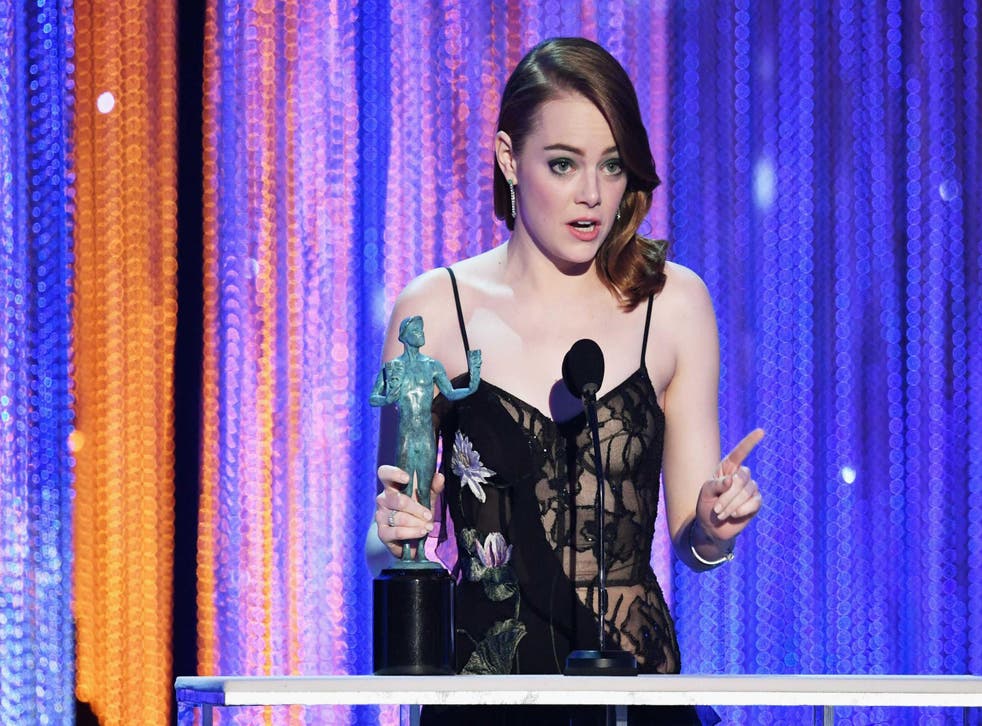 Emma Stone has taken another large step towards an Oscars victory, picking up the Screen Actress Guild Award for Best Actress for her portrayal of a struggling actress in the film La La Land.
"Wow," she began her acceptance speech. "To be an actor, playing an actor, and receiving an actor by a guild of actors, it's pretty exceptional. Oh, they're counting me down. I have forgotten everything I have ever thought in my life."
After becoming a little flustered, Stone began to thank director Damien Chazelle, along with praising the other actors in the category.
However, the teleprompter began to rush her on, the actor reading aloud 'Please wrap up' before continuing: "Ok, I just wanted to say I feel insecure a lot of the time. And feeling I deserve anything like this requires a bit of mental gymnastics."
Films to get excited about in 2017

Show all 13
She continued: "Getting to be a part - even a tiny, tiny part - of a group of people that cares about reflecting society and bringing people joy and making them laugh and giving people hope, maybe, or, God, I know I have to wrap up, I feel like I'm going to faint."
Thankfully, Stone managed not to faint, but after quickly thanking everyone in the room once more, she took a long breath and walked off stage. Watch below.
Back stage, Stone was more outspoken, saying: "We have to speak up against injustice, and we have to kick some ass. We have to speak up.
"Staying silent only helps the oppressor, not the victim. Right now I hope that people seeing things that are being done that are unconstitutional and inhumane would say something. I would hope that people would fight for what's right, and what's just f**king human. What's f**cking human."
Actor Dev Patel also spoke out against Donald Trump's Muslim ban, calling it "horrible" and "divisive," while Ashton Kutcher and Kerry Washington also adressed the controversial order.
Join our new commenting forum
Join thought-provoking conversations, follow other Independent readers and see their replies