Donald Trump's Muslim ban will prevent Syrian subjects of 'White Helmets' doc from attending Oscars
Raed Saleh, who heads the Syrian volunteer organisation, and cinematographer Khaled Khateeb will be prevented from attending the ceremony
Clarisse Loughrey
Monday 30 January 2017 09:21 Comments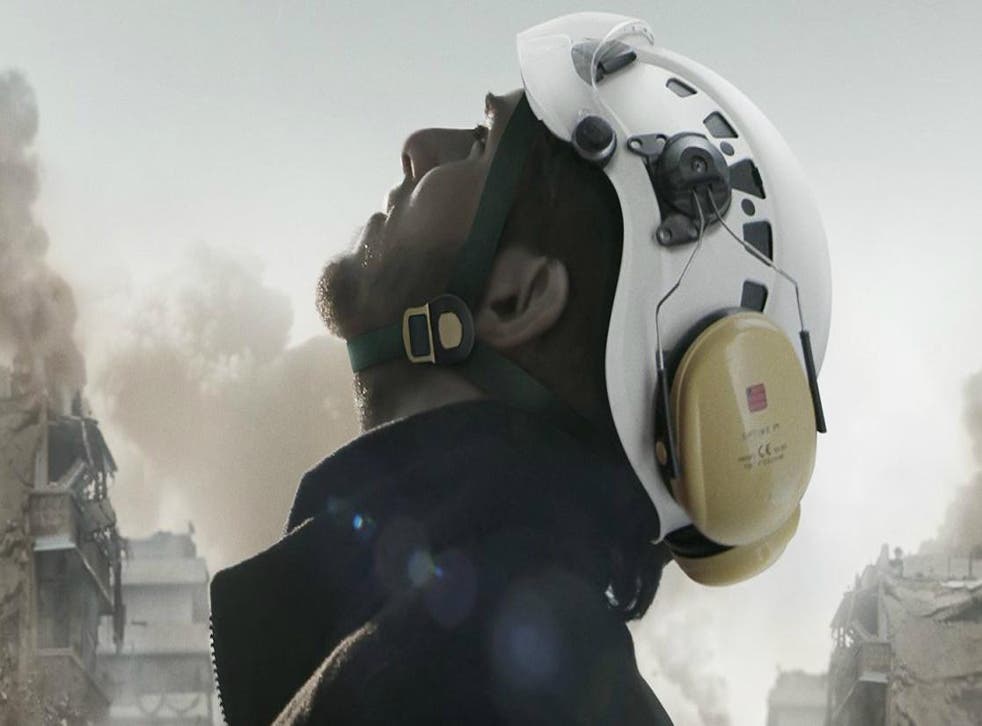 Individual stories of those locked out of the US by Donald Trump's Muslim ban are flooding in, with this year's Academy Awards ceremony certainly not excluded from its effects.
It has already been confirmed that both Asghar Farhadi, whose film The Salesman is nominated in the Foreign Language category, and Hala Kamil, the subject of Watani: My Homeland which is nominated in the Documentary (Short Subject) category, will be unable to attend the ceremony due to the ban.
Now, it's emerged that two individuals involved with The White Helmets, also nominated in the Documentary (Short Subject) category, will also be prevented from attending the Oscars (via Indiewire): Raed Saleh, who heads the Syrian volunteer organisation, and cinematographer Khaled Khateeb.
In response, the film's producer Joanna Natasegara has released a statement: "We have always said that if we were to be nominated, we would bring Raed Saleh, the head of the White Helmets, who has spoken many times in D.C., and Khaled Khateeb, the young cinematographer who risked his life over and over again, as our guests. They've been nominated for a Nobel Peace Prize — these people are the bravest humanitarians on the planet, and the idea that they could not be able to come with us and enjoy that success is just abhorrent."
Protestors rally at JFK Airport against Muslim immigration ban

Show all 20

Watani: My Homeland director Marcel Mettelsiefen also released a statement on the ban: "This travel ban from President Trump is another devastating blow to refugees who have already suffered so much. As Trump seeks to demonise refugees and Muslim people in general, films such as Watani: My Homeland, which tell the human story of refugees become ever more important. We must reconnect with the common humanity of the refugee experience and we must all remember that the founding story of America is dependent upon people who have fled war, hunger and poverty in search of a better life."
The White Helmets documents the daily operations of a group of volunteer rescue workers of the Syrian Civil Defense, better known as the White Helmets.
Iranian mother reunited with 5-year-old son after he was detained at Dulles Airport
Trump has ordered a four-month ban on all refugees from entering the country as well as enacting an indefinite ban on all those who hail from Syria. For 90 days, visas will not be issued to nationals from Iran, Iraq, Libya, Somalia, Sudan and Yemen.
Register for free to continue reading
Registration is a free and easy way to support our truly independent journalism
By registering, you will also enjoy limited access to Premium articles, exclusive newsletters, commenting, and virtual events with our leading journalists
Already have an account? sign in
Register for free to continue reading
Registration is a free and easy way to support our truly independent journalism
By registering, you will also enjoy limited access to Premium articles, exclusive newsletters, commenting, and virtual events with our leading journalists
Already have an account? sign in
Join our new commenting forum
Join thought-provoking conversations, follow other Independent readers and see their replies