Tom Hardy made The Revenant cast t-shirts of him choking director Alejandro G. Iñárritu
'It ended with both of us falling down in the snow'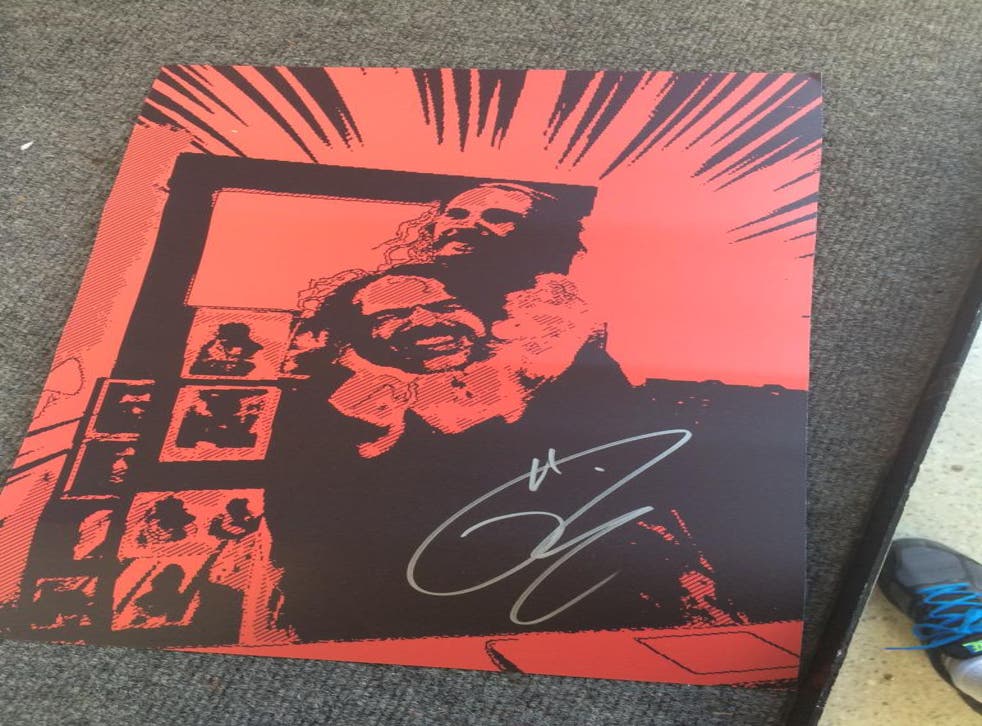 The Revenant was a pretty intense shoot; you may remember it at one point involved Leonardo DiCaprio eating raw bison liver ("The bad part was the membrane").
It was cold and remote and relentless and at one point Leo's co-star Tom Hardy and director Alejandro G. Iñárritu ended up wrestling.
"When things get a bit too serious, I go, 'Why don't we have a cuddle in front of all these people here?' " Hardy previously told EW. "It ends with both of us falling down in the snow. I think that's a good thing. If I'm the naughty boy for doing that, then I'd rather be the naughty boy and release that tension."
His tension-relieving scuffle clearly amused the rest of the cast and crew, so much so that Tom Hardy had t-shirts made up depicting the moment (above: the design, below: seen wearing one).
A signed picture of 'the choking' popped up on Reddit this morning and received thousands of upvotes.
One commenter painted a slightly darker picture however (though this is completely unverified):
'That's not what happened; Hardy got pissed off in an argument with Inarritu and choked him out. It was a serious fight, and when they made up afterward they were good enough to goof about it and took that picture. My boss was on the crew, I took that picture. (Must have made the internet rounds.)'
Hardy clearly found it challenging working with Iñárritu, saying: "He's unlike any director I've ever worked with. He sees things how he sees them, so to give him back what he wants is quite an interesting experience. It could drive you fucking nuts."
But however serious the fight was, it seems the pair don't bear any hard feelings.
"On the surface, he can look inaccessible or difficult," the director said of Hardy. "But he is just a beautiful human being. He's incredibly sensitive and lovable."
The Revenant leads the Oscar nominations this year with 12 nods. If it wins Best Picture it will be Iñárritu's second consecutive win in the category.
Join our new commenting forum
Join thought-provoking conversations, follow other Independent readers and see their replies