Underworld 5: Kate Beckinsale on why the first movie would never have been made today
The Love & Friendship actress spills on why the 2003 fantasy was a perfectly timed risk, and why the film would never have been greenlit today
Clarisse Loughrey
Tuesday 31 May 2016 15:05 Comments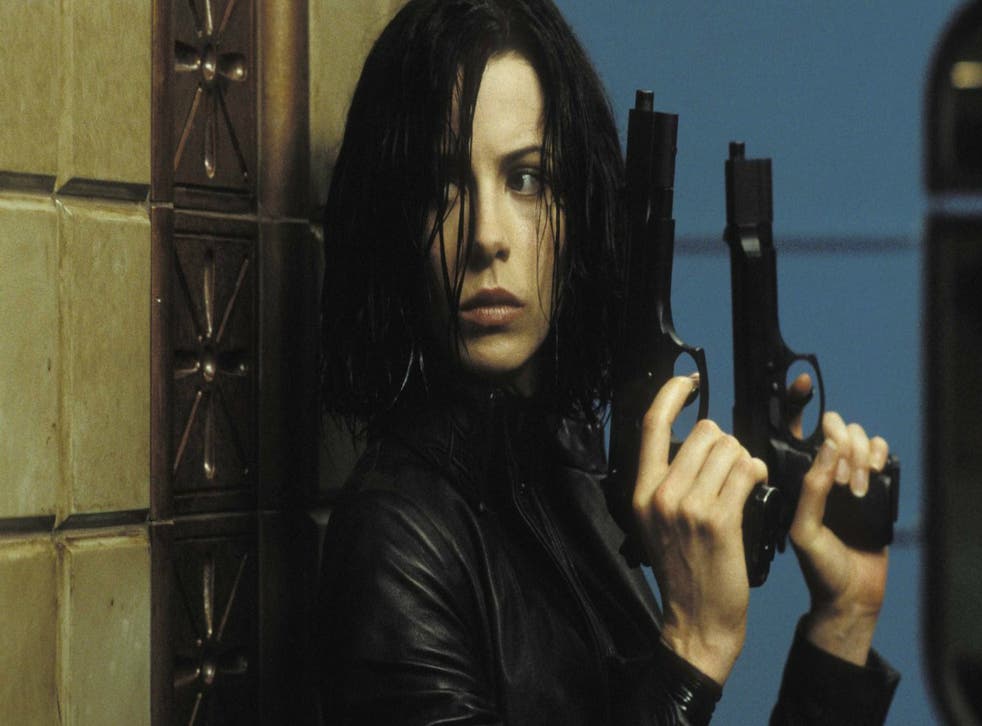 Now engulfed in all-consuming franchise mania, it's easy to forget what a genuine risk 2003's Underworld was.
The franchise is currently running on its fifth outing, with Kate Beckinsale set to return as the mysterious vampire killer Selene, still bound on her continuing quest to bring peace between the vampire and Lycan clans. It's a series still clearly packing a punch today; but the question is, would anyone have actually greenlit its vampire/werewolf love story/action thriller (with a female lead, too), if it were propositioned today?
Beckinsale herself seems to think not. Speaking to the Independent, she reflected, "It wasn't based on a comic book, and it wasn't based on a video game, and it wasn't based on anything that had already existed. I don't think that movie would get made now, because everything has to be a remake, or a sequel, or based on some other thing. I think we kind of squeaked by on the very last clutch of films that didn't have to have a history in people's consciousness and were just an original idea."
Not that the film wasn't a monumental risk at the time; as she continued, "There were a lot of things about it that weren't a-go; it was a first-time director, it was an actress who'd never done that kind of movie before, and certainly I had no idea of whether I'd be able to do it or not. There were a lot of things that made it a sort of experiment, really."
"For me, certainly; first of all, I was amazed I wasn't fired during the training period, because they were so appalled at how bad I was at certain things. I'd never held a gun before – there wasn't much call for it in the Henry James movies I'd been doing! [laughs]. I wasn't that person who was constantly doing karate growing up, either."
And, of course, there was somewhat of the peculiarity that Underworld was a female-driven action movie; in an era long before Fury Road and The Force Awakens, when there was a scarcity of women in complex, interesting lead roles in the genre.
Kate Beckinsale talks Tinder
"At that time, there hadn't been very many female-led action movies that had worked," Beckinsale continued. "And, obviously, the gold standard was Ripley; and then, there was Linda Hamilton, but beyond that? I think they went through a period of time since those movies where they were trying too hard to make the character overtly sexy. And, nobody liked that. Women didn't want to go and see it, I think, men realised they were being manipulated; and, I just don't think anybody wanted that."
"So when we came to do Underworld, obviously, the costume is kind of sexy; but it's not sexy in the same way as, like, Barb Wire [the 1996 film, starring Pamela Anderson]. It's not like a porn costume, it's completely covered up."
"Also, people used to think that you could just change a male character into a female character. And, it really doesn't work; it's quite problematic, because you really do want your female lead to have an emotional life. You need your male lead to have it, but it's not exactly the same. You empathise with women for different things, and with men for different things. And so it isn't just a straight switch."

Access unlimited streaming of movies and TV shows with Amazon Prime Video Sign up now for a 30-day free trial
Sign up
The strongest female characters in TV and film

Show all 21

Yet, Beckinsale offered one thing that made the film such an intriguing sell. "It was also back in those dusty times where the suggestion that vampires and werewolves could be in the same movie was a completely brand new, ground-breaking idea; which you can't even imagine now post-Twilight. In fact, that was the big hook, and why it got green lit; it was people saying – oh yeah, that would be interesting seeing vampires and werewolves in the same movie against each other. Again, it's sort of laughable now."
Beckinsale can currently be seen in Love & Friendship: the utterly hilarious, brilliantly adapted take on Jane Austen's unpublished novel Lady Susan. The actress took the opportunity to enthuse about her role as the utterly charming, morally unbound Lady Susan herself; stating, "I don't think it's wrong that she wants freedom. In terms of financial freedom and financial independence, and sexual freedom and sexual independence."
"I don't think those are wrong things to want, and I also appreciate that she's probably going about bucking the system in the most elegant and polite way that she possibly can."
You can read the rest of the interview with Beckinsale, alongside director Whit Stillman, here.
Register for free to continue reading
Registration is a free and easy way to support our truly independent journalism
By registering, you will also enjoy limited access to Premium articles, exclusive newsletters, commenting, and virtual events with our leading journalists
Already have an account? sign in
Join our new commenting forum
Join thought-provoking conversations, follow other Independent readers and see their replies