Oscars: The best acceptance speeches of all time from Gwyneth Paltrow to Marlon Brando
From Gwyneth Paltrow thanking the whole auditorium to Angelina Jolie declaring her love for her brother, we round up the most memorable speeches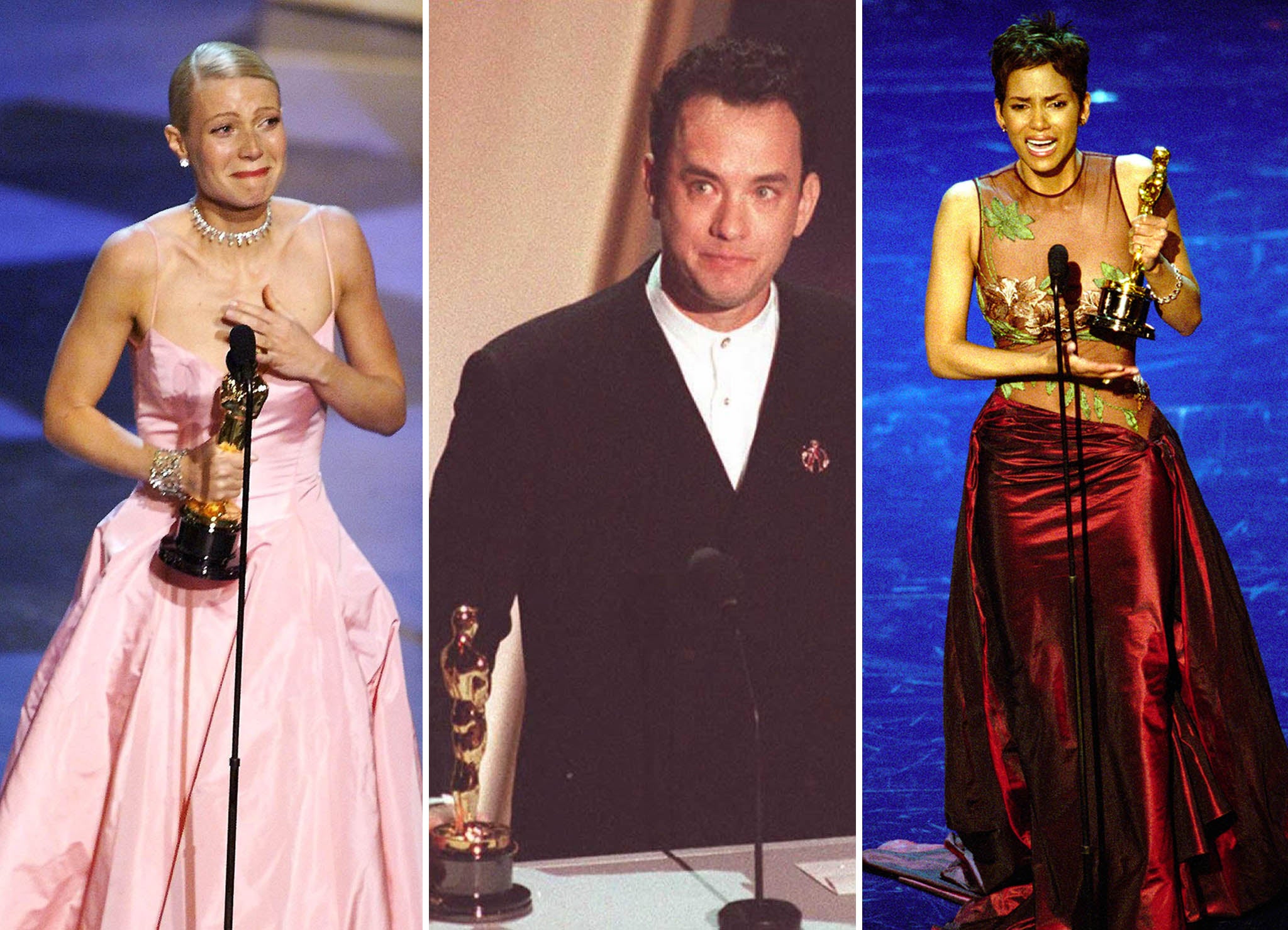 Halle Berry – Monster Ball, 2002
"This moment is so much bigger than me. This is for every nameless, faceless woman of colour that now has a chance because this door has opened."
Through the shock and tears Halle Berry managed to realise just how historical the moment was for her as she became the first black woman to win the Oscar for Best Actress.
Angelina Jolie – Girl, Interrupted, 2000
After infamously kissing her brother on the Oscars red carpet, Angeline Jolie accepted her first Oscar by declaring she was "so in love with my brother right now".
Gwyneth Paltrow – Shakespeare in Love, 1999
After fighting through a torrent of tears, Gwyneth Paltrow managed to thank nearly everyone in the building.
Meryl Streep watches on like a concerned mother as the actress makes a heart-wrenching speech that finishes with a loving dedication to college friend Harrison Kravis and her cousin Keith.
Matthew McConaughey – Dallas Buyers Club, 2014
After returning to serious movies in 2011, the 'McConaissance' peaked in 2014 when the actor won his first Academy Award.
But after thanking all the regulars – God, Jared Leto and his family - the actor thanked his hero: himself in ten years' time.
Meryl Streep – Iron Lady, 2011
As she accepted her third Oscar, Meryl Streep managed to hold back the tears just enough for a short speech that was both funny and gracious, making the 30 years since her last win for Sophie's Choice seem like no time at all.
Tom Hanks – Forest Gump, 1995
For possibly his best film, Forrest Gump, Tom Hanks accepted his second award for Best Actor in a row, having won the previous year for his portrayal of Andrew Beckett in Philadelphia.
Access unlimited streaming of movies and TV shows with Amazon Prime Video
Sign up now for a 30-day free trial
Sign up
Access unlimited streaming of movies and TV shows with Amazon Prime Video
Sign up now for a 30-day free trial
Sign up
In a passionate speech, the actor thanked his wife who he said "demonstrates for me everyday just what love is".
Robin Williams – Good Will Hunting, 1998
"This might be the one time I am speechless".
While many expected a speech full of impressions from the bouncing comedian, Robin Williams was gracious and almost out of breath. The actor thanked the Good Will Hunting cast and shared a quick story about his father who had once said he should make sure he has a "backup profession like welding".
Marlon Brando – The Godfather, 1973
In a statement made by civil rights activist Sacheen Littlefeather, Marlon Brando said he refused to attend the ceremony because of the "treatment of Native Americans today in the film industry".
Received by both booing and clapping, the acceptance speech, originally 15 pages, would go on to be one of the most controversial of all time.
Roberto Benigni – Life is Beautiful, 1999
After climbing over seats and skipping onto the stage, the enthusiastic Italian director tells presenter Sophia Loren "I lift this trophy but I want you. I want to be rocked by the waves of your beauty."
What follows is comedy gold as the director, in a thick accent, thanks everyone and cracks jokes about his parents: "They gave me the biggest gift of poverty."
Melissa Leo – The Fighter, 2011
Telling 94-year-old presenter Kirk Douglas to "pinch me" and proceeding to lightly flirt, the actress continues with the normal thanks and "I'm speechless" speech.
But then, out of nowhere: "When I watched Kate two years ago It looked so f*cking easy." Cue hand in mouth, a large applause and a back-stage apology for giving the 2011 awards its only f-bomb.
Join our commenting forum
Join thought-provoking conversations, follow other Independent readers and see their replies