The Walking Dead season 7 episode 14: The 5 major talking points from 'The Other Side'
*Spoilers for The Walking Dead season 7 episode 14 follow*
Jacob Stolworthy
Monday 20 March 2017 08:24 Comments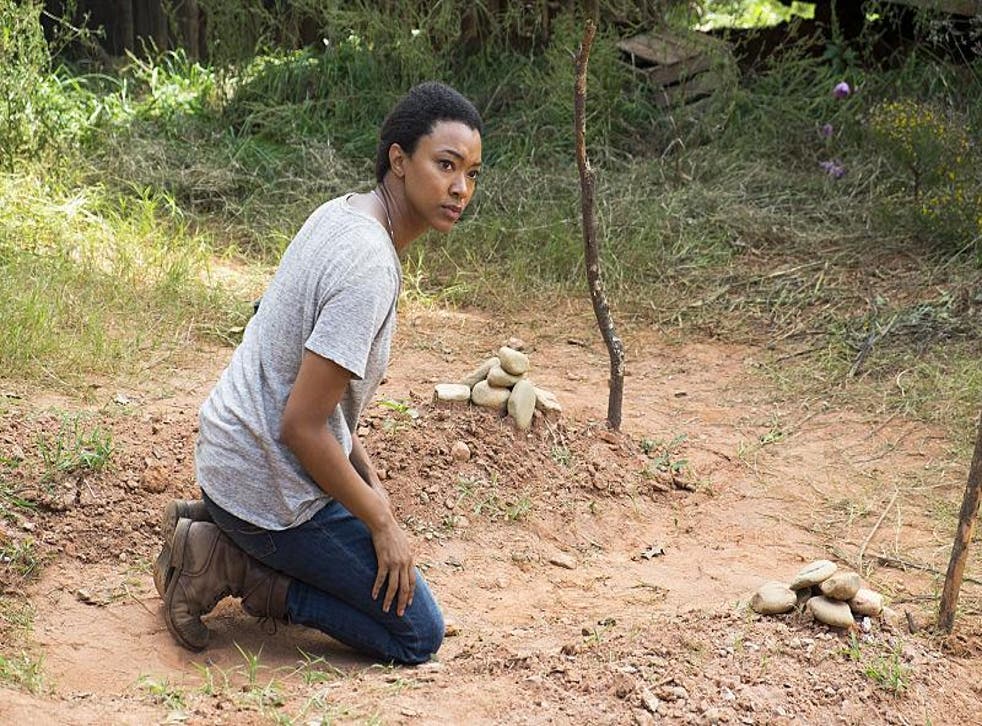 The latest episode of The Walking Dead upped the ante considerably considering there's just one episode to go until the (probably traumatic) season finale.
Titled 'The Other Side,' it focused largely on the assembled folk at the Hilltop Colony as well as tracked Sasha (Sonequa Martin-Green) and Rosita's (Christian Serratos) mission to avenge the death of Abraham by assassinating The Saviours' leader, Negan.
Below are the episode's five major talking points.
The most shocking Walking Dead moments

Show all 10
1 - Jesus' sexuality
For some time now, Jesus actor Tom Payne has been saying in interviews that his character's sexuality isn't a big deal despite it being a well-known aspect of his character in Robert Kirkman's graphic novel source material. This may be true and yet it remains a nice touch to see it referenced in the series during a touchingly understated exchange between him and Maggie (Lauren Cohan). This confirmation makes Jesus the sixth LGBT character on the series following Tara, Alisha, Aaron, Eric and Denise.
2 - Daryl comes to terms with his guilt
This week's instalment sees the return of Maggie after minimal screentime this season so far. We soon learn that she's being avoided by Daryl (Norman Reedus) who is still plagued with guilt over the death of her husband, Glenn (Steven Yeun). However, when The Saviours pay a surprise visit to the Hilltop, the pair are thrust together while hiding and eventually, Daryl is forced to come to terms. In one of the season's most emotionally charged scenes, a stoic Maggie tells Daryl it's not his fault that Glenn died and begs him to help her take down the only man she believes to be responsible - Negan (Jeffrey Dean Morgan).
3 - Doctor Carson
The reason for The Saviours' unannounced drop in? They need a new doctor following the fiery end for poor Emmett a few weeks back. It turns out he was the brother of the Hilltop's very own medic, Harlan, who is taken away by Simon (Steven Ogg) as The Saviours' latest prisoner sparking something of a concern for spineless Gregory (Xander Berkeley).
The Walking Dead Season 7 Episode 14 trailer
4 - Eugene doesn't want to be rescued
Sasha and Rosita put their avenging plans into action by heading to the Sanctuary to take out Negan. Watching from afar, they see Eugene (Josh McDermitt) pulling rank with The Saviours, convinced he's playing ball to make it out alive. That night, however, things turn south when they reach the compound to rescue Eugene - he refuses to leave with them. "I didn't ask you to come so go," he snaps at them, his confident swagger segueing into sheer terror as he runs back towards his new master - the very man they've arrived to kill.
5 - Sasha infiltrates the Sanctuary
Before heading off on their mission, Sasha and Rosita made it very clear that their attempt to end Negan's life would most likely be a "one-way ticket" for them both. Not on Sasha' watch; as Rosita prepares to raid the Sanctuary, she locks her out. "It's not your time - they need you," the warrior tells Rosita before running fully armed into the heart of The Saviours' compound, prepared ot die to complete her mission. All Rosita can do is stare in disbelief as she hears gunfire ring out from inside - that is until she sees a crossbow-wielding figure standing in the shadows who many will assume to be Daryl, but we believe to be somebody else entirely...
The Walking Dead airs in the UK tonight (20 March) at 9pm on FOX. You can read our review of last week's episode here.
Register for free to continue reading
Registration is a free and easy way to support our truly independent journalism
By registering, you will also enjoy limited access to Premium articles, exclusive newsletters, commenting, and virtual events with our leading journalists
Already have an account? sign in
Join our new commenting forum
Join thought-provoking conversations, follow other Independent readers and see their replies