The 40 best albums of 2018: From Arctic Monkeys to Christine and the Queens, Kendrick Lamar to Janelle Monae
Spanning every genre, from electro-pop to country, hip hop to metal, and produced by artists from every corner of the world, here are The Independent's 40 favourite albums of the year
Wednesday 19 December 2018 11:30 Comments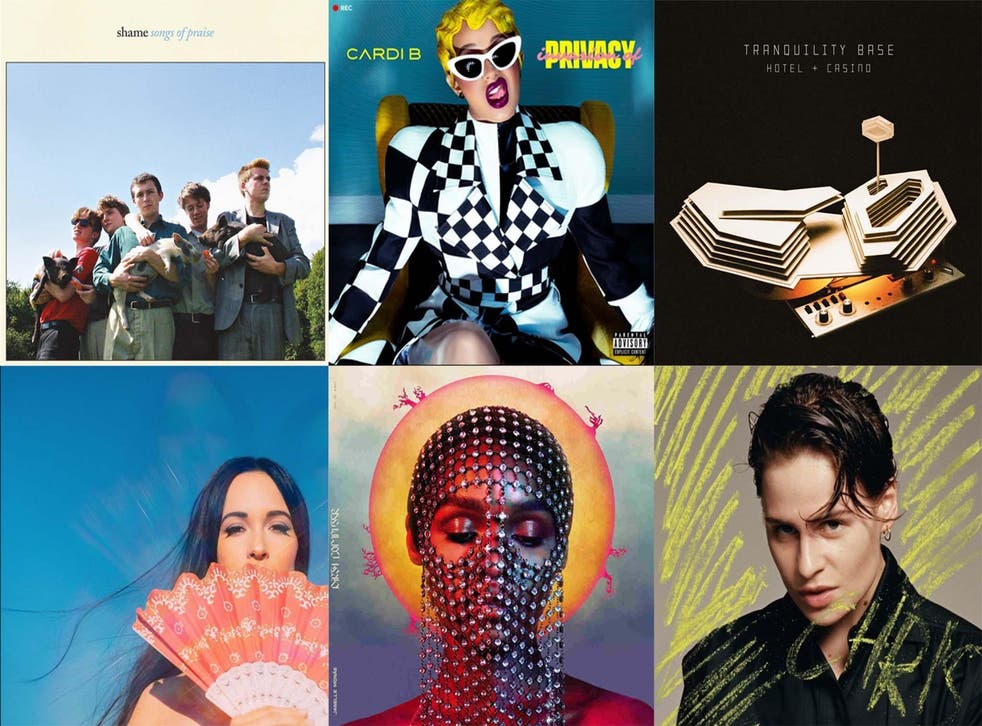 In almost every possible area, 2018 has been a mixed bag. The music world is no exception, of course – with his 10th album Kamikaze, Eminem decided that homophobia was still cool and fun, Justin Timberlake donned a flannel shirt, went into full dad mode and released the truly testing Man of the Woods, and the less said about Lil Xan's album, erm, Total Xanarchy, the better.
But we've also been treated to some real gems. With her first album in seven years, Robyn discarded all pop conventions and created a masterpiece; Janelle Monae gave a sonic gift to people of colour and the LGBT+ community; The 1975 released a pop statement to unite the generations, and Cardi B ignored the sceptics and released a debut that played resolutely by her own rules.
That's just the start. Spanning every genre, from electro-pop to country, hip hop to metal, and produced by artists from every corner of the world, here are The Independent's 40 favourite albums of the year.
Albums of the year 2018

Show all 40
40) Thom Yorke, Suspiria​
Thom Yorke's first ever soundtrack summons the darkness of horror, and the terror of blood and evil, more than 25 tracks.
A handful of these are among the Radiohead frontman's best solo work. "Suspirium", the first single to be released from this soundtrack, takes his sparse piano ballad approach to desolate depths. Understated, with keyboard melodies flowing alongside a mellow flute and Yorke's fragile falsetto, it's the saddest waltz you'll ever hear. It's also the most intoxicating.
"Has Ended", on which Yorke's drummer son Noah plays the languid breakbeat, melds 1960s psych-rock with the hypnotic drive of Krautrock. It's not just the vocals – echoing layers upon layers – that are laden with effects, but also a piano sample, in turn creating a sitar-like drone. Like much of this soundtrack, it puts you under a trance-like spell. Elisa Bray
Read the full album review here
39) Interpol, Marauder
Marauder is Interpol's most experimental record to date, blending everything from rough garage rock to Motown rhythms. The band appear reinvigorated, brimming with energy and self-assurance.
Using an outside producer for the first time since 2007's Our Love to Admire – David Fridmann (Mogwai, The Flaming Lips) – the band have finally rid themselves of the Joy Division comparisons that have always followed them around. Indeed, beneath the band's typically cool performance style, there's now warmth and lightness, as well as shifting tempos that keep the listener on their toes. And those charismatic figures who lurk beneath the surface of the record are intriguing enough to keep you coming back for more. Roisin O'Connor
Read the full album review here
38) Brent Cobb, Providence Canyon
Brent Cobb's music is built around people and places. He returns after the release of his acclaimed 2016 album Shine On Rainy Day with Providence Canyon, a slice of blue-collar country offering fresh tales of Southern life.
Enjoy unlimited access to 70 million ad-free songs and podcasts with Amazon Music Sign up now for a 30-day free trial
Sign up
Recorded in Nashville with Cobb's Grammy-winning producer/cousin Dave Cobb, the 11-song LP is more muscular than its predecessor and, for the most part, a heck of a lot of fun. It's authentic to the point that, on some songs, it sounds as though Cobb is singing with a toothpick clamped firmly between his teeth.
The tender and forlorn "Come Home Soon" has Cobb longing for the familiar faces he left behind in Georgia and wondering whether life on the road, pursuing certain dreams, is worth what you have to sacrifice. "Music used to be my way to escape the good, the bad and everything between," he sings. There's no posturing; he writes what he knows, and he knows a lot about the South. RO
Read the full album review here
37) Black Peaks, All That Divides
The Brighton metal band's sublime second album is their most ambitious to date. Enlisting Adrian Bushby (Foo Fighters, Muse) on production was a masterstroke – with his help they offer up vast sonic landscapes that recall the drama of Darion Malakian's recent Scars on Broadway record, Dictator.
In the thundering riffs of "Can't Sleep" and frontman Will Gardner's searing vocals on "Aether", Black Peaks voice feelings of uncertainty and fear; on "Across the Great Divide" Gardner cries: "Out of these walls I cannot see, drowning alone I cannot breathe." Thanks to the articulacy of his delivery and the technical skill of the band, All that Divides stands out among the dozens of other furious, politically-loaded albums released this year. RO
36) Miya Folick, Premonitions
One moment opining the joys of leaving a party to pluck your eyebrows, the next raging over the gaslighting of assault survivors, Miya Folick's debut album continues her habit of cracking the shiny veneer of pop, and unsettling the exceptions put upon a feminine voice.
"Don't want your money for my silence / I don't care who knows your name," she sings with righteous anger on "Dead Body", "Don't tell your friends that I'm a lyin'/ To convince them I'm insane ... Over my dead body." It is a hugely powerful moment on a thoughtful, varied album. Alexandra Pollard
35) Suede, The Blue Hour
With age, family and sobriety, Suede's albums have slowly drifted out of the city, shifting scenes from urban swirl to suburban stagnation, and now to the rusted playgrounds and glass-spattered flyovers of the ring-road wastelands.
On their album The Blue Hour, with ominous strings and operatic choirs, singer Brett Anderson paints a dark, impressionistic moodscape a bit like a post-Britpop version of recent horror film Hereditary. Sinister interludes – a poem about a dead bird called "Roadkill", a mysterious night burial scene, the Brechtian menace of "Chalk Circles" – separate The Blue Hour into four indistinct acts, loosely related to Anderson's recent autobiography Coal Black Mornings and each containing a smattering of sublime moments like fine-cut opals wrapped in bloodied bedsheets.
More mature mid-sections feature the euphoric "Life is Golden" and classy indie pop like "Cold Hands" and "Don't Be Afraid If Nobody Loves You" and, never a band to bow out with a big billowing ballad when three will do, stratospheric stunners "All the Wild Places", "The Invisibles" and the phenomenal "Flytipping" round off a record that swats lesser indie rock albums away with its opera glasses like the flimsy chaff they are. Though their themes remain in the gutter, Suede aspire to monuments, and The Blue Hour will stand as another sordid masterwork. Mark Beaumont
Read the full album review here
34) Cat Power, Wanderer
Much has been written about Chan Marshall's troubles. But, six years after the release of the Atlanta-born artist's last LP Sun, her 10th album Wanderer demonstrates both a newfound sense of calm, and strength. During those years, the now 46-year-old became a mother, and her son's tiny footprints are all over the record.
The opening title track – a gently lilting, a cappella spiritual, capturing Marshall's signature smoky southern vocals backed by angelic choral harmonies – could be a lullaby sung to him. From there she covers a spectrum of emotion, from sadness to confident resolution, through a mix of blues, rock and folk. At the album's core is "Woman", an uplifting, swelling blues-rock number on which the accompanying breathy vocals from Lana Del Rey echo, literally, the solidarity at the heart of its lyrics. It's an assertive statement of self-worth, and a defiant punch at anyone who's put her down.
There's still vulnerability here. A cover of Rihanna's "Stay" gives the original ballad heartbreaking depth thanks to its intimate live feel, with sparse piano flourishes and subtle cello allowing Marshall's heartfelt vocals centre stage. Understated, beautifully crafted and always emotionally involving, Wanderer shows an artist who has found strength in her convictions, and a new pace of life. EB
Read the full album review here
33) Architects, Holy Hell
Holy Hell is about grief, and the way we deal with and live with it every day. It's the first Architects album since the death of the metal band's founder, guitarist and brother Tom Searle – twin of drummer Dan Searle – who died last year of cancer, aged 28. Rather than disband, Architects regrouped and returned, roaring, with a clear purpose and a message of hope.
Holy Hell offers up some of the best tracks of the band's career, with a through-line that maintains Tom's role as an integral part of Architects, particularly on "Doomsday", while "Hereafter" feels like the song that launches the album's momentum. Listening to vocalist Sam Carter scream: "I wasn't braced for the fallout" is intensely cathartic – even non-metal fans will find it hard not to be moved by the band's sincerity. RO
32) Robyn, Honey
Even in discarding such basic pop necessities as melody, Robyn has managed to create a masterpiece. With her first album in seven years, the Swedish singer delivers nine songs that glow and pulse with bittersweet sensuality, sung in a voice that sifts over the synths like icing sugar. Few of Robyn's imitators can alchemise sorrow into such genuinely golden ecstasy. Helen Brown
Read the full album review here
31) Florence + the Machine, High as Hope
With previous albums, Florence Welch would hammer her extraordinary voice down on the listener with unforgiving force. What she's come to realise, on Florence + the Machine's latest album High As Hope, is that her voice is just as powerful when she holds back. She seems to attribute much of this calmness to her new-found sobriety – she quit alcohol a few years ago and looks back on her twenties with a mix of fondness and regret.
"No Choir" is transparently self-deprecating; Welch sings about the fear of lost inspiration as she leaves those wild years behind her and confesses, "I did it all for myself… but the loneliness never left me." She drifts off on an airy "la da da" as the violins fade until the song is stripped bare, left with just her vocals, sounding lighter and freer than ever before. RO
Read the full album review here
30) Teyana Taylor, Keep That Same Energy
Kim Kardashian West was right: the record is "soooo good". Keep That Same Energy is a pleasant surprise: embellished with producer Kanye West's keen ear for samples, it blends Eighties nostalgia with fresh rap and R&B. At the core of the project is Taylor's love of pleasing herself, her relationship with her husband, and being a mother.
The 27-year-old oscillates from funky lounge singer ("Gonna Love Me" and "Issues/Hold On") to the dancefloor-ready "WTP", and the sweet, gospel-infused tribute to her daughter Junie, "Never Would Have Made It". "3Way" oozes sexuality and centres on her syrupy vocals. KTSE is a massive departure from Taylor's 2014 radio single "Maybe", and it's nice to see that she hasn't confined herself to her earlier pop sound. Instead, her latest work is full of exhilaration... and the rush of great sex. Ilana Kaplan
29) The 1975, A Brief Inquiry into Online Relationships
Quiz Matty Healy on his musical influences and he'll reel off lots of Nineties emo and Sixties soul icons. In his grand themes and squeamish honesty, though, lies a more familiar kinship.
Like Bloc Party singer Kele Okereke, Healy operates on full throttle at a curious intersection: the beleaguered pop philosopher issuing big proclamations with disarming optimism. Both balance indictments of modern life with a delirious faith in modern people.
But on their third and best album, A Brief Inquiry into Online Relationships, The 1975 have created what so many post-Radiohead bands couldn't: a coherent pop statement with enough hope, radical honesty and genre-spanning breadth to make sense across divided generations.
Healy, against the current, is an outward believer that the righteous and the rest, exhausted and imperfect, will amble through the inferno toward an unlikely redemption. He promises nothing, but he'd love it if we made it. Jazz Monroe
Read the full album review here
28) Kamasi Washington, Heaven and Earth
Kamasi Washington is largely responsible for the revitalised interest in jazz in modern music, most notably with his work on Kendrick Lamar's jazz-heavy masterpiece, To Pimp a Butterfly. On Heaven and Earth, the Los Angeles saxophonist and band leader splits his second record in two halves: the urgent Earth side explores reality while Heaven deals in dreamy opulence.
"Fists of Fury" takes the Bruce Lee movie theme and sets the scene with a dramatic, politically charged opening in which longtime collaborator Patrice Quin's asserts: "Our time as victims is over/ We will no longer ask for justice/ Instead, we will take our retribution." Heaven and Earth is unlikely to convince traditionalists, but its sheer vibrancy and eclecticism make the record feel more accessible than most other jazz releases this year. RO
27) Novelist, Novelist Guy
The 21-year-old south London MC Novelist's debut album is a clear, concise look at the current social and political landscape of the UK, offering up astute observations on black masculinity and the music industry along the way.
Produced largely from his bedroom at his mum/manager's house, the record has a claustrophobic feel that mimics the atmosphere of Novelist's London: cramped, over-populated and tense. "Stop Killing the Mandem" takes its title from a sign that went viral after Nov held it up at a 2016 Black Lives Matter protest in London. On the track, his repetition of that slogan drives the message home.
He is not the next Stormzy, as some publications were so keen to declare. Rather, his lone wolf approach on this album, refusing to suck up to mainstream music trends, recalls the startling originality of Dizzee Rascal's Boy in da Corner. With this debut, Novelist asserts himself as one of grime's brightest young stars. RO
26) Nils Frahm, All Melody
The German composer's 10th solo album is a stirring, complex work that draws on the concept of connection and fluidity in the way the universe works. In the liner notes, Frahm wrote about the orchestra of his dreams: "My pipe organ would turn into a drum machine, while my drum machine would sound like an orchestra of breathy flutes." On All Melody, his dream becomes reality for the listener: the textures he weaves into the instrumentation are stunningly intricate and often take you down unexpected paths. "Sunson" opens on the organ before melting into buzzy, murmuring synths that are interrupted by sharp breaths on a set of pan pipes.
Immersed in his new studio that took two years to build, Frahm explores as much new territory as he can over 12 tracks, infusing them with the same childlike sense of wonder as his previous works while taking more risks – all of which pay off. RO
25) Camila Cabello – Camila​
Up until November last year, fans thought Cabello's debut solo record would be called The Hurting, the Healing, the Loving – a title the former Fifth Harmony singer carried with her for the majority of 2017. But the album was delayed – and she shifted from darker material to something more nuanced.
Aside from its hit single "Havana", Camila shies away from the overtly sexual and places Cabello in sweeter, sadder territory: not eating after a breakup, the painful parts of the music industry, and prioritising emotional intimacy. She lives in extremes when it comes to love, friendship and her career: it's an all or nothing mentality that persists throughout the 10-track record, testament to how deeply she feels.
"Consequences" is a ballad that shows her versatility, with throaty, Christina Aguilera-esque vocals and the singer-songwriter appeal of Laura Marling. Perhaps the most beautiful track on the album is opener "In the Dark", which she strips back, making emotional intimacy sound like the sexiest thing in the world. IK
24) Mitski, Be the Cowboy
"I'm waiting for the tide to turn," said Mitski in a recent interview, "and everyone to decide to hate me." That hasn't happened with the Japanese American's brilliant fifth album, on which she is desperate and lonely one minute, hardened and withdrawn the next. Her music, which exists in a space between fierce, guitar-led walls of noise and soft, delicate balladry, feels like an open wound – and Be the Cowboy is no different. AP
23) Years & Years, Palo Santo
In interviews promoting their album Palo Santo, Years & Years frontman Olly Alexander revealed that he was told to hide his sexuality at the beginning of the band's career. Sexuality is the heart of their second album.
Most of the record is rammed with energetic dance-pop beats courtesy of Mikey Goldsworthy and Emre Türkmen, along with a wealth of producers/pop veterans including Greg Kurstin (Sia, Pink, Tegan and Sara), Mark Ralph (Tinashe, Usher, Craig David), and Kid Harpoon (Florence + the Machine, Jessie Ware).
Alexander uses religious iconography to explore themes of queerness and guilt in the most gloriously unapologetic fashion. "Sanctify", the record's first single, is unabashed Nineties-era pop and R&B. Inspired by Alexander's experiences with men who identified as straight, it tackles how he felt – as an out gay man – being tasked with playing a "saint and sinner" role, leading them down a path of "sinful gayness".
The pop stars that Alexander grew up on who asserted themselves and their sexuality were, in the vast majority, women: Britney Spears, Whitney Houston, Destiny's Child, Madonna… singers who weren't afraid to be illusive, seductive or multi-faceted, especially in comparison to the bland boyband clones who were being churned out around the same time. Now, he is offering his fans their own generational pop icon: a young man who has the courage to put all of that vibrant, dynamic character on full display. RO
Read the full album review here
22) Courtney Barnett, Tell Me How You Really Feel
Courtney Barnett has always delighted in the mundane. A wry observer of life, she pokes around the ordinary and the everyday, uncovering cute details and hidden meanings.
On Tell Me How You Really Feel, she turns her keen eye inwards, exploring anxiety and depression while coming to terms with her own emotional life. Written as her burgeoning stature and hectic touring schedule began to take their toll, these 10 songs are Barnett's attempt to work through her vulnerability and sadness. Yet Barnett doesn't do pity, or spend time moping: "Sometimes I get sad/It's not all that bad" she sings on "City Looks Pretty", nailing her unbothered, life-is-a-drag-but-what-you-gonna-do? ethos in one neat line.
All this is underpinned by her easy garage rock, the distorted guitars borrowing from grunge, country, and psych rock, grooving consistently along. Her music has always been unfussy, and while the songs here lack the scuzzy charm of her debut, Tell Me How You Really Feel is a weightier, more direct record. Witty anecdotes and black humour suit Barnett well, but her more serious, unguarded side is equally captivating. Derek Robertson
21) Blood Orange, Negro Swan
Some artists characterise songwriting as a cascade of misfires and epiphanies, the bottling of creative fireworks. Dev Hynes, on the contrary, writes songs like bankers write cheques.
For Negro Swan, Blood Orange's fourth album, the multi-instrumentalist has dreamed up a 16-song suite that weaves together impressionist psych-pop and interstellar funk, late-Seventies Marvin Gaye and early-Eighties Prince, with some tangled ballads and insomniac blues reminiscent of Elliott Smith and King Krule thrown into the pot.
Hynes calls it an inquiry into "black depression, an honest look at the corners of black existence, and the ongoing anxieties of queer people and people of colour" such as himself, a thesis less solemn than it might sound.
"Brother, we've seen it all and we're tired," Hynes sings on the A$AP Rocky-featuring "Chewing Gum". In the company of friends, music and tradition, he's made a kind of spiritual headquarters, somewhere the disheartened can take cover and, with an eye on tomorrow, regroup. JM
Read the full album review here
20) Cardi B, Invasion of Privacy
Cardi B has a particular inflection that conveys her personality so beautifully. She's supremely confident on her debut record Invasion of Privacy: when she spits "Pussy so good I say my own name during sex" on album closer "I Do", she weaponises her own sexuality, and she drips venom on "Be Careful" as she prepares a bowl of cereal with bleach.
She bursts in on "Best Life", carefree and fiery: "I can't believe they wanna see me lose that bad," she marvels, laughing at her haters. The standout moment on this track, however, is the reference to Tupac (an artist she's been ranked alongside) and his 1999 poem "The Rose That Grew From Concrete".
She is wild and completely unpredictable, and that's what this music industry needs – someone who plays by nobody's rules but their own. When she sings out of time with the hook on "Be Careful" it's just another moment where Cardi B runs to her own rhythm. Nothing about Invasion of Privacy is formulaic. RO
19) Let's Eat Grandma, I'm All Ears
After emerging onto the scene at the age of 16 with their weird, twisted folk album I, Gemini, Let's Eat Grandma have evolved beyond those "twins from The Shining" comparisons to create an album that is both poppier and more ambitious than their debut. With producer SOPHIE on board (whose own album, also released this year, is well worth your time), they explore the anxieties and frustrations of being a teenage girl through clattering beats and Nokia samples. The result is exceptional. AP
18) Ghetts, Ghetto Gospel: The New Testament
More than a decade after Ghetto Gospel, UK grime MC Ghetts follows it up with Ghetto Gospel: The New Testament.
Where several of his peers have dipped out of grime and into pop, or else teamed up with American grime fans such as Drake or Kanye West, Ghetts has steered clear of the hype, and that unflagging loyalty to his musical roots has paid off. On the new album he re-evaluates much of what he said on the first Ghetto Gospel, when he was frustrated and angry with the world.
Now he looks more to the future, whether on "Next of Kin", where he speaks from the perspective of a mother carrying her child's coffin, or "Black Rose", which addresses fears for his daughter in a society that places double standards on black women. It's a reminder that grime is so much more than violence and threats. RO
17) Cypress Hill, Elephants on Acid
The hip hop pioneers put DJ Muggs back in the producer's seat on a record that was born from a dream where he was a man with the head of an elephant. From there, he set out making beats to take the listener on a journey around the world, and into their own mind.
Elephants on Acid is a 21-track monster, loaded with twists and turns that take you as far as Egypt, where Muggs recorded much of "Band of Gypsies" – teaming up with artists on oud, sitar, keyboard and guitar, as well as some of its street musicians. Its lead hook harks back to the glitchy shrieks of "How I Could Just Kill a Man" from their eponymous 1991 debut.
Cypress Hill are the hippies of the hip hop world, making music surrounded by a green-tinged haze that takes more cues from classic Sixties and Seventies rock than anywhere else. Elephants on Acid is one hell of a trip. RO
Read the full album review here
16) John Grant, Love is Magic
John Grant spent his 50th birthday riding "the world's nastiest rollercoasters" in Ohio, safely replacing the extreme highs and depressive crashes he once got from class A drugs and having sex with HIV-positive men, before announcing he'd tested positive himself on stage in 2012.
His brilliant fourth album Love is Magic takes listeners on a similar thrill ride, dominated by swirling loops of grand, romantic melody, sly twists of sardonic wit and heart-stopping drops of sheer honesty.
It opens with the disorienting judder of "Metamorphosis": "Yeast infection/ Synthesiser/ Demisemiquavers/ Who created Isis?" Grant sounds like a manic, unfiltered Billy Joel as he raps out the random contents of his head over the squelch and squirm of vintage synths, referencing Devo, Jean-Michel Jarre and even Pink Floyd.
There are more upbeat laughs to be had to the disco bass of "He's Got His Mother's Hips" and the handclaps of "Preppy Boy", where Grant imagines getting it on with one of the hot, high school boys who bullied him for being gay. The record ends with "Touch and Go", about Chelsea Manning, the former US soldier turned WikiLeaks activist who transitioned to a woman while in prison: "You can't stop the process of the truth, try as you might." He's right. HB
Read the full album review here
15) Pusha T, Daytona
Daytona is Pusha T's best album to date. His third record, produced entirely by Kanye West, could easily have been an EP, coming in at just seven songs and 21 minutes. While many fans were disappointed by the erratic and self-indulgent nature of some of West's other releases, including his own album ye, the beats on Daytona are sample-heavy and superb, and the instrumentation is sparse but all the more impactful for it.
Some listeners have expressed frustration with Pusha's drug obsession – the former dealer uses the opening track "If You Know You Know" to promise: "I predict snow / Al Roker" – but on Daytona he uses it as a metaphor for his and West's approach to the record. All the fat is trimmed away, leaving a veteran MC doing what he does best, knowing he secured his legacy a long time ago. RO
14) Nao, Saturn
Since her debut single – the AK Paul-featuring "So Good" – was released in 2014, London-based singer-songwriter NAO has hovered around a near perfect brand of sultry, neo-soul-inflected R&B. Four years later, she seems to have mastered it.
Saturn is a work in perpetual orbit, leading the listener through NAO's personal journey over the past few years. It's an album that feels grounded and also futuristic. By the end, you feel yourself returning to a familiar place, simultaneously knowing that things have changed on the way there. RO
Read the full album review here
13) Travis Scott, Astroworld​
Listening to Astroworld feels very much like you're wandering through the eccentric theme park depicted on the artwork: voices you recognise leap out from the shadows and melt away again, with Travis Scott himself serving as the clear through-line. The third solo album from the US artist stars an overwhelming number of (uncredited) guests, producers and co-writers, but ultimately, it's his own, most career-defining work to date.
Drake, who guests on a remarkably low-key chorus on "Sicko Mode", sounds more important on this record than he did at any point on his own recent release, Scorpion, with a ballsy, confident flow over haunted house synths and Scott's supportive murmur at his back. On the slow-sprawling "Stop Trying to Be God" – the longest track on the record at 5.38 minutes – serial crooner James Blake takes centre stage with his hymn-like verse, and makes way for Scott to trade melodies with Kid Cudi... only until a resplendent and dexterous harmonica solo, reportedly performed by none other than Stevie Wonder, bursts into life.
On Astroworld, Scott allows himself to become more vulnerable, more considerate. It's reflected in the album cover – as you walk in you see a rather bland cast of people around you, yet as you emerge out the other side, that world becomes more fantastical, more diverse and consequently more interesting. RO
Read the full album review here
12) Troye Sivan, Bloom
Troye Sivan switched the LGBTQ+ community's creative narrative "from one of sociopolitical turmoil into a harmonious and vital pop record on Bloom, capturing the A to Z's of modern queer love with pinpoint precision.
Teeming with life but kept to a brisk 36 minutes, Bloom feels like it's been toiled over until free of unnecessary frills. There's plenty of scope for chaos, though, with a list of sonic references that ranges from Carly Rae Jepsen to This Mortal Coil, but Sivan and his producers manifest it – somewhat miraculously – without sounding disingenuous. Often designed to replicate the twinkling, tinny echo of vintage synths in a stadium setting, the whole record rejects modern pop tropes to bask in a rare kind of Eighties sonic glory. Douglas Greenwood
Read the full album review here
11) Ben Howard, Noonday Dream
Aged 31, Ben Howard has matured into one of Britain's most talented, intriguing and unpredictable artists who, on his third album Noonday Dream, resisted any pressure from fans or his label to put a deadline on the new release. Instead he secluded himself in spaces that inspire that natural brilliance – from southwest France to Sawmills Studio in Fowey, Cornwall – with his longtime band that feel, to the average Howard fan, more like family.
"A Boat to an Island on the Wall" – Noonday Dream's first single – opens with the hushed lap of water on wood and drifts slowly into Howard's gentle acoustic guitar. He and the band build and build on the instrumentation with the same quick, steady hand as a fisherman weaving a net and then, halfway in, a bright synth lifts the track to a new energy.
Howard's music has always, above all, reflected the shifts and moods in nature, while he sings poetic lyrics in his signature low, warm murmur. On Noonday Dream, he expands on the Cornish landscape that impacted his earlier work and brings in sounds and instruments that spark the imagination for places further afield, in the most exquisite way. RO
Read the full album review here
The Independent's Top 10 Albums of the Year
10) Shame, Songs of Praise
Distinguishing themselves from the hordes of other white, indie guitar bands that emerged around summer 2017, south London natives Shame manage to make raw, bleeding anger sound articulate on their debut album.
The band seem uneasy at the notion they should set out to inspire a generation – frontman Charlie Steen told The Guardian this year that he found the idea of a rock star "offensive" – but the rage and bile they channel on Songs of Praise give listeners plenty to relate to.
"My voice ain't the best you've heard / And you can choose to hate my words / But do I give a f***?" he sneers on the self-aware "One Rizla". Far from calling for peace, Shame revel in chaos: "The Lick" adores "our sweet disorder" while on "Lampoon" he promises: "I may be cursed by company but at least I get to speak / And my tongue will never get tired."
Shame don't present themselves as young messiahs or future leaders on Songs of Praise. Rather, they invite you to throw yourselves into the sonic moshpit they've crafted so that, with them, you might unleash some of that frustration. RO
9) Gaika – Basic Volume
Gaika broke new ground on the UK music scene and asserted himself as one of the most provocative and multi-talented young artists of this generation with his debut album, Basic Volume.
Featuring production from the likes of SOPHIE, Dre Skull and Jam City, the south London artist – full name born Gaika Tavares – brings together a multitude of influences including dancehall, electronic, trip-hop and punk for this first studio LP. His mesmerising beats and huge, yowling instrumentation recall the stark, futuristic landscapes of Mad Max and Ghost in the Shell.
Gaika pays no attention to the limitations of traditional genre or songwriting structure, tackling themes of identity and the tensions of life in the city with profound intelligence; consistently challenging tired stereotypes put in place by a predominantly white mainstream media of what black British music is, and can be. On Basic Volume, he's an alchemist producing gold from the depths of his city, placing his art ahead of himself for a thrilling, dynamic and complex release. RO
Read the full album review here
8) Tamino, Amir
Tamino's music on his debut Amir draws on the old-world romance of his grandfather – a famous Arabic musician and actor – but also embodies the genre-less quality of much modern pop. The musical heritage that is so essential to the 22-year-old's sound comes to life in the dramatic, sweeping instrumentation on a song like "So It Goes"; haunting, graceful violins, bold drum beats and the shimmer of a tambourine transport the listener entirely.
The voice is the thing. There's a richness and weight to it that seems steeped in the culture of his Egyptian heritage, a solemnness and intensity that belies his age, and an astonishing vocal range that goes from a sombre, deep moan to a deeply affecting falsetto cry that recalls Muse's Matt Bellamy, Thom Yorke, Jeff Buckley, or Rufus Wainwright. It's that voice, along with the maturity of Tamino's approach to his art, that make this debut quite so astonishing. RO
7) Mac Miller, Swimming
The late Mac Miller's fifth album Swimming is a languid breakdown of the headlines he found himself a part of in recent years, thanks to a high-profile breakup with singer Ariana Grande and ensuing drink-driving arrest. Instead of delving into his past, however, Swimming is a hot lap of a record through where Miller turned his gaze to the future.
"What's the Use" serves as pumping proof of the fact, an expertly-produced track that doesn't so much wear Miller's influences on his sleeve than stitch them on (think Outkast meets Thundercat via A Tribe Called Quest). Its irresistible bass line will be coursing through your veins for days.
And whether it's Miller acknowledging his temper ("Wings") or the pitfalls of fame ("Small Worlds"), this is deeply personal material that's as impressive if not as game-changing as anything esteemed rap figures Kendrick Lamar and Childish Gambino have produced in recent years. Miller turned his anguish into one of the year's most disarming records, made all the more poignant by his untimely death this year. Jacob Stolworthy
Read the full album review here
6) Colter Wall, Song of the Plains
On his second album Songs of the Plains, Colter Wall set out to paint a picture of his home, working once again with Nashville's ubiquitous Dave Cobb, who produced Wall's self-titled debut in 2017. There's a cover of Billy Don Burns's "Wild Dogs", which Wall makes entirely his own, and a spot of yodelling on cowboy traditional "Night Herding Song".
Wall's songwriting is as stark as it comes: his plain-speaking manner is delivered in a slow, melancholy drawl that paints him as some lonely cowboy – the last man of the West, as he describes in the most matter-of-fact terms how a bullet ripped in to "poor Wild Bill". There's no fuss in the instrumentation, either, mostly just gentle picking or brisk, deep thrums on Wall's acoustic guitar, which are bolstered by icy laps of pedal steel and the occasional harmonica. It's effective in the simplest of ways – and allows the listener's imagination to do the rest. RO
Read the full album review here
5) Kendrick Lamar, various artists, Black Panther: Original Motion Picture Score
Kendrick Lamar co-executive produced the Black Panther soundtrack, has writing credits on its 14 tracks, and appears in various skits and features. But his most essential job on this album is that of the curator, as he brings in a staggering array of talent – from Anderson .Paak, SZA and Future to South African gqom (EDM) artist Babes Wodumo and alt-rapper Yungen Blakrok.
You can see why the soundtrack would appeal to Lamar; the listener draws easy comparisons between the film's King T'Challa and King Kendrick, both of whom grapple with the trappings of the lofty perch upon which they sit. Then on "King's Dead," he takes on the role of T'Challa's nemesis and casts his responsibilities aside: "Who am I? Not your father, not your brother/Not your reason, not your future/Not your comfort, not your reverence, not your glory," he spits.
Not all the tracks fit as neatly into the film's biggest moments, but Lamar successfully navigates its most important themes – responsibility, black power, heroism, family dynamics, and loyalty – and weaves them into the music. It makes for a thrilling and deeply immersive journey. RO
4) Kacey Musgraves, Golden Hour
Kacey Musgraves third album flips between wide-eyed country pop and disco-electronica. Aided by co-writers and producers Daniel Tashian and Ian Fitchuk – both Nashville stalwarts – Musgraves conjures up a feeling of lightness as she melds the traditional and futuristic.
"High Horse" is disco western and the most radical departure from Musgraves' earlier sound. It's a Kylie Minogue circa 2001-level bop that builds on summery guitar strumming with sweetly lilting vocals that hold just a hint of menace. The lightness returns on a song like "Butterflies", with its cheerful bass line running beneath her sweet, dreamy vocals.
At a time where mainstream artists seem forced to dwell on all the doom and gloom we hear on the news, Golden Hour is a reminder that sometimes – often, if you're looking in the right places – life is beautiful. And you get the feeling that Musgraves could find the beauty in anything. RO
Read the full album review here
3) Janelle Monae, Dirty Computer
Just over 10 years since the release of her official debut EP Metropolis, aged 21, Janelle Monáe released her third full-length album Dirty Computer: a record that will go down as a milestone not just as a work of art in its own right, but as the perfect celebration of queerness, female power, and self-worth.
"Screwed" ft Zoe Kravitz segues into a spitfire of a rap on "Django Jane"; an ode to black female power and arguably Monáe's most political track to date, which recalls wordplay akin to hip hop artist Rapsody. She spits the hair-raisingly triumphant shutdown: "Hit the mute button… Let the vagina have a monologue."
Dirty Computer is Monáe's gift to the LGBT+ community, non-binary people, black men and women… anyone who faces stigma and abuse just for embracing their true selves. It's a message of love and hope to anyone who fears what is different, but who has capacity to learn and know better. And it's seemingly a gift to herself, as well. RO
Read the full album review here
2) Arctic Monkeys, Tranquility Base Hotel & Casino
Tranquility Base Hotel & Casino is the biggest leap of Arctic Monkeys' career so far. It's loaded with cultural references – a move that frontman Alex Turner had previously designated to his other projects – that are placed deftly onto a layout that reads more like a short novel than any traditional songwriting structure.
Lyrics on each song are rambling, stream-of-consciousness; Turner's meandering style on the piano sounds as though he's still figuring out the melody. "Four out of Five" is one of the tighter songs on the record; the thud of the bass and Turner's keen falsetto on the intro precede a controlled, staccato mutter: "Hokey Cokey with the opposite sex. The things you try to forget, doesn't time fly."
Tranquility Base Hotel & Casino feels more like an interlude between AM and a seventh Arctic Monkeys album – a delve into the bizarre, where even the Steinway piano has its own character. On "The Ultracheese", the descending piano chords symbolise a kind of final bow; the last soliloquy of the night before the curtain closes. Few bands today are as brave as this. RO
Read the full album review here
1) Christine and the Queens, Chris
Hot damn! It's impossible to get started on the sound of Heloise Letissier's second album – Chris – without first acknowledging that the 30-year-old chanteuse is currently the coolest, sexiest human being on our planet.
In the four years since critics hailed her debut album as Christine and the Queens as "like peak Michael Jackson produced by Bjork", she's simultaneously toughened and loosened up. Always identifying herself as a queer, pansexual artist, she's rebranded as "Chris", cropping her hair and embracing a macho sweat and swagger.
Letissier makes her vintage synths snap, crackle, pop, fizz, freeze, squelch, shimmer and soar. There's even a shattered glass effect (on "Stranger") to complete the Old Skool Electronica bingo card. Treble notes bounce from air-cushioned soles. Bass lines lasso your hips. Chiffon layers of Letissier's Anglo-French vocals glide around your neck and shoulders and roll them back. It's ridiculously danceable.
The quirky lyrical pleas for understanding of early hits like "Tilted" has been replaced by the empowered seduction of "Girlfriend", on which lines "Don't feel like a girlfriend/ But lover/ Damn, I'd be your lover" simmer over flickering flames of funk-guitar.
In the wonderful world of Christine and the Queens, linguistic borders are as porous as those between gender, era and genre. Vive la fluidité! HB
Register for free to continue reading
Registration is a free and easy way to support our truly independent journalism
By registering, you will also enjoy limited access to Premium articles, exclusive newsletters, commenting, and virtual events with our leading journalists
Already have an account? sign in
Join our new commenting forum
Join thought-provoking conversations, follow other Independent readers and see their replies