Comment
The 2021 Grammys were a soothing distraction – but conversations around race and inclusivity aren't going anywhere
With performances from Billie Eilish, Cardi B and Harry Styles, this year's ceremony seemed to benefit from being forced to proceed during a pandemic. But it wasn't enough to hide the elephants in the room, writes Rachel Brodsky
Monday 15 March 2021 14:12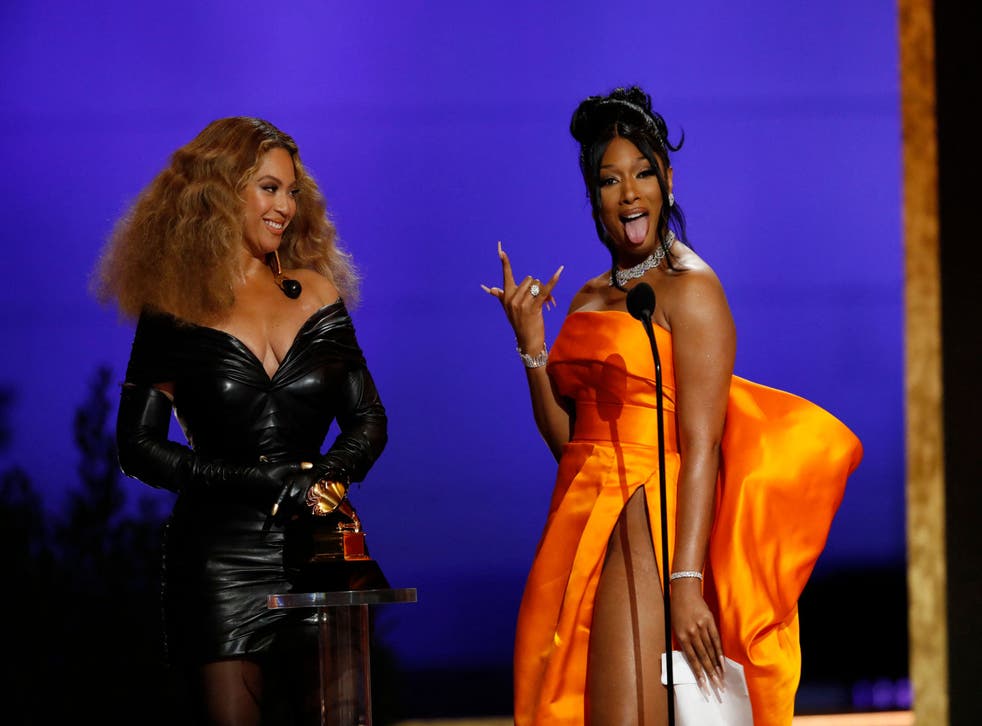 A pandemic-era awards season is a strange beast. So far, the socially distanced Emmys and the Golden Globes had all the pomp and circumstance of a Zoom family reunion, which is to say they were dull and awkward. The best thing we got from the Globes a few weeks ago was Jason Sudeikis's tie-dye hoodie and Jeff Bridges's many-doored guest room. But much like a late-season couple planning a wedding, the Grammys had the chance to watch a few ceremonies play out. And they were no doubt taking notes. What worked? What didn't? Against all odds, the 2021 ceremony actually seemed to benefit from being forced to proceed during a pandemic.
The first right choice the Recording Academy made was trading in longtime producer Ken Erlich for Ben Winston, who is probably best known for popularising James Corden's Carpool Karaoke. The 2021 show, long as it was at three and a half hours, felt tight and light on its feet. The genuinely upbeat mood was helped by another strong choice: having the Daily Show's Trevor Noah host the ceremony – though it's a shame Noah, a deliciously funny political and social issues commentator, didn't weigh in very much on things like the widening racial divide facing the US, and how that pertains to problems within the Recording Academy itself. (Remember how Tina Fey and Amy Poehler publicly cracked jokes about the Hollywood Foreign Press Association's lack of diversity during the Golden Globes?)
Despite there being one or two or 10 proverbial elephants (the Recording Academy's issues with diversity, representation, genre decisiveness, The Weeknd and a growing list of boycotters, and those pesky secret committees, to name a few), the show itself did a commendable job of moving from performance to performance. Because of social distancing, they felt a little more stripped-down and intimate than usual. In the show's first leg, we witnessed a round robin-style of mini-sets from Harry Styles, HAIM, Black Pumas, and Billie Eilish, who took turns singing and reacting to each other's performances.
Some performances were as over the top as they might have been during a "normal" Grammys ceremony, with Megan Thee Stallion and Cardi B bringing "WAP" centre stage, and DaBaby welcoming a crew of grey-haired "DaBaby Boomers" to back him up during his and Roddy Ricch's "ROCKSTAR" set. Watching Mickey Guyton, the first Black solo female artist nominated in a Grammy country-music category, belt through "Black Like Me", a song about her tense experience as a Black country singer, felt scarily apropos, given her surroundings. (The Recording Academy has put so many PR plasters on its diversity problems in the past few years, they could restock a pharmacy.)
And then there was the Beyonce of it all. How wonderful to watch the iconic Queen Bey not only win a few more Grammys, but become the most decorated female Grammy winner ever.
And yet: something stuck out a little too hard toward the end of the show. When Taylor Swift won Album of the Year for her mid-pandemic surprise album Folklore, she thanked the Recording Academy and said, "We'll never forget that you did this for us." That was an interesting choice of words, given all of the rumours around how the Recording Academy is extremely political in who it acknowledges.
"[The Recording Academy] are moving in inches and we need to move in miles," pop singer Zayn Malik tweeted shortly before the show started. "I'm keeping the pressure on and fighting for transparency and inclusion. We need to make sure we are honouring and celebrating 'creative excellence' of ALL. End the secret committees." Grammy voting is a notoriously hidden process, with anonymous expert "committees" having final say over who gets nominated. The Weeknd, who infamously came up empty this year despite having one of the most commercially successful albums of 2020, said in a statement, "Because of the secret committees, I will no longer allow my label to submit my music to the Grammys." Likewise, many artists like Drake, Nicki Minaj, Halsey, and more have spoken out over just how much behind-closed-doors gladhanding and favours seem to sway the Grammy voting process.
The Grammys, despite putting on an entertaining 2021 showcase that reminded viewers of how badly they missed live music, got lucky this time. They had time to assess what not to do, based on previous pandemic award shows; they made history by getting Beyonce onstage to accept a few awards and have a record-breaking moment (they could not get her to perform, alas); they got eye-catching sets from top-tier performers; and tight quips from Trevor Noah.
It was a soothing distraction to be sure, but it did little to move the needle where it really counts; after all, substantial conversations around race and inclusivity aren't going anywhere. There were a few moments where the Academy had some comforting words for its audience, inserting a clip of interim president and CEO Harvey Mason Jr promising hope and change for the Recording Academy, which expects to announce a new CEO this spring. If the Grammys want to staunch the flow of painfully public boycotts from major artists, they're going to need to tone down the "We Love All Music Creators" kumbaya rhetoric, take real, tangible accountability, and take their critics seriously.
Register for free to continue reading
Registration is a free and easy way to support our truly independent journalism
By registering, you will also enjoy limited access to Premium articles, exclusive newsletters, commenting, and virtual events with our leading journalists
Already have an account? sign in
Register for free to continue reading
Registration is a free and easy way to support our truly independent journalism
By registering, you will also enjoy limited access to Premium articles, exclusive newsletters, commenting, and virtual events with our leading journalists
Already have an account? sign in