Now Hear This: New music from Drake, St Vincent, Justin Bieber, Nick Jonas, Bess Atwell and AJ Tracey, plus spotlight artist Aziya
In her weekly column, our music correspondent goes through the best new releases
Roisin O'Connor
Friday 05 March 2021 14:11 Comments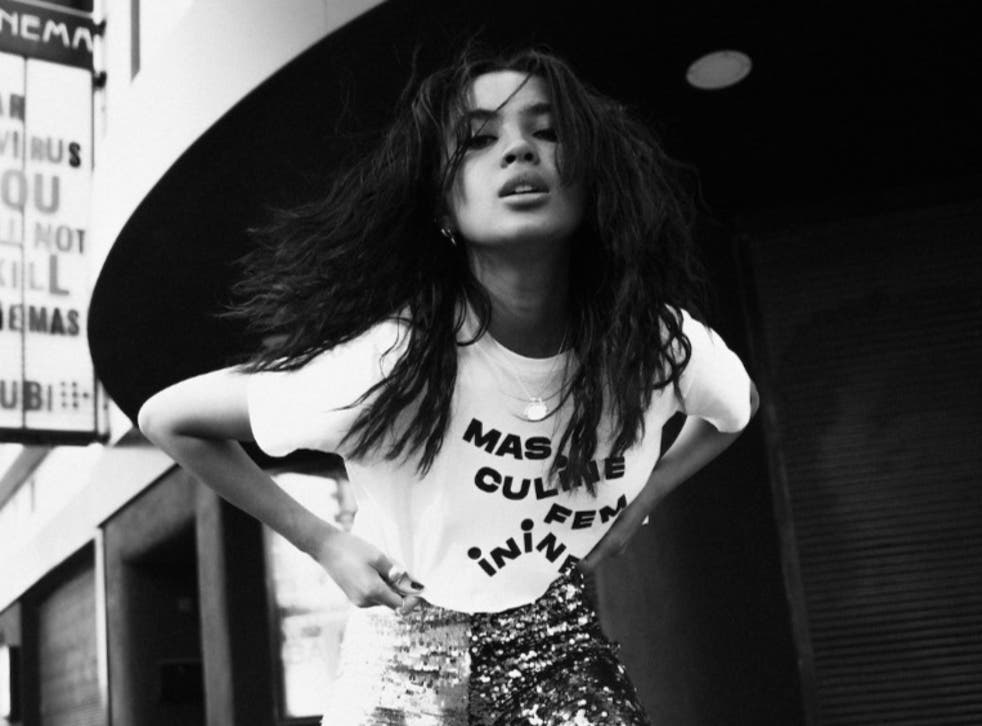 The major releases are ramping up – we've got new stuff from Drake, Justin Bieber, St Vincent, Nick Jonas and Kings of Leon this week.
There's a great interview in The Independent today (Friday 5 March) with Kings of Leon by Laura Barton, or you can read the album review by our critic Helen Brown. Why not do both? Other albums reviewed this week: Zara Larsson and the brilliant Genesis Osuwu. Read both of them here.
I was scared I'd never say it again, but Justin Bieber is back with one of his best songs in forever. After his 2020 record Changes (I was not a fan), it seemed like he'd lost his way a bit. New single "Hold On" is a return to form in a big way, however; a great Fleetwood Mac bass groove underpins his mellifluous voice and an impressive nod to Eighties synths. Lyrically, he manages to address his past controversies without sounding like a lifetime member of the self-pity party (which he's done in the past). Fingers crossed for more of that.
St Vincent has returned with the super squelchy "Pay Your Way in Pain". It's a leather-clad saunter along a Prince-style synth hook, accompanied by her orgasmic (there's no other word for it, sorry) vocals. I love Peach Tree Rascals and their dreamy "LEAVE ME", and AJ Tracey's sharp-as-a-tack "Anxious". My favourite California duo Emotional Oranges have teamed up with Biig Piig for the silky "Body & Soul", while (I'm a little late on this, she dropped it the previous week) Noname has her shuffly number "Rainforest" where she speaks for us all: "I just wanna dance tonight."
Subscribe to the Now Hear This playlist
I need to talk about Bess Atwell, an artist signed to Lucy Rose's label Real Kind Records. The Brighton-based artist's new single "Co-Op" is divine – an exquisite and delicate tribute to the insular comfort of the mundane. In it, she weaves deft lyrical passages about an intimate relationship that moves through phrases of time. I love the way she references Virginia Woolf's Mrs Dalloway in the line "it's the laughter, it's the punch", drawing a parallel to the title character and herself – two people who are overcome with a feeling of dread, right when everything seemed perfect. Sublime.
Of course there's Drake, sounding on excellent form (especially in comparison to his misfired Dark Lane Demos from 2020) on his Scary Times 2 EP. Laura Mvula is back sounding reinvigorated with a fresh sound: it's loud, ambitious and uplifting. I like it a lot. You should check out VC Pines' epic cover of "Hello" by Lionel Richie, and also the latest from newcomer Emir Taha, "Reception". I'm on board with Nick Jonas's dance-friendly single, "This is Heaven" – his new album Spaceman is out next week. (Full marks for the epic sax solo.)
Una Healy, formerly of The Saturdays, is back with another country-influenced single, "Swear It All Again", and it's not bad at all. She makes the most of her voice, and she's definitely nailed that wistful, yearning tone of some of the best country love songs. I'm also digging The Howlers and their desert rock jam "I Don't Love You All the Time". Fijian rapper Jesswar has dropped her sizzling new TROPIXX EP; bedroom pop artist girlhouse is offering the buzzy "loaded gun".
Phew, that was a lot. Let's move on to this week's spotlight artist, Aziya, whose single "Slip!" is one of my favourites of the week. I placed it after St Vincent's new track because I feel it fits perfectly into that realm of scuzzy, sultry rock; her vocals, too, remind me a lot of St Vincent's assertive hollers. Check out my Q&A with her below, plus the "Slip!" music video.
– Hey Aziya, how have you been spending your 2021 so far?
Hey! Well I kicked 2021 off filming two music videos as well as releasing my debut single "Slip!" yesterday 4 March), I've been designing merch, set up a new live stream series called "Across the Tracks" and producing more music. Safe to say it's been a pretty eventful start.
Enjoy unlimited access to 70 million ad-free songs and podcasts with Amazon Music Sign up now for a 30-day free trial
Sign up
– Tell me about this new music?
It's gritty guitar music topped with catchy, belting melodies, I like making rock songs that anyone would wanna sing along to. Some of the songs are more free flowing and dreamlike... more influenced by psych rock, while some of the other tracks are more raw and distorted, heavily punk inspired. But they're all stapled with chanting vocal riffs and melodic guitar lines.
– What should people know about you?
I started producing aged 14 as a means to have something better than a voice recording, to get all the ideas for each part out of my head, as a result its now lead to me writing and producing the new music that's about to be released including "Slip!"
– What do you have lined up for the rest of the year?
I will be releasing my debut EP and as things begin to reopen I'll be gigging it alongside some new music getting more exciting artists on my "Across the Tracks" livestream as well as shooting some more videos. This year is about to be interesting. I'll keep you posted.
Register for free to continue reading
Registration is a free and easy way to support our truly independent journalism
By registering, you will also enjoy limited access to Premium articles, exclusive newsletters, commenting, and virtual events with our leading journalists
Already have an account? sign in
Join our new commenting forum
Join thought-provoking conversations, follow other Independent readers and see their replies