Sisters With Transistors: How the women of early electronic music are finally getting their due
The women who have spoon-bended the course of music often get forgotten from its history. Kate Hutchinson digs into a number of new films seeking to rectify this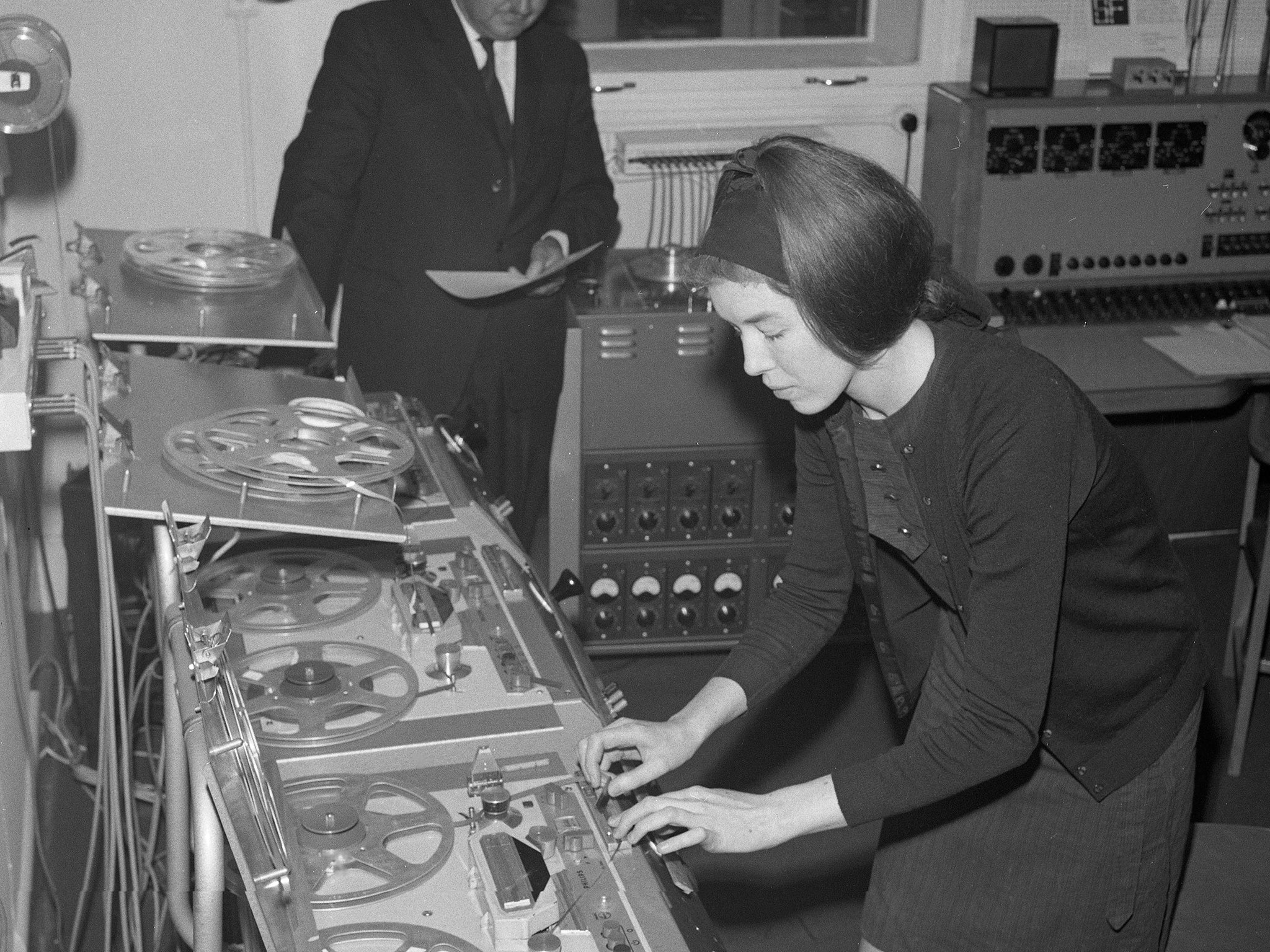 Technology is a tremendous liberator," says 75-year-old computer music pioneer Laurie Spiegel, towards the start of Sisters With Transistors. "It blows up power structures. Women are naturally drawn to electronic music – you didn't have to be accepted by any of the male-dominated resources: the radio stations, the record companies, the concert hall venues, the funding organisations. You could make something with electronics and you could present music directly to your audience, and that gives you tremendous freedom."
But sometimes, she adds solemnly, "women get forgotten from that history".
A number of new films are seeking to rectify this, telling the stories of women who, shut out of being traditional composers, found solace and possibility in early electronic music. Spiegel herself was as much a central figure of the New York avant-garde as her better-known peers like Philip Glass, John Cage and Steve Reich in the Seventies. Her contribution to western electronic music during its infancy is vast; ditto the work of American women like Suzanne Ciani, Pauline Oliveros, Maryanne Amacher, Wendy Carlos and, in the UK, Daphne Oram and Delia Derbyshire, whose stories are also featured in Sisters With Transistors.
"I realised that this was a very unique emancipation story," says the film's director Lisa Rovner. "Before electronic music, there was really no outlet for female composers. They had been enabled by this new technology," free from the limits of traditional instruments and hierarchies.
These women have been written about plenty in recent years, and appeared on the odd compilation, but they are hardly as well known in the wider sense as, say, a Kraftwerk, a Jean-Michel Jarre or even a Karlheinz Stockhausen (whose face made the cover of The Beatles' St Pepper's album). Before her groundbreaking 1980 album The Expanding Universe – a masterpiece of ambient, 20th-century classical and electronic music – was reissued in 2012, and her 1972 piece "Sediment" was included in a Hunger Games battle scene, Spiegel's career, like many of her contemporaries, had slipped out of view.
With Sisters With Transistors – which charts the evolution of electronic music through tape machines, analogue synthesizers and eventually computers from the viewpoint of the female gaze – Rovner thought it time to change that. She was struck by the chasm between the archive footage she was collating and the lack of recognition for the women in them. "At the time," she says, "there was the sense that they were important – they were being interviewed, they were being filmed, they were in some spotlight, as the archive footage proves," such as that of Suzanne Ciani playing her synthesizer on live television to bemused chat show host David Letterman (who can't seem to compute that a woman is the master of a machine and making sounds beyond his comprehension).
It's no surprise that that spotlight was soon dimmed, Rovner continues. "Women and people of colour have traditionally been silenced by hierarchies of privilege. Our patriarchal society has had its way with our stories, with women's stories, [which has] led to the erasure of these women's accomplishments." Our "learned longing for a generally white male hero" has steamrolled women's achievements throughout history.
But now, no more. As well as Sisters With Transistors, which was released on various major platforms yesterday, a short documentary by Sam Green is premiering online as part of the digital Counterflows Festival that gives a glimpse of the 82-year-old American-New Zealand composer Annea Lockwood and her "enthralling world of sound". There's been a recent "oral history" doc, Other, Like Me, about industrial pioneers Throbbing Gristle and their earlier performance troupe COUM. Their ringleader Cosey Fanni Tutti appears in the film Delia Derbyshire: The Myths And Legendary Tapes, heading to BBC Four next month, while a dramatised TV series based on her memoir, Art Sex Music, is currently in development.
Derbyshire didn't get the credit for her contribution to one of the most memorable TV theme tunes (and earliest electronic ones) until 12 years after her death, in 2001. Delia Derbyshire: The Myths And Legendary Tapes shows the titular sonic adventurer – played by the film's director Caroline Catz – cutting and pasting reams of tape together, late at night in 1963, to create Doctor Who's unmistakably eerie woo-woo-woo, atop that ominous driving bass line. In Sisters With Transistors, we hear that this painstaking process took her 40 days, or rather, nights. The setup is not unlike a DJ's turntables today.
These experiments took place in the BBC's Radiophonic Workshop, a sound effects unit that largely made incidental music for radio and television programme (and co-founded in 1957 by Daphne Oram, herself a trailblazer in this style of tape tapestry known as musique concréte). Derbyshire is among the most intriguing of the early electronic pioneers because, as Catz's film title suggests, she remains something of a mystery. And the sounds she made were completely otherworldly.

Enjoy unlimited access to 70 million ad-free songs and podcasts with Amazon Music
Sign up now for a 30-day free trial
Sign up

Enjoy unlimited access to 70 million ad-free songs and podcasts with Amazon Music
Sign up now for a 30-day free trial
Sign up
"Delia is a total one-off," says Catz, who'd been a fan of the Doctor Who theme tune as a child. "The music that she created, it's all pre-synthesizers, it's all analogue – 50 years ago, she made music that still sounds contemporary. We're still trying to catch up with her. I don't know if we ever will. She has this sonic universe that's so unique and wild. At the core of Delia's music is the idea of her sounds being the manifestation of invisible and unknowable things." It's telling that Catz's film ends with Derbyshire's 1971 composition "Dance From Noah", a ouija board of bleeps and bloops that is not unlike the sort of techno face-melter you'd hear in a nightclub at 6am, decades later.
These films about subjects who have spoon-bended the course of music have similarly forward-thinking approaches to form. Sisters With Transistors veers away from a traditional documentary: it has a poetic quality, with voiceover in place of talking heads. Delia… takes it somewhere else completely, as if Maya Deren did a biopic. Catz, playing Derbyshire, pedals a bicycle through dream-like sequences where Cosey Fanni Tutti is making new music out of Derbyshire's once-lost archive; there are interviews with her collaborators, as well as black-and-white footage of Derbyshire, awkward, unknowable and yet "glamorous", says Catz, surrounded by machines; and slivers of crimson-lit dramatisation within the workshop, as she snorts snuff and snogs her fellow beatniks.
Most of all, though, we see Catz-as-Derbyshire exploring her process, talking analytically about sound and its relationship to the ancient Greeks and mathematics (the latter of which Derbyshire studied at Cambridge, followed by music). It's an unusual approach for a fictional account of a female musician; all too often, they home in on trauma or relationships over creativity or artistic capability. "Yes, absolutely," agrees Catz. "What often happens with legends about women is they tend to veer into the soap opera and eclipse the actual creative output."
More than anything, the actor-director wanted to get inside her muse's head. One of the myths about Derbyshire, says Catz, is that "her tape loops stretched a mile long down the corridor", which she thinks is probably true. This intense method captivated Catz. "I thought, 'Well, how do you make a tape loop that long? What was the process of doing that?' And then you suddenly realise that she's actually splicing together tape, note by note by note by note. It's a very heavily crafted thing – immense and strange and time consuming."
When one thinks of electronic adventuring like this, it's easy to presume that the music is somehow analytical, rigid, cold. But what's clear from both films is how physical making early electronic music was, pre-computers. Suzanne Ciani, her majestic Buchla synthesizer connected by brightly coloured patch cords, highlights the sensuality of her playing. It's full-bodied and warm. One of the most poignant moments in Sisters With Transistors is the footage of Clara Rockmore – often called the greatest theremin player who ever lived, born in 1911 and here filmed in the Seventies – demonstrating her instrument. Her hand is clawed, thrumming the air passionately. She would say that it's "listening to the singing of the soul".
We also hear how Rockmore was central to the instrument's development alongside its creator Leon Theremin, just as Bebe Barron was instrumental to her and husband Louis's tape-manipulated soundscapes. Their one for 1956 film Forbidden Planet was the first fully electronic soundtrack of its kind. Anaïs Nin, their friend in the bohemian Fifties in Greenwich Village, New York, thought that the burbling experiments sounded, brilliantly, "like a molecule had stubbed its toe".
These were "dreams enabled by technology", says Sisters With Transistors's narrator, the musician Laurie Anderson. But the work of these women was also deeply rooted in reality. Striking is how much of their experimentation was also a response to crisis, whether Derbyshire being inspired by the "abstract sound" of the air raid sirens in her hometown of Coventry during the Blitz, or Pauline Oliveros's concept of "deep listening" – meditative exercises of attentively inhaling the sound around you – as a respite from the psychic toll of Vietnam. In many of their stories, the impact of war looms large.
Of course, the stain of sexism, casual or not, also permeates both films. The French composer Éliane Radigue, now 89, describes how in the Fifties a studio engineer said he was grateful for her presence as an assistant to musique concrète Pierre Schaeffer because she "smelled nice". Oliveros penned an op-ed for The New York Times entitled "And Don't Call Us 'Lady' Composers", in which she railed against being marked out for her gender. "The article she wrote was a reaction to being introduced as, 'Meet Pauline, she's one of the great lady composers'," says Rovner. "She was just outraged by that idea. [She felt], 'Why can't I just be a composer?' I think a lot of her work stems from the injustices that she felt."
In the same way, it's tricky to gather women together and present them as a whole. They weren't quite a tangible sisterhood, per se – they lived in different places and there weren't established touring circuits for avant-garde musicians are there are now. Rovner's keen to underline, too, that her film is not a definitive account of the pioneers (indeed, Latin America could have its own documentary, with originators like Vânia Dantas Leite, Jocy de Oliveira and Marlene Migliari from Brazil and Beatriz Ferreyra and Hilda Dianda of Argentina). And yet their stories do have similar themes, not just of gender, or feminism, but of "persistence, loneliness, listening, of very unique ways of seeing the world", says Rovner. Her film is a testament to the curiosity and perception of great women, rather than merely the barriers they faced. "It's less about action and more about listening. For me, that's really what ties all these women together – that they're really good listeners. That's what electronic music really engenders – this attentive listening for music in [ordinary] sound."
For the director, their experiences resonated on a personal level, too. "I definitely very much identified with their way of being in the world," says Rovner, "and, as a female filmmaker, I had also felt similar struggles" – not least of them the challenges of getting funding to bring an independent documentary to life.
At times, these films underline how little has changed. Before the pandemic, stories of misogyny within the electronic music community abounded – last September, British DJ Rebekah launched a campaign to highlight the ongoing sexual harassment experienced by women in club culture. During a Q&A that I hosted about the film with Rovner and electronic musician Laima Leyton this week, Leyton described how, in a studio in Brazil with her husband and collaborator, she was asked by a producer whether she would make the coffee.
But women's "questing spirit", as Catz puts it, is not easily quelled. "What I find really fascinating about Delia is that she had this tenacious and singular energy," she says. "I see Delia as an activist in a way, because I think it requires an activist approach to keep going and keep on track with these kinds of explorations. She was breaking new ground with the ambition of her pieces. In a place that was designed to make 30-second theme tunes, Delia created landscapes."
Sisters With Transistors is out now; Delia Derbyshire: The Myths And Legendary Tapes comes to BBC Four out in May
Join our commenting forum
Join thought-provoking conversations, follow other Independent readers and see their replies