Interview
Julia Michaels: 'It's my body, shut the f*** up'
The songwriter is known for crafting hits for the world's biggest pop stars. As she prepares to release her very own album, she tells Roisin O'Connor about self-doubt, healthy relationships and why she insists on diplomacy in the studio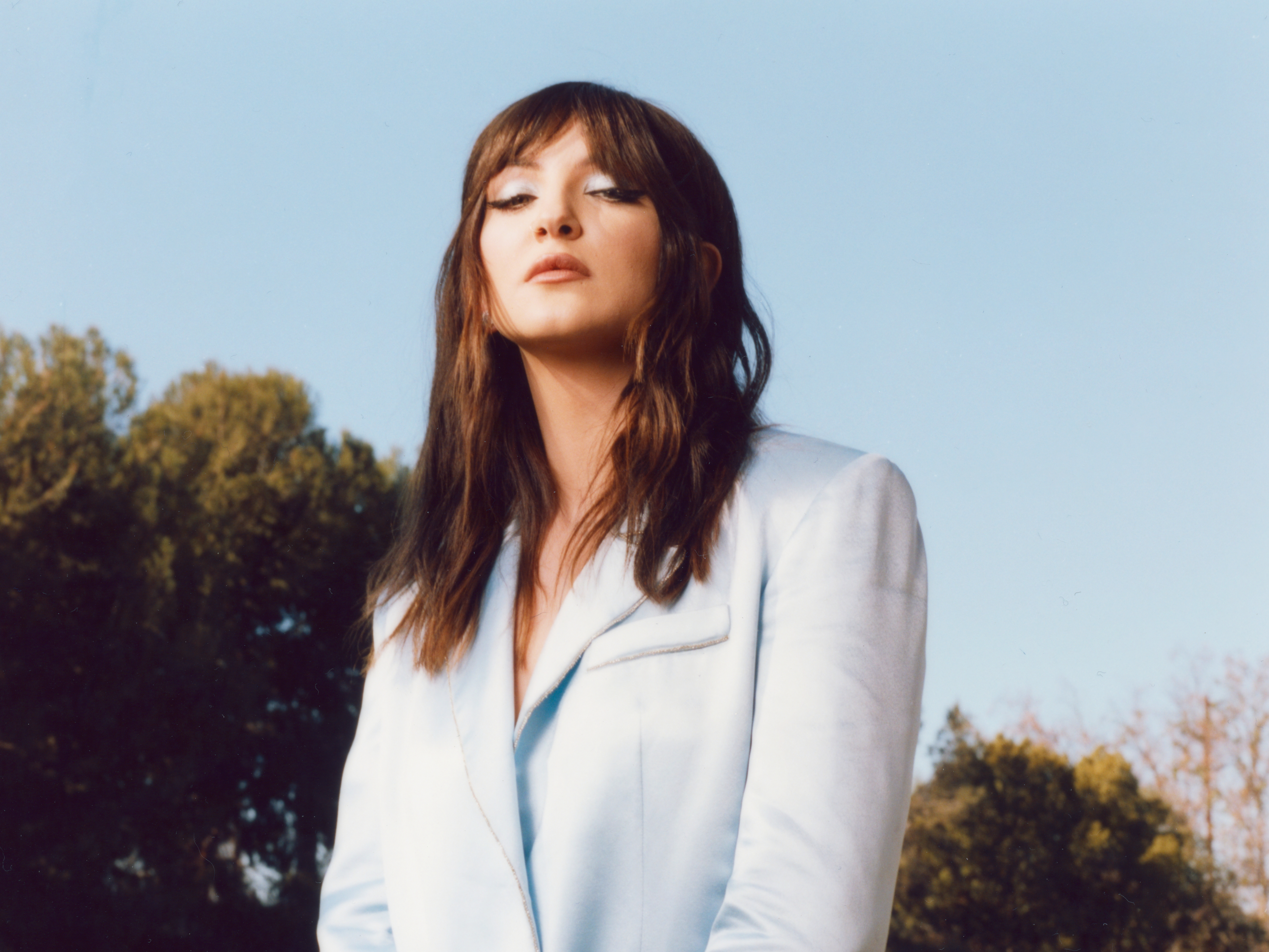 Julia Michaels might be the world's most reluctant pop star. At 27, the singer-songwriter has helped Justin Bieber, Demi Lovato and Selena Gomez climb to the top of the charts. She's picked up a few Grammy nominations. A few million fans. A few billion streams. Now she's releasing an album of her own: Not in Chronological Order. "You go through this existential crisis" she says of creating the record. "[You think], 'Am I good enough for this? I'm moving to Guam!' And then you calm down and it's like… No. This is good."
This self-deprecating attitude is part of what coaxes other artists – from Britney Spears to Janelle Monae – out of their shells in the studio. The results have been career-defining. Chances are if you're surprised by a pop star's new style – if they've come up with a curveball that still gets those coveted streaming numbers – Michaels had something to do with it.
Selena Gomez's 2015 single "Hands to Myself", a co-write with Michaels and Justin Tranter, unveiled a completely new side to the former Disney star, its lyrics both sexy and playful – a Michaels trademark. With Janelle Monae, she came up with the throbbing funk jam "Make Me Feel", Monae's second single to chart on the Billboard 100. She had a hand in Justin Bieber's monster hit "Sorry", too, a song so good it made you wish he would apologise more often.
She started releasing solo music when she realised that the lyrics for "Issues", the song that would become her debut single, were too personal to give away. On it, she sings: "I'm jealous, I'm overzealous/ When I'm down I get real down/ When I'm high, I don't come down." Michaels still doesn't view herself as a singer, more a songwriter who sometimes performs her own work. Hey, if it's good enough for Bob Dylan, I say. She grins from the other side of the camera. We're speaking over Zoom; she's with her publicist in a blank canvas of an LA hotel room. "I'll be grouped with him," she says. "That's fine by me."
Born Julia Carin Cavazos in Iowa, then raised in California, Michaels didn't grow up dreaming of a life in the spotlight. She dabbled in acting as a child, but hated it. "My mum was very good at forcing me into things," she says, laughing. She chose songwriting because her mum didn't know anything about it: "It was my own form of rebellion."
They get on great, though. Her mum has all of Michaels' plaques – for her Gold and Platinum-selling songs – on the walls at home, "because that's what I wanna look at when I'm taking a piss".
You wouldn't know from these successes that Michaels is plagued by self-doubt. But she's learnt to accept this, rather than bury it beneath the surface. On her excellent 2019 EP, Inner Monologue Part 1, she and Gomez joined forces once again for "Anxieties", which explores precisely what you'd expect. On another song, "Happy", she utters the exhalation: "I just wanna be f***ing happy."
"I'm highly insecure," she says now. "I've had insecurities about my singing voice for a long time."
Actually, Michaels has a great voice. It has a rough quality, low and full of grit. The words tumble from her lips with something approaching nonchalance, as though she's making an aside to a best friend instead of confessing her innermost feelings to the world. The lyrics themselves have the same pummeling effect of indie queens like Alanis Morissette or Fiona Apple. On album opener "All Your Exes", she sings the chorus, dripping with casual menace over a grungy guitar riff: "I wanna live in a world where all your exes are dead / I wanna kill all the memories that you save in your head." Depending on how you listen, it's either a send-up of the Bunny Boiler trope or a genuinely brutal outburst. Either way, it's brilliant.
Enjoy unlimited access to 70 million ad-free songs and podcasts with Amazon Music Sign up now for a 30-day free trial
Sign up
You might be surprised to learn that "All Your Exes" was written with Canadian musician JP Saxe, Michaels' boyfriend of two years. When they first met in 2019, they wrote a hit song together (the Grammy-nominated "If the World Was Ending"). The next day, they went on their first date. "We've been together ever since." In previous relationships, Michaels started fights on purpose to get songwriting material. "That was 23-year-old me." She pulls a guilty face. "Not the healthiest thing I've ever done. Twenty-seven-year-old me is a little more adjusted."
Michaels is clearly happy to let her love life into her own music, but she's firm when it comes to leaving personal feelings at the door while working with other artists. Warring fanbases have piled on after discovering Michaels has worked with "both sides" of famous ex-couples: Justin Bieber and Selena Gomez, Niall Horan and Hailee Steinfeld… Michaels steadfastly refuses to be dragged into it. "If someone has done something really f***ing bad, obviously I'm not gonna work with them," she says briskly. "But if it's just petty drama bulls***… the reason we're in a room is to write music, you know? That's what I care about."
She's forever amused by her own, dedicated fanbase, who have spent the past few months frantically trying to solve the online clues hinting at the album's title. As for the more negative aspects of social media, well, she just ignores it. She stopped shaving her armpits about a year ago: "Lots of guys had something to say about that," she says, sighing. Her response? "It's my body, shut the f*** up."
She sounds wonderfully confident now, but her insecurities haven't just disappeared – as Michaels readily admits on tender closer "That's the Kind of Woman". "Even though I'm happy, that doesn't mean I don't have depression [or] anxiety," she says. "These are things you actively work on." What she has abandoned is the mentality that she doesn't deserve a healthy relationship. "Perspective has made me aware of the things I gravitated to – the things I thought were love."
She sees those positive relationships among female artists, too, although the music industry would still have you believe they all hate each other. "It's sad, because we're all really f***ing different." Michaels doesn't see that kind of competitiveness in the studio. "You get to the Grammys and there's so much love. The industry can be really…" She makes a vomiting sound. "Getting here is tough, seeing a woman be herself is f***ing sexy," she says. "I could listen to all that s*** all day long."
Not in Chronological Order is out 30 April
Register for free to continue reading
Registration is a free and easy way to support our truly independent journalism
By registering, you will also enjoy limited access to Premium articles, exclusive newsletters, commenting, and virtual events with our leading journalists
Already have an account? sign in
Register for free to continue reading
Registration is a free and easy way to support our truly independent journalism
By registering, you will also enjoy limited access to Premium articles, exclusive newsletters, commenting, and virtual events with our leading journalists
Already have an account? sign in
Join our new commenting forum
Join thought-provoking conversations, follow other Independent readers and see their replies