The saturday interview
Tom Jones: 'I needed grief counselling after Linda died'
The singer has an amazing new album, but it's the first one he hasn't been able to play to his wife. He tells Laura Barton about their life together, and all the greats whose paths he has crossed in his six-decade career, from Elvis to Clapton to Pavarotti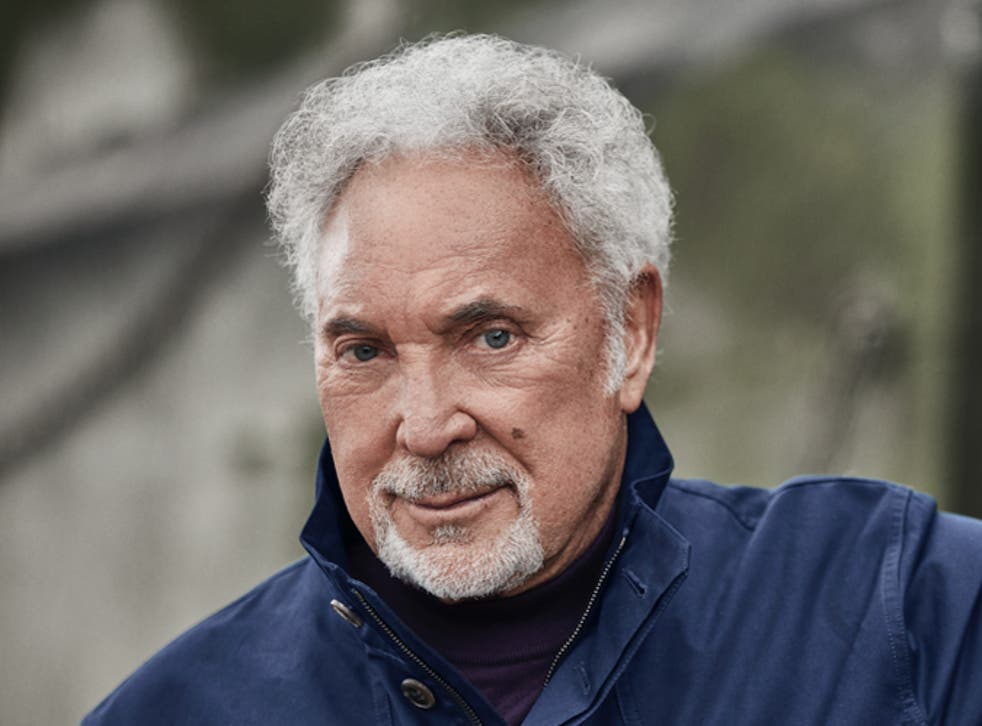 It is early Friday evening, and Tom Jones sits in the day's late sunshine wearing a navy-blue smoking jacket and a patterned cravat that ruffles beneath the tan of his face. After 41 years in Los Angeles, he now lives in London, in an apartment that looks out over the river, and where he says he has hung pictures of the Welsh bare-knuckle fighter Dai St John, and the terraced house where he grew up in Pontypridd.
Jones is on a roll this evening, his conversation sweeping over decades and locations – Wales, Bermuda, Bel Air, Mar-a-Lago. Occasionally, the names of famous celebrities gleam, before they are quickly carried along on the tide. 
It was the house in Pontypridd, he says, where he was quarantined for two years with TB, a fine preparation for pandemic lockdown, listening to the neighbourhood children playing outside, watching Rawhide, unable to sing for two years. And it was not too far away from that house that he would hang with the Teddy Boys outside Freddie Fay's record shop, "listening to rock'n'roll, thinking we were men". And how for a short time he carried a flick knife, trying to be like the American boys they saw in the movies. But he never used it. "It was only for five minutes," he says, "and then my mother took it away."
It was at Freddie's that he bought his first record, "Treasure Of Love" by Clyde McPhatter. "I was going with Linda, who became my wife, and she was the Treasure of Love you see, so that was the romantic part."
It is Linda who dominates Jones's conversation today, and only after we speak do I realise the week marks five years since her death. They were married for close to 60 years, having met as teenagers, spending their courtship jiving to Jerry Lee Lewis and listening to Elvis. Soon enough Linda was pregnant and the pair were getting married. "It gave me more drive," Jones says now. "Because when you have a wife and child, you become a man very quickly. I was about to turn 17, and she was just 16 when Mark was born. And all of a sudden it was like I was a foot taller straight away; it's a strange thing."
There have been times when many have speculated about how Jones's marriage worked, how the couple navigated well-publicised infidelities and countless groupies, or the fact that Jones was often subjected to the kind of personal scrutiny and objectification usually reserved for female performers.
But today Jones is keen to tether Linda to his music, placing her at the heart of a career that has spanned close to six decades, from hits such as "Delilah" and "It's Not Unusual", to Bond themes, Glastonbury sets, duets with Cerys Matthews and Jessie J, Grammys, Golden Globes, Brits, MTV Awards, a stint as a judge on TV talent show The Voice, and a run of late-career albums, including his latest, Surrounded By Time, that have been the finest work of his life.
The musical influence of Linda began early. It was 1956 when Jones first heard Elvis singing "Heartbreak Hotel" on the radio, and wondered why the guy with the weird name was singing about being "so loamy". The lyric was "lonely", Linda said, and mocked him. "I went, 'Oh s***!' I'm supposed to be the cool one, and she was telling me!" A few years later he told Elvis the story. "He said a lot of people did, you weren't the only one!"
She was there in the early days, when he sang in school and in the pubs in Wales and when the talent scouts began sniffing about. "All of those things, she lived through with me," he says. "She knew what I was trying to do, and she was one hundred percent behind me. She said, 'Whatever I've got to do to help you get to where you want to go, or where we want to go, I will do it, we will do it.' And I said, 'Yes, we will!'" 
Enjoy unlimited access to 70 million ad-free songs and podcasts with Amazon Music Sign up now for a 30-day free trial
Sign up
Did Linda sing? "Yes, she sang rock'n'roll songs," Jones says, and recalls her singing Connie Francis's hit "Stupid Cupid" while he played guitar. "I remember it like it was a couple of years ago, in the front room of the house. I said, 'Sing it!' So she sang: [he turns his voice light and girly] - 'Stupid Cupid, you're a real mean guy!'" He taped her, on his reel-to-reel cassette recorder. "And I lost it," he says, and looks forlorn. "But yes, she could sing — we could have been a double act if she wanted to! But she didn't have the desire for it."
Still, she was always there, behind the scenes. "When I'd record something, she would be the first one I would play it to," he says. "She was a great guide, always." In 2002, when he followed the career-reviving duets album Reload with a collaboration with Wyclef Jean, it was Linda who questioned his wisdom. The album was not a hit. "She could pick hits," he says. "So when she heard the Wyclef one she said, 'What audience are you aiming at with this?' I said, 'It's a groovy… She said, 'Yeah it's alright, but I don't hear you in it. And she was right, again!"
Surrounded by Time is the first record that he has been unable to take to Linda for her opinion. It was a terrible feeling, he says. "Terrible, terrible. That was the first thing I thought of, believe me. But I think that she would love it, because the first track on there is, "I Won't Crumble With You if You Fall" [by Bernice Johnson Reagon], which she told me she loved when she was dying."
Jones was on the road when Linda was diagnosed with terminal cancer. He rushed back to LA and straight to the hospital. "Me and Mark [their son, and Jones's manager] were walking down the hallway looking for the room she was in," he remembers. "And she had the door open, and she was waving to us! 'Here I am, hi!' Jesus Christ. I walked in and I said, 'Linda, you know, they've told you?' She said 'Yeah, yeah, I know."' She blamed herself, he says, for having smoked so many cigarettes.
Jones stayed in her hospital room for the last 10 days of her life. "And she was the calmest person in the room," he remembers. "I was a basket case, honestly, and so was Mark, the two of us were like two gibbering idiots, we both had to go for counselling in LA – grief counsellors. We had to go and sit down and talk to this woman."
The grief counsellor told him that time would heal. "'So don't do anything drastic right now,' she said. 'Stay exactly as you are.' And I said, 'Well, I'm going to do what my wife told me to do, which was to move to London. We were going to do it anyway, but she said to me, 'Now that I can't come, it doesn't mean you can't go, so get yourself a flat in London and start again.'"
Jones sold everything. It seemed impossible to live in the house, even to be around the furniture once Linda had gone. He tells me about her love of doing up houses, how when they left the UK to avoid a hike in taxes, they found a red-brick house in Bel-Air, which so reminded Linda of their house on St. George's Hill in Weybridge that they bought it immediately (the previous owner was Dean Martin) and shipped over all their furniture. Later, Linda craved a view, so they moved to Mulholland Drive.
"You know when I watch Escape to the Country - I watch it every afternoon if I don't have anything to do, and they say to a couple, 'So what do you think?' I'm looking at the fella's face thinking to myself, 'You may as well just stand in the corner,'" he says. "Because at the end of the day, if your wife doesn't like it you don't have a smell! You don't! What's the point in buying something when your wife hates it? It won't work!"
Linda liked their houses in California, "but she never got over being homesick for Britain," Jones says. "And she wrote it all down. I've got those notes, and I didn't realise it was that important to her. She wrote: 'When Tom moved his mother and father and sister out, I thought, 'Oh my god, that means we're not going to go back for a while…'". Again, he looks downcast. "She was always on about coming home, and we were going to do it — we started looking at places over here. Then of course she got sick. So I've done it, I've moved and I've got her ashes with me."
The new album is a kind of homecoming, too, reuniting him with producer Ethan Johns, with whom he has worked since 2010's Praise & Blame, and delving deeper into the records he has known and loved throughout his life, from Terry Callier's Lazarus Man to The Waterboys' This Is the Sea. It is also the first record he has recorded in Wales, and the album is peppered with little nods to both his homeland and his own career – a cover of "Samson and Delilah", references to valleys. "I always do that!" he smiles. "If you search for it – it's a puzzle, you have to find out where they are!"
He's now 80 and that famous voice has gathered new weight and resonance and nuance, which he attributes to both biology and choice of material. "Your attitude will change in the songs that you sing," he says. "And of course age, but thank god my voice is not showing age like an 80-year-old – most 80-year-olds the vibrato slows down, the flexibility of the voice, you can't bend notes like you used to when you were younger. Well that hasn't happened to me, it's still there. The only big difference, sound-wise, is I used to be a tenor when I was young, now I'm a baritone, my voice is lower.
"But when you listen to a song like 'Delilah', that's in a tenor's range. Pavarotti told me that. So what I've lost on the top end, I've gained a lot in the lower region."
Some of the most affecting songs, such as his version of Todd Snider's "Talking Reality Television Blues", or Tony Joe White's "Ol' Mother Earth", strike a tone that is more conversational than sung. "I realised that the spoken word sometimes is more effective than when you sing it," Jones says. "Because when you sing, people are listening to the way you're singing, the notes you're hitting, the melody, but when you speak it, the melody can be in the arrangement, you're concentrating more on the story that you're telling."
Among the tracks is a standout take on Dylan's "One More Cup of Coffee" – one 80-year-old interpreting another's song. It is strange, I say, how we rarely think of Jones as a contemporary of such artists – perhaps because he has always been a great interpreter of song rather than a songwriter, he has seemed to stand slightly to the side, as a kind of musician-showbiz hybrid. Has this ever frustrated him?
"Well, not really," he says, "because I understand. But I do have to explain myself." It began after his first album, with a track listing that ranged from "Autumn Leaves" to "Memphis, Tennessee", and "I Need Your Lovin'". "I wanted to fill that bloody thing, choc-a-bloc with all these different kinds of songs thinking people would say, 'Wow! How versatile is Tom Jones?' But no, they go 'Hmmm, maybe not as much rock and roll'. Which is bulls**t! So all my life I've had this bloody proving thing." And how does he try to prove himself? "I get on the stage and say, cop a hold of this!"
"But they know," he continues. "Eric Clapton knows, Mick Jagger knows, Van Morrison is a big friend of mine, they've always been friends of mine all the way through." A few years ago, Dylan even invited him to play a tribute show, having heard and loved his version of "What Good Am I?" Though Jones did not meet him. "He came on the stage, but because he's like the bloody Scarlet Pimpernel he did this wonderful speech and then he split."
He keeps up with his friends from those days – Jagger, Ronnie Wood, Eric Clapton. "We all started at the same time in the Sixties and people sometimes don't think of me as being part of that because of the songs that I recorded."
He reels out a few anecdotes from those days - the time he went to watch Nina Simone at Ronnie Scott's and sat with Marianne Faithfull, then pregnant with Jagger's child. The time he walked out of the Cromwellian and was standing on the pavement talking to Clapton. "I said, 'Eric, what are you up to?'" Clapton told him he'd just formed a band called Cream, but that if that didn't go anywhere he would come and play with Jones. "He said, 'If you want a guitar player, I'm your man.'" There were similar encounters with Jeff Beck, Mitch Mitchell, Noel Redding, Mick Fleetwood, who lived nearby in Notting Hill Gate.
"So I know all those people," he says. "We all were in London thinking, this is it, this is the place!" And now you're back in London, I say. You've come full circle. "Yes, now I'm back where I started," he smiles. "Starting again."
'Surrounded by Time' is out now
Register for free to continue reading
Registration is a free and easy way to support our truly independent journalism
By registering, you will also enjoy limited access to Premium articles, exclusive newsletters, commenting, and virtual events with our leading journalists
Already have an account? sign in
Register for free to continue reading
Registration is a free and easy way to support our truly independent journalism
By registering, you will also enjoy limited access to Premium articles, exclusive newsletters, commenting, and virtual events with our leading journalists
Already have an account? sign in
Join our new commenting forum
Join thought-provoking conversations, follow other Independent readers and see their replies