The Independent's journalism is supported by our readers. When you purchase through links on our site, we may earn commission.
Twin Atlantic interview: Sam McTrusty on accents, Glasgow, and releasing the album they always wanted to make
Exclusive: 'All the songs making the cut had this attitude, a boldness… even an arrogance, that related to who we were growing up'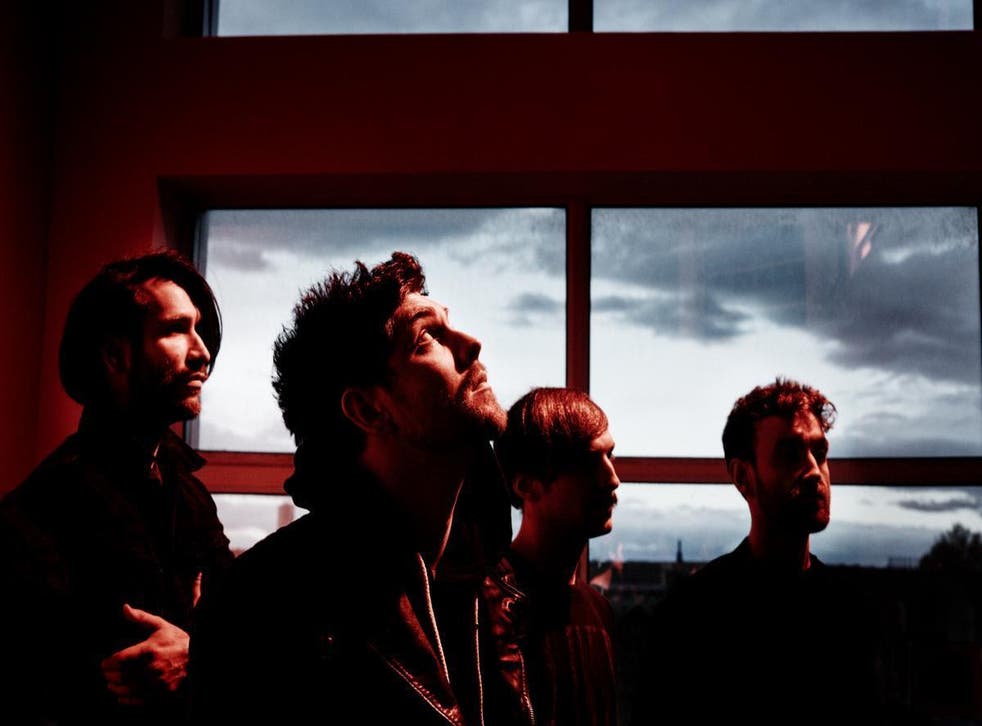 It's still early on a Wednesday afternoon, but a cluster of Twin Atlantic fans are gathered outside Kentish Town Forum where the band are due to perform, almost uniform in their black hoodies, jeans, heavy kohl eyeliner and brightly-dyed hair.
"I know who they all are, because they do it at every single gig," frontman Sam McTrusty says, sat at a table in the Assembly House across the road. "They're from Poland, France… they do the whole tour. And then they'll probably come to half the European dates, it's amazing."
While it's great to see that this kind of devotion to a band still happens in an age where you can easily cyber-stalk your favourite frontman over social media, it's hardly surprising that a band like Twin Atlantic would inspire such loyalty from fans.
Their latest album GLA has been enjoying considerable praise since its release in September this year: it's a beast of a record, full of swagger and attitude – opener 'Gold Elephant: Cherry Alligator' bursts into the room looking for a fight – and is, McTrusty says, the album Twin Atlantic have been trying to make for a long time.
"We were totally people-pleasing on The Great Divide," he says. "It was me trying to prove to myself that I was worthy of having fans, of having people queue outside those venues. We'd play at Camden Barfly and look across at the Roundhouse. And I wanted to earn it. I wanted to make the perfect song."
Writing in Glasgow turned things around: the band were able to ground themselves in the place they grew up, a city that has its own distinctive voice, its own character. Recording GLA in two three-week stints before and after Christmas, Twin Atlantic found that they had made an album that, as McTrusty puts it, "I'd f**king listen to".
"We were so industrious in such a short space of time," he says. "Probably because we were using modern techniques, like laptops and s**t. I used to handwrite everything and save it in my head.
"So while we were out recording in LA we realised that all the songs making the cut had this attitude, a boldness… even an arrogance, that related to who we were growing up, and who we are in real life, rather than this imagined persona of what a rock band should be."
'Ex El' was a breakthrough moment in the studio, something he calls an "actual eureka moment".
"That particular sound and way of expressing myself is what I've been pushing for the last 10 years," he says. "And something just… it wasn't on purpose, but something snapped, and I had to deliver this type of vocal with those lyrics.
Enjoy unlimited access to 70 million ad-free songs and podcasts with Amazon Music Sign up now for a 30-day free trial
Sign up
"It was almost life-altering, kind of a freeing experience, for me to realise that I could do something that unhinged that worked. It's a bit of a selfish reason why, but it did feel like a bit of a breakthrough. And I felt like a f**king child again, like I'd learned to tie my shoes."
"Do you wanna know something really funny?" McTrusty grins. "On our other records I've sat meticulously, almost in this zone of meditation where I've been asking for certain change. And this time round I just said: 'Whatever you wanna do, that's what I want it to be'. "
He'd also stopped caring, he admits, making a decision not to be so fixated on creating the "perfect" rock album.
"We walked away from all of that, not because we hated the first records, but more because we bore easily. In the album there's a song at the very end… it's about as punk rock as I can get, like a pure middle-finger up…"
The barman comes over with a slice of lemon for his tea in some silver tongs and McTrusty bursts out laughing – "the rock and roll illusion is shattered."
Lemon slices and silver tongs are a far cry from the bars he used to work in around Glasgow ("you still get people from outside who are too scared to go in some of those pubs"), which he credits for training him up for life as a frontman.
"Everyone was so quick-witted there, and you've got to rise up to that or you'll f**king drown. So I think in a lot of the interviews I've done, I actually like them, and you're not supposed to apparently," he grins.
One question that doesn't seem to have cropped up in interviews is how the band feel about any recurring comparisons to Biffy Clyro. While said comparisons are never a bad thing, McTrusty feels that being lumped in with another Scottish band who sound miles apart from their own music borders on discriminative.
"It's nothing personal," he adds (he and members of Biffy are mates). "I'm more thinking about the future of art that's coming out from there. I get judged for being Scottish before my art gets judged. It's so lazy… to always be compared to the same narrow-minded thing.
"I've had actual conversations with them about it and they feel bad. We consider each other as completely different sounding bands. Like Radiohead and Arctic Monkeys coming from England – they play guitar, they're super cool, but they're allowed to do their own thing. Scotland's a small country with big ambitions, and it's always been like that. And some people don't like that."
A conversation about the flourishing music scene in Scotland turns to a vent about Flea's recent proclamation about the state of rock music; McTrusty says that statement actually came as the band were beginning to work on GLA.
"I was actually really f**king angry about that," he says. "They're part of the problem – doing cover versions of themselves; desperate to keep going. And it was such an ironic statement. I love Red Hot Chili Peppers, we'd list them as an influence… how could I not have been influenced by them? But I felt like that made him and his band irrelevant.
"How can you be in that position and come out and say that to 16-year-olds who think rock music is the only thing that makes sense? Rock music is the voice of the youth; it gets the message across without being overly literal. I'll only believe that rock is dead when young people are the ones saying it."
Returning to GLA, he explains one of the most surprising moments on the album, the song 'A Scar To Hide', which in a way summarises the band's desire to go back to a more honest, familiar sound.
"We've talked about why we included that song, and came up with this idea of what we were annoyed about in guitar music, which was there was nothing real coming from anyone: a lot of it was fantasy or imagined things, faked personas and bravado. That's why we called the album what it is. And obviously it formed the attitude of the whole album.
"Because there's one side to Glasgow which is really soft-hearted, but it's also pretty bleak. And 'A Scar to Hide' is that strange mixture of emotions which is tenderness and love and attention but also accepting the end… and it's over, but I'm happy for you…?" he says slowly. "I'd never written anything like that before."
But he wouldn't be representing himself, the band, or the city that they're from to not include songs like that.
"The people there are the first people you'd go to for help, but the last people you'd want to cross," McTrusty nods. "That's what makes it such a special place."
Twin Atlantic's new album 'GLA' is out now. They perform a homecoming run at Glasgow's Barrowland from 13-15 December
Register for free to continue reading
Registration is a free and easy way to support our truly independent journalism
By registering, you will also enjoy limited access to Premium articles, exclusive newsletters, commenting, and virtual events with our leading journalists
Already have an account? sign in
Register for free to continue reading
Registration is a free and easy way to support our truly independent journalism
By registering, you will also enjoy limited access to Premium articles, exclusive newsletters, commenting, and virtual events with our leading journalists
Already have an account? sign in
Join our new commenting forum
Join thought-provoking conversations, follow other Independent readers and see their replies