Glastonbury 2015: Dalai Lama uses first festival visit to brand Isis violence 'unthinkable'
The spiritual leader was met with a rendition of 'Happy Birthday' by the crowd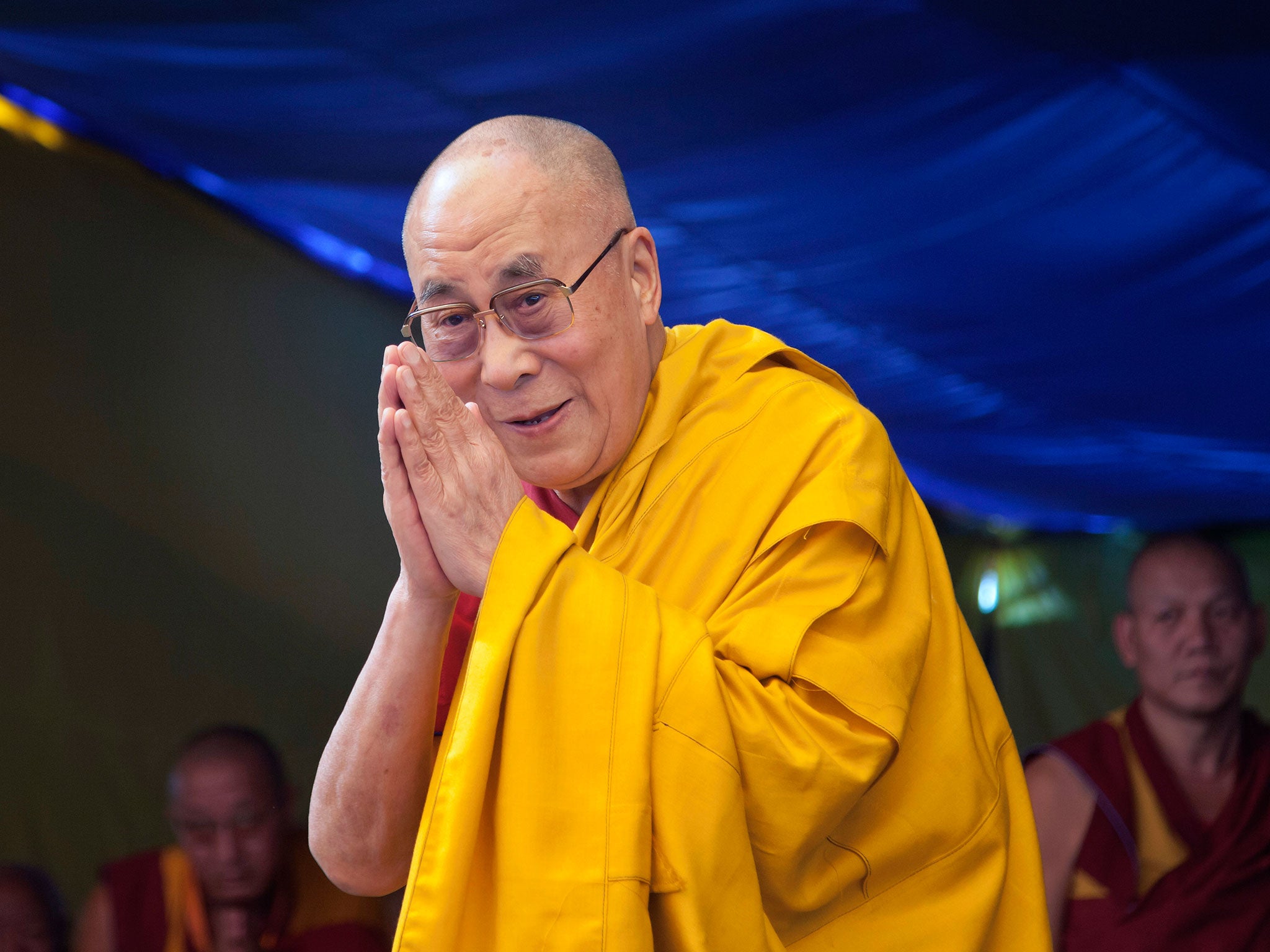 China warned Glastonbury bosses against booking the Dalai Lama, but he arrived for his historic talk at the Somerset festival this morning regardless.
The exiled head monk of Tibetan Buddhism took to a small wooden stage in front of the Tibetan flag in the King's Meadow to share a message of "love and tolerance and fairness" with his supporters.
The 14th Dalai Lama spoke primarily about the problems caused when extremists use these religious ideologies to create conflict.
Although the Guardian reports that the spiritual leader did not refer explicitly to Isis, he told the hundreds-strong crowd that violence in the Middle East is "unthinkable".
"In Syria and Iraq and some other places they're killing other human beings," he said. "Unthinkable. The worst thing is the killing of others in the name of faith. Unthinkable".
The Dalai Lama went on to praise Glastonbury as "a festival of people, not governments or politicians" and he even wore a festival t-shirt over his head as a makeshift umbrella.
"While you are here, enjoy the joyfulness here," he said. "But you should remember on this same planet are human beings being killed by human beings."
Glastonbury 2015 in pictures
Show all 92
The leader reportedly also said that were he not the Dalai Lama he would be a tractor driver and that he doesn't really like music as pop bands won't solve conflict in Syria.
In true Glastonbury spirit, he was met with a delightful rendition of "Happy Birthday" in advance of his 80th birthday on 6 July.
Not everyone was happy about the Dalai Lama's booking however, with members of the Shugden Buddist sect accusing him of "creating an atmosphere of hatred" towards them and marginalising them in exiled Tibetan communities.
The Dalai Lama's representatives insist that examples of Shugden Buddhists being barred from entering shops are not associated with him.
The Dalai Lama is expected to pop up again on the Pyramid Stage later today.
Join our commenting forum
Join thought-provoking conversations, follow other Independent readers and see their replies