Glastonbury 2015: Teenage kicks in the Beat Hotel - more like Magaluf than Worthy Farm
Jamie Merrill ventures to the Beat Hotel where it's packed from dawn 'til dawn
Jamie Merrill
Sunday 28 June 2015 13:42 Comments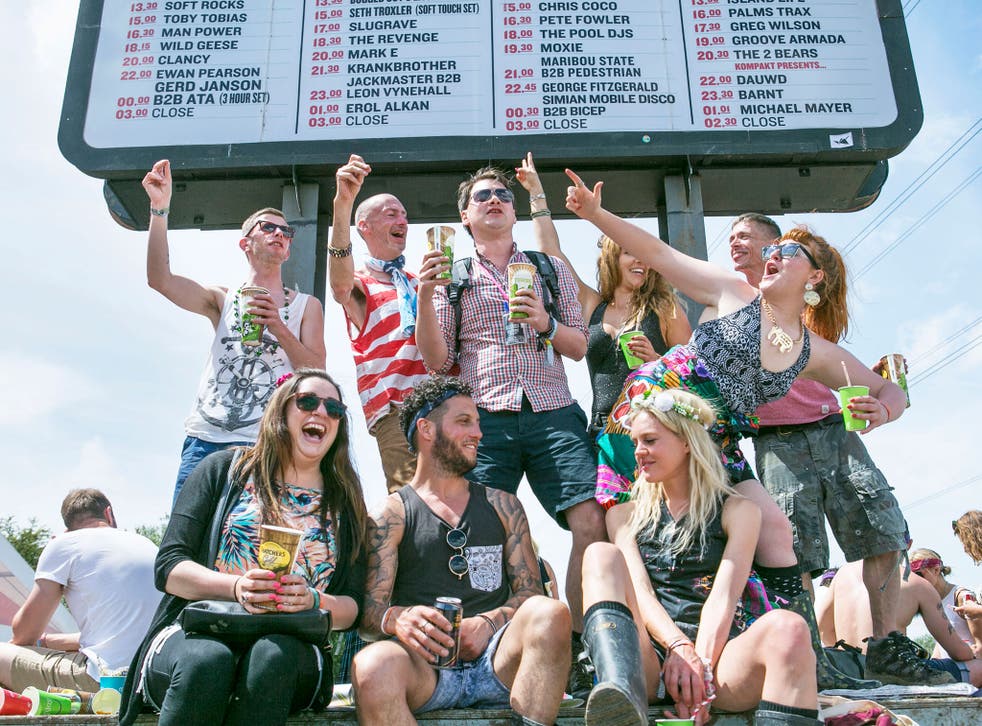 The whoosh of the "hippie crack" laughing gas balloons is near constant, and the mud-caked floor is carpeted with several abandoned rain jackets, a single wellington boot, a pair of ladies pants and thousands of empty cans of Brothers cider, the drink of choice for the teens and early twenties crowd at Glastonbury Festival.
Welcome to the Beat Hotel, an all-day breakfast club, bar and nightclub tent that feels like a mixture between a never-ending university club night and disaster zone. It's only a short distance from the Pyramid Stage, close to the main bus and pedestrian entrance to Worth Farm, and I've been fascinated by the nightlife here ever since I started reporting from Glastonbury. It's awful and glorious in equal measure.
Regardless of whether Florence + the Machine or Kanye West is on the main stage, there is always a crowd of hammered festival goers dancing on the multi-level podium, oblivious of the celebration of live music around them. It's feels more like Magaluf than Glastonbury, and I'm sure there are a few souls that go no further into Worthy Farm, before they drink themselves to oblivion and our scooped up by the post-party clean-up team on Monday morning.
Glastonbury 2015 in pictures

Show all 92
Nevertheless the Beat Hotel is a minor Glastonbury institution and dance sets from Fat Boy Slim and acclaimed DJ Seth Troxler bring justifiable large crowds until 3am some night, but even festival insiders struggle to come out in fulsome praise of the place. "There are better places to go for music. Why would go there?" says one.
That doesn't stop the place being packed from dawn until dawn though, says Grace Pickering, 22, who has been coming to the Beat Hotel for years. "The house beats are incredible and we all come for the cocktails," she says, just as Florence + the Machine were coming onto the main stage on Friday night. "And there's the fact you don't need a [proof of age] wristband to get in here."
To my right two young guys are gurning away, caked head-to-toe in mud, while to my right, three young teens are openly sharing the white powder contents of a small baggie. "What's the drug policy here?" I ask a member of the bar staff. "Look at the security guy," they say, pointing to a bouncer who was transfixed by his smartphone and ignoring the dance floor.
There's another unexpected peril at the Beat Hotel; it's proximity to the backstage area. "We are quite near the side entrance to the hospitality bar, so you do get pervy old men coming around to watch us," adds Grace.
Looking at my press pass and hospitality wristband, I take the hint and return the following day in the Saturday afternoon sunshine. Sure enough, the dancing podium is packed. Equipping myself with two pints of £4.80 lager, I decide to embrace the mood. I'm quickly pulled up onto the podium by a pair of friendly Australian women in their late twenties. We bring up the average age by a decade, but they head here every lunch time to get their day started with a cider and quickly invite me out to party into the night.
Perhaps then, this place isn't so bad after all.
Register for free to continue reading
Registration is a free and easy way to support our truly independent journalism
By registering, you will also enjoy limited access to Premium articles, exclusive newsletters, commenting, and virtual events with our leading journalists
Already have an account? sign in
Join our new commenting forum
Join thought-provoking conversations, follow other Independent readers and see their replies