Glastonbury 2015: The best bits you missed from Lionel Richie and the Dalai Lama to The Libertines' secret set
It might have rained too much but nothing beats a Pyramid Stage sunset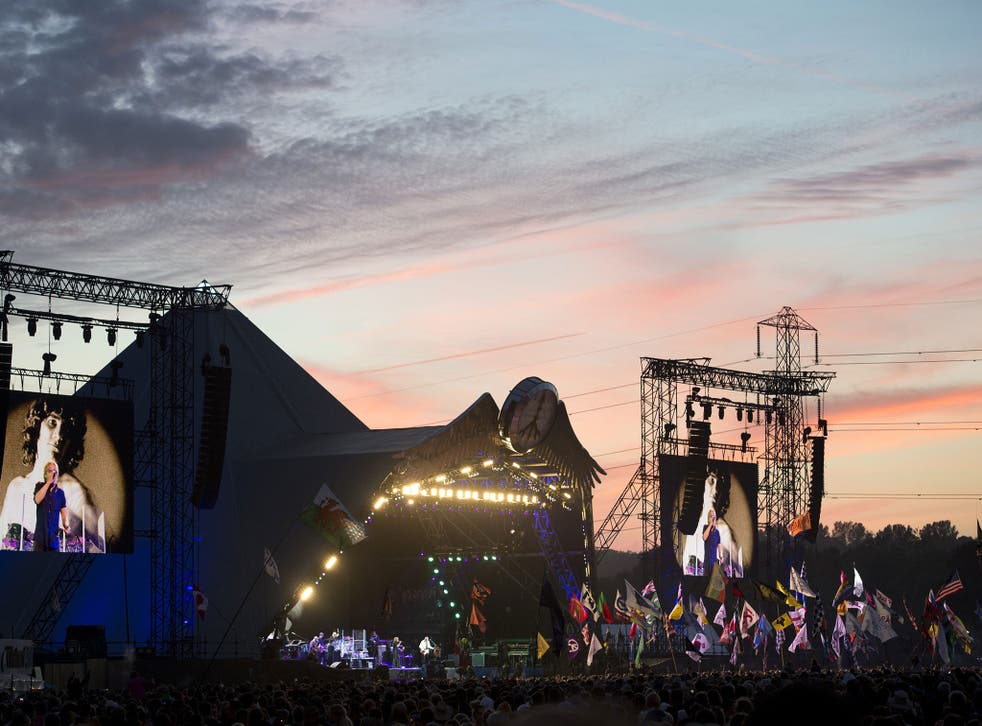 Glastonbury is over for another year, with hoardes of weary festival-goers trekking home to their hot showers and comfy beds.
There were the usual dreaded downpours and a fair splattering of mud but with surprise sets, special guest appearances, amazing performances and some of the yummiest food stalls out there, it's the happy memories that will last.
To prepare you for when your mates arrive home excited to share their stories, here are some of the best things you missed at Worthy Farm this weekend:
Florence + The Machine covering the Foos
Not everyone was convinced when Florence was announced as Dave Grohl's replacement but the flame-haired singer more than proved her doubters wrong with a confident and exuberant headline set. She even dropped in a stunning cover of Foos classic "Times Like These" just to prove that she can match the best of 'em.
The Libertines performing a surprise set
Emily Eavis left this one a mystery right until the last moment when Pete Doherty and Carl Barat stormed the Pyramid Stage spraying beer as the surprise act taking Florence's original Friday evening slot.
Fans got a taste of some new tunes as well as a mass sing-along to some much-loved earlier songs before the likely lads finished with "Don't Look Back Into The Sun".
Patti Smith inviting the Dalai Lama on stage
This was just too adorable for words. The Dalai Lama had appeared in the Stone Circle for a talk earlier in the day but made a re-appearance on the Pyramid Stage during the Godmother of Punk's set. Everyone sung "Happy Birthday" ahead of his 80th next week, Patti had written him a poem and he even had a birthday cake.
Kanye declaring himself 'the greatest living rockstar'
Arguably this was more one of the most 'obnoxious' and 'annoying' moments of the festival rather than one of the best, but we're including it just because it wouldn't have been a Kanye gig without some egomaniacal behaviour. It was also really quite amusing. He said it at least three times.
Everyone heading to Arcadia for the best club night
Think a gigantic 50ft metal spider complete with flame throwers, dancers shooting lightning bolts from their hands and some of the best DJs on earth hiding inside it and you have Arcadia. And it is awesome.
Lionel Richie drawing the weekend's biggest crowd
Forget Kanye and the rest of the headliners, it's all about the Sunday afternoon 'Legends Slot'. Lionel Richie rivalled Dolly Parton's huge crowd last year by drawing the biggest audience of the whole 2015 festival. That's more than 100,000 people all grooving along to "Dancing On The Ceiling".
The Who rinsing Kanye to close the festival
Roger Daltry and Pete Townshend of The Who just could not resist taking a swipe at "greatest living rockstar on the planet" Kanye West during their Glastonbury headline slot.
"We're going to make a big f**king rebellion; yeah who's the biggest rockstar in the world?" yelled the band's frontman before Townshend launched into an impressive guitar solo and showed Yeezy who's boss.
How beautiful Glastonbury is
Incredible aerial images showed us just how massive tent city really is when everyone arrived last Friday. Now, photos from across the festival have proved that Worthy Farm has got to be one of the most beautiful places to spend a summer's weekend.
Glastonbury 2015 in pictures

Show all 92
Register for free to continue reading
Registration is a free and easy way to support our truly independent journalism
By registering, you will also enjoy limited access to Premium articles, exclusive newsletters, commenting, and virtual events with our leading journalists
Already have an account? sign in
Register for free to continue reading
Registration is a free and easy way to support our truly independent journalism
By registering, you will also enjoy limited access to Premium articles, exclusive newsletters, commenting, and virtual events with our leading journalists
Already have an account? sign in
Join our new commenting forum
Join thought-provoking conversations, follow other Independent readers and see their replies