Isle of Wight 2017 festival review: Rod Stewart, David Guetta steer fans through strange times
'No one can stop us from living the way we want to live,' Guetta bellowed from the main stage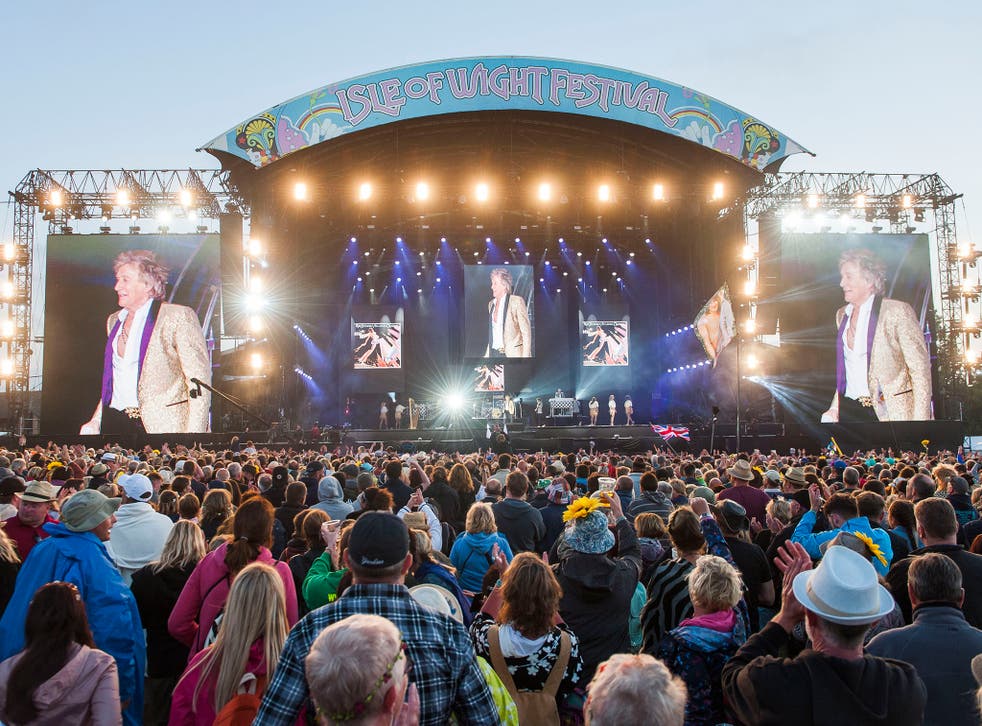 At 72, Rod Stewart has undoubtedly seen a lot in his day, but even the Mod can admit these are "troubled times".
Headlining the 2017 Isle of Wight festival on Sunday, the "Maggie May" crooner took a pause in an otherwise upbeat set, remarking: "These are troubled times, dangerous times, we must admit," before breaking into "Rhythm of My Heart", a tune the artist has long dedicated to "soldiers everywhere".
And Stewart wasn't the only one with current events weighing heavily on his mind. In the wake of the recent terror attacks in Manchester and London, artists were quick to acknowledge that simply showing up at a music festival can feel like a rebellious act.
"No one can stop us from living the way we want to live," David Guetta cried out from the main stage on Friday night.
The chorus of his hit song "Titanium", featuring Sia, seemed to carry fresh meaning, as fans belted out the lyrics: "I'm bulletproof, nothing to lose. Fire away, fire away ... You shoot me down, but I won't fall."
The French DJ pulled out all the stops for his performance, giving fans a taste of his new collaboration with Justin Bieber, '2U'. The song has already shot up to Number 1 on the UK's Official Trending Chart.
Arcade Fire frontman Win Butler echoed Guetta's sentiments the following evening, closing out what felt like a more subdued show from the Canadian band, saying: "Don't let the people make you f***ing scared."
He also bellowed to the crowd earlier on in the Canadian band's set:"What happens in the US matters to us. What happens here in the UK matters to us in Canada. F*** this f***ing shit. Let's go!"
Of course, what had happened in the UK on the first day of the festival was an election that has been regarded one of the greatest political upsets of our time.
Enjoy unlimited access to 70 million ad-free songs and podcasts with Amazon Music Sign up now for a 30-day free trial
Sign up
A festival is a strange place to be in the wake of such a crucial vote. Many festivalgoers woke up in their tents Friday morning more eager to check their phones and find out the latest about the general election results than to check the stage line-ups for the day. And performers didn't shy away from giving their two cents.
"Whatever your political persuasion," The Kooks frontman Luke Pritchard said to cheering fans on Saturday, "I think we can all agree that Theresa May is a tw*t."
Other bands were a bit more subtle. Blink and you might have missed Bastille cleverly blasting the Prime Minister, playing "Fake It", as LED screens on the stage spelled out Theresa May's go-to mantra on the campaign trail: "strong and stable." The lyrics "let's do our very best to fake it" seemed to be perfectly timed with the stump speech message.
"These are strange times," the indie pop band's frontman Dan Smith admitted, but otherwise, the group kept their performance light, with the star making his way into the crowd and singing along with fans.
Of course, not all artists were willing to share the stage with the political drama unfolding in the UK. The Kaiser Chiefs put on an energy-packed performance so upbeat that for at least that hour, all fears for the future were drowned out by frontman Ricky Wilson's fervour.
And hip hop legends Run-DMC managed to teleport us all back to the Eighties, setting the stage with the group's 1983 debut single "It's Like That". Their genuine surprise over the fact that thousands of voices – young and old – were still able to chime in with the lyrics more than three decades later, was enough to offer some hope for the future – and perhaps enough to bring the group further out of retirement. "I can't believe it," Joseph Simmons said.
The hip hop giant asked fans to hold a moment of silence for Jam-Master Jay, born Jason Mizell, who was shot and killed at his recording studio in Queens on 30 October, 2002. The legendary DJ's two sons TJ Mizell and Jason Mizell Jr also took the stage and proved that both have managed to inherit their father's turntable skills.
A final moving moment came just before the curtain fell on the four-day festival, with organisers closing out an unforgettable weekend with a fireworks show as Oasis's "Don't Look Back in Anger" rung out from the main stage speakers. Thousands sung along – a resounding message of resilience – and a sign of respect to those who lost their lives leaving a similar celebration of music just weeks ago.
Join our new commenting forum
Join thought-provoking conversations, follow other Independent readers and see their replies