Marianne Faithfull and Warren Ellis review, She Walks in Beauty: Faithfull breathes fierce, sharp magic into these old words
To those familiar with Faithfull's story, it should come as no surprise that she meets the minds of Keats, Shelley, Byron and co on equal terms
Helen Brown
Thursday 29 April 2021 13:58 Comments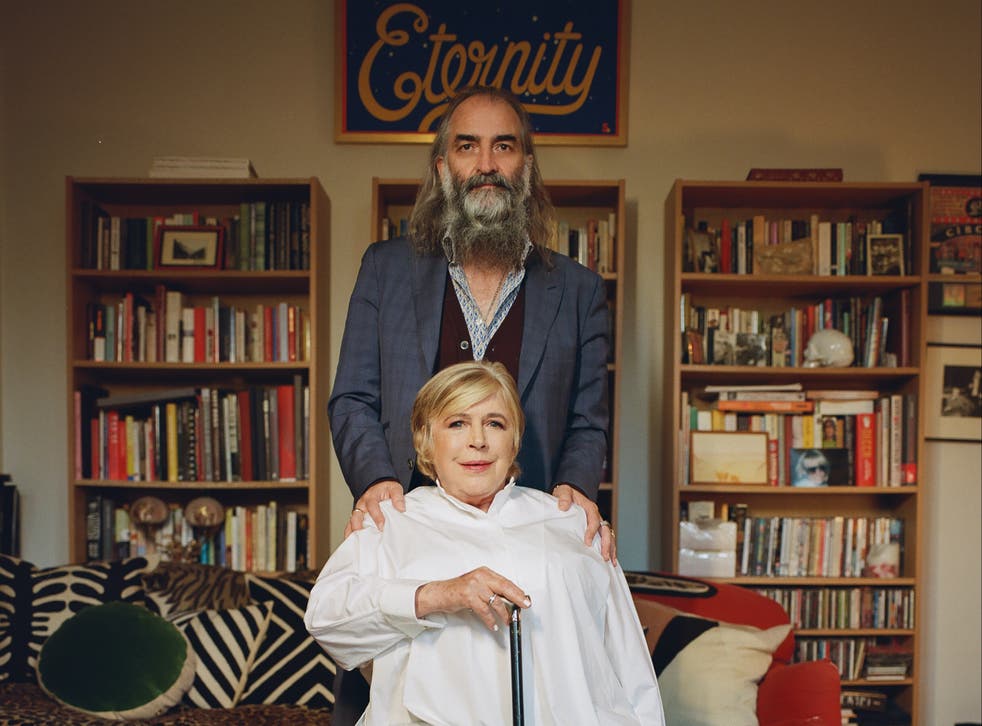 It sounds like the most bum-clenchingly awful vanity project. An ageing pop star, reciting a selection of her favourite 19th-century poems while her mates noodle off on an ambient odyssey – "not locked into melodies or chords" – in the background. Except the ageing pop star in question is the formidable Marianne Faithfull and her mates are Warren Ellis, Nick Cave and Brian Eno. So, She Walks in Beauty is an unsentimental spine-tingler of an album from a pirate crew of against-the-odds survivors.
To those familiar with Faithfull's story, it should come as no surprise that she meets the minds of Keats, Shelley, Byron and co on equal terms. She rose to fame along with The Rolling Stones, and though she may have been marketed as "an angel with big tits" – dismissed by the Sixties press as "the naked girl" caught up in their Redlands drug bust – she was never a submissive muse. The convent-educated daughter of an MI6 agent and an Austrian aristocrat was a creative force in her own right. She brought her teenage passion for Romantic poetry into their rock'n'roll camp, writing the lyrics to "Sister Morphine", and waking from a drug overdose, told Mick Jagger that "wild horses" couldn't drag her away.
The 74-year-old Faithfull we hear today has survived heroin addiction, anorexia, homelessness, breast cancer and Covid, which nearly did for her last year. She's lost so many good friends. "I do understand why you want no more f***ing treatment," she conceded on her 21st album, Negative Capability (2018), which takes its name from Keats's belief in a person's ability to accept "uncertainties, mysteries, doubts, without any irritable reaching after fact and reason". In her seventies, Faithfull was better than ever. She might have snapped "I'm not a f***ing wise woman!" at me when I met her that year, but she sure sounded like one, with a voice both scarred and gilded by her extraordinary life. The album was her first collaboration with Warren Ellis, who whittled such elegant woody melodies around her words that it sounded like he'd carved her a Viking funeral barge.
But she's still here. She Walks in Beauty finds Faithfull ablaze and afloat on a misty soundscape of waves, birdsong, synths, loops, street sounds, piano and cello. The album includes some of the best-known poems in the canon: Byron's "She Walks in Beauty", Shelley's "Ozymandius" and Keats's "Odes to a Nightingale" and "To Autumn". Many listeners will know them from old school textbooks (some of us by heart). But Faithfull lifts them from the page with a compelling combination of crispness and tenderness. She doesn't use that soporific "poetry voice". Instead, she can make 200-year-old visions of beauty, love and death feel as urgent as the latest true-crime podcast.
She's wonderful with Thomas Hood's 1844 poem, "The Bridge of Sighs", about a homeless woman throwing herself from Waterloo Bridge. She spits the anger of her punk days into the 12th verse: "The bleak wind of March/ Made her tremble and shiver;/ But not the dark arch,/ Or the black flowing river:/ Mad from life's history,/ Glad to death's mystery/ Swift to be hurl'd – Anywhere, Anywhere/ Out of the world!"
Ellis gives a creepy, horror movie backing to Keats's "La Belle Dame Sans Merci". The tale of a wild-eyed fairy who seduces a knight to strange slumber with "roots of relish sweet, and honey wild and manna dew" is the predecessor of Faithfull's "Sister Morphine". With their eroticisation of the lily-skin that accompanied TB and opium addiction, the Romantics were the originators of the "heroin chic" to which Faithfull and so many of her contemporaries would fall prey.
Clocking in at nearly 12 minutes, a delivery of Tennyson's "The Lady of Shallot" finds Faithfull in classic campfire storytelling mode. As the keeper of all the best Sixties tales, she's had experience of knowing when to lean in and lean back. Ellis's synths glow, flicker and spark as the rhythm flows hypnotically through her. She slaps an emphasis on the line "it was the closing of the day", reminding the listener of the first line from her first hit: "It is the evening of the day…"
Those who dismissed Faithfull as just Jagger's "bird" back in the Sixties can surely do so no longer. While her old knight is now chugging out the sub-Status Quo pandemic schlock of "Easy Sleazy", Faithfull is rising from the ashes of the past, breathing fierce, sharp magic into these old words. She's a time-conquering dragon queen.
Register for free to continue reading
Registration is a free and easy way to support our truly independent journalism
By registering, you will also enjoy limited access to Premium articles, exclusive newsletters, commenting, and virtual events with our leading journalists
Already have an account? sign in
Join our new commenting forum
Join thought-provoking conversations, follow other Independent readers and see their replies