PJ Harvey, The Hope Six Demolition Project, album review: An unsettling listen from music's war correspondent
Harvey's new album is the follow-up to 2011's Mercury Prize-winning Let England Shake
Jess Denham
Tuesday 19 April 2016 13:48 Comments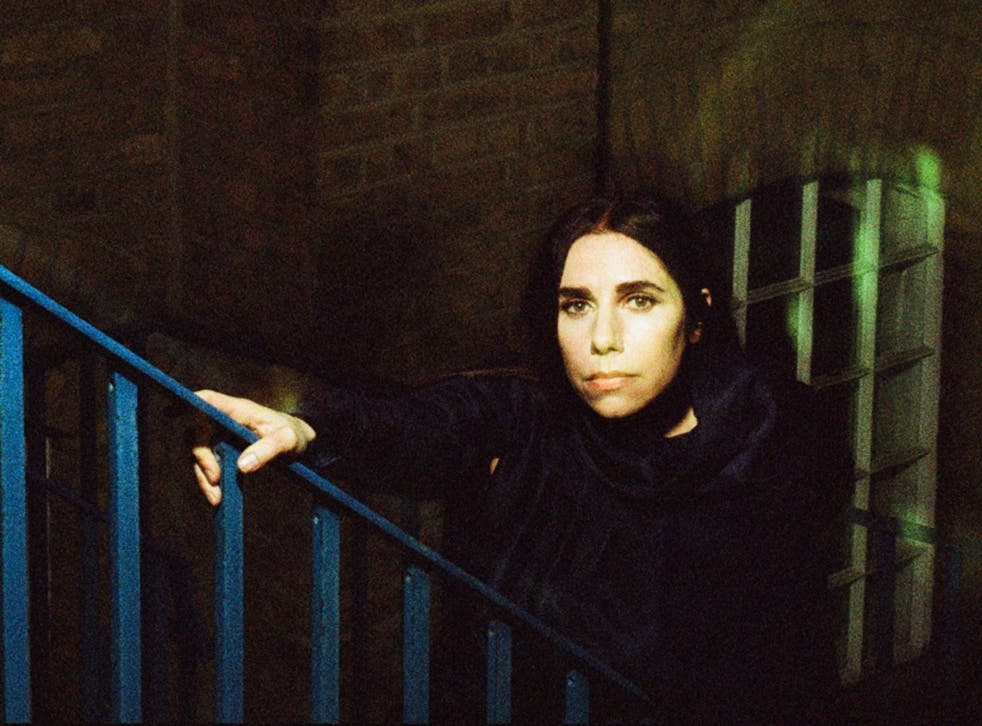 PJ Harvey memorably recorded The Hope Six Demolition Project as part of a Somerset House art installation last year. Her ninth album is now ready to land, and it takes us much further afield than the small box she created it in.
The double Mercury Prize winner's latest effort follows four years spent researching and visiting Kosovo, Afghanistan and Washington DC with Irish war photographer Seamus Murphy. The result is a characteristically gritty record that skilfully distils the pervading sense of desolation she experienced in places downtrodden by conflict and hardship.
Predictably, The Hope Six Demolition Project is unconcerned with mass market appeal, making it a tricky album to navigate and an even harder one to enjoy. Harvey assumes the role of a musical war correspondent, demanding immersion into a challenging theme underscored by powerful lyrical intensity. Unswervingly political, the originality comes from her position as an observer rather than a Dylan-style protester. Her words, here as visceral as fans have come to expect, could at times be mistaken for a Wilfred Owen poem.
Produced once more by Flood, who has worked with Harvey since 1995's Bring You My Love, the new record presents detailed snapshots of the horrific aftermath of wars, both physical, as on the raucously rocky "The Ministry of Social Affairs", and mentally, on the harrowing, sax-heavy "Chain of Keys". Its a tough but important listen in a world plagued by social inequality.
Chugging guitar underlines the ever-present sense of disenchantment in ironically bleak opener "The Community of Hope", named after a local charity and already controversial with Washington DC citizens angry at being branded "zombies" living in a "drug town shit-hole". By closing refrain "They're gonna put a Walmart here" you're already drowned in life's pointlessness, and there's still ten more songs to go.
"The Ministry of Defence" hears Harvey apocalyptically conjure intimidating images of "sprayed graffiti", "broken glass" and "balanced sticks in human s**t", supported by aggressive guitars, while her disturbingly carefree falsetto on "A Line in the Sand" jars with its recounting of life working in an aid camp for the displaced.
There is a disarmingly upbeat tone at times, notably on midpoint song "Near the Memorials to Vietnam and Lincoln", which reflects the morally troubling sight of "people lumbering over the grass to squeeze into plastic chairs" next to tributes rendered little more than tourist attractions by the ignorant masses. Thundering highlight track "The Wheel", about those missing from war zones, reverberates poignant relevance in the midst of the refugee crisis.

"Medicinals" draws on modern day dependence on alcohol as a numbing agent to life's troubles, rhythmic percussion recreating happier, simpler times of old before a sudden, effective drop in tempo and dynamics brings the listener smashing back down to earth where a wheelchair-bound woman swigs booze from a paper-wrapped bottle.
"The Orange Monkey" morosely continues the theme of buried history while "River Anocostia" opens and closes with the humming of black spiritual song "Wade in the Water", a risky move that stops short of cultural appropriation thanks to Harvey's strong retention of her own, unique sound.
Closing track "Dollar, Dollar" sees a beggar boy approach Harvey at some traffic lights, only for her car to pull away leaving him impoverished and helpless in the dust. This one packs a particularly guilty punch with its realistic road noise intro complete with children's cries, Harvey's vocals becoming as haunting as the vanishing dot in her wing mirror.
Despondency runs throughThe Hope Six Demolition Project, making for an unsettling ride. Harvey's vivid storytelling audibly paints every sigh of it, reflecting the world's injustices back at us and forcing us to inspect their ugliness.
Released Friday 15 April
Register for free to continue reading
Registration is a free and easy way to support our truly independent journalism
By registering, you will also enjoy limited access to Premium articles, exclusive newsletters, commenting, and virtual events with our leading journalists
Already have an account? sign in
Join our new commenting forum
Join thought-provoking conversations, follow other Independent readers and see their replies