Sleaford Mods review, Spare Ribs: A predictably chaotic portrait of mid-pandemic Britain
Electronic duo's 11th studio album is a response to the government's incompetent handling of the coronavirus crisis, but coherent protest gets lost in the shouting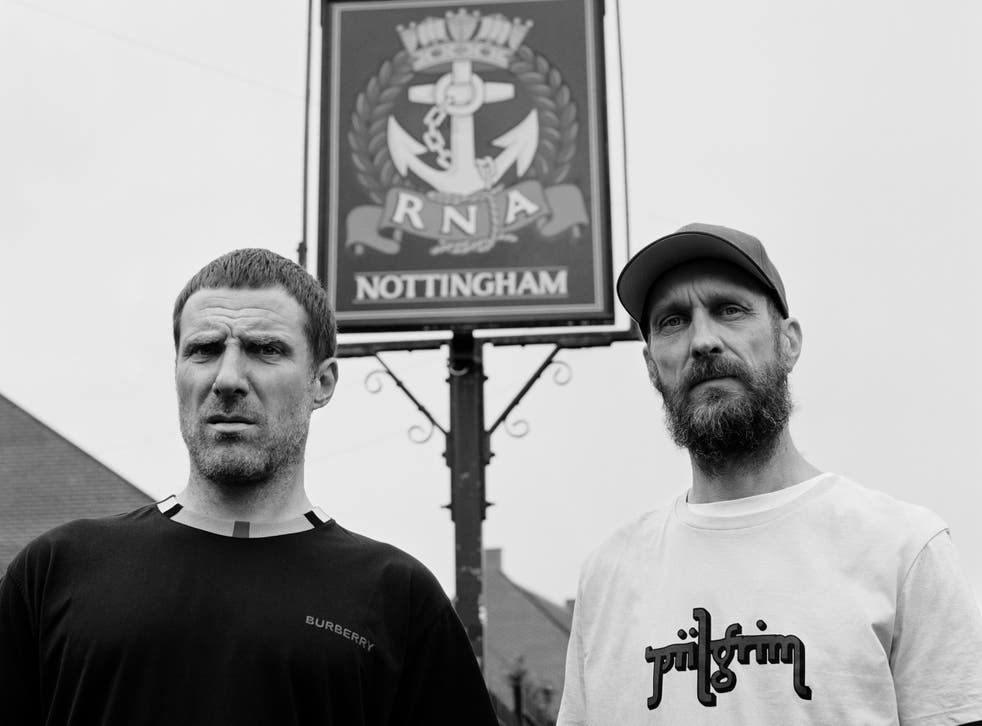 Having long sounded like they're standing outside a secret rave shouting abuse at anybody coming within 20 feet of them, Sleaford Mods are undoubtedly a band whose time has come. Since Austerity Dogs, their first album together in 2013, the combination of Andrew Fearn's minimalist shop-setting beats and Jason Williamson's c-bombed, sprechgesang manic street poetry has spoken to our demented times. Theirs is a furious tirade of working-class struggle and discontent beneath the capitalist jackboot, interspersed with fightbacks against facile celebrity culture and elitist privilege and random, bilious non-sequiturs like "Weetabix England!" and "flag tits!"
Prolonged exposure, though, has tended to feel like being trapped on a bus next to someone angrily shouting all the social grievances they've written down in a book made out of bread. So you approach Sleaford Mods' 11th album (and their sixth as a partnership) tentatively and, with relief, find them expanding their functional formula a little. "Elocution" finds Fearn giving his spare post-punk basslines more Eighties colour, akin to The Human League or early The Cure. Breadline lament "Fishcakes" - all "chip shop birthdays" and "makeshift purple kitchens" - is a minimalist, motoric take on Pixies or Nirvana, only stifled by the fact that Sleaford Mods' set-up doesn't allow them to do the loud bit of quiet/loud.
Fearn allows his bulbous beats to dip into soul noir ("Out There"), garage funk rock ("Spare Ribs") and what sounds like a Kraftwerk album being haunted by the ghost of Phil Lynott's guitar ("Thick Ear"). Elsewhere, he liberally lobs in noises resembling Vangelis soundtracks, Seventies calculators, Daleks snoring and Tardises reversing around distant corners. Brief appearances from Billy Nomates and Amyl and the Sniffers' Amy Taylor add variety too. Within their one-dimensional laptop limitations, the Mods are at least trying to break the second wall.
Recorded mid-pandemic, Spare Ribs is touted as a portrait of pandemic Britain and a response to the government's incompetent, uncaring treatment of the public as disposable meat throughout the Covid debacle. But any coherent protest gets lost in the shouting. Besides Williamson bark-singing "We're all so Tory tired and beaten by minds small" on 40-second opener "A New Brick", Boris can sleep easy for much of the album. Dominic Cummings appears to get a rigorous roasting on lockdown lament "Out There" ("why's this c*** got police protection? He wasn't even running in the last election"), but even he survives a song called "Short Cummings" relatively unscathed.
Instead of clamping onto the Tory jugular, Williamson takes a scattergun approach to sequencing the genome of modern Britain's ills. Brexit xenophobia (on "Out There"), class tourism ("Nudge It"), the arrogance and elitism of the educated ("Elocution") and his diehard bugbear wage slavery (on "All Day Ticket", a tranquilised "Cool for Cats") all feel the sharp end of his piston tongue. There are moments of pub nostalgia and lockdown solidarity: "I'm missing Paris streets and restaurants near the church," he laments on "Top Room", forgetting for a second that he's not Jacques Brel. But you're never far from an incongruous loose-end outburst, be it bawling "3-to-400 years left of this capitalist orgy!", throwing shade at unnamed celebrities ("F*** off, w***er, famous teeth!") or, on "Mork N Mindy", giving us far too much information about the sex games of his childhood toys. Spare Ribs certainly reflects the personal and political overload of 2021, but half an hour in you'd be forgiven for scanning the horizon for your stop.
Register for free to continue reading
Registration is a free and easy way to support our truly independent journalism
By registering, you will also enjoy limited access to Premium articles, exclusive newsletters, commenting, and virtual events with our leading journalists
Already have an account? sign in
Register for free to continue reading
Registration is a free and easy way to support our truly independent journalism
By registering, you will also enjoy limited access to Premium articles, exclusive newsletters, commenting, and virtual events with our leading journalists
Already have an account? sign in
Join our new commenting forum
Join thought-provoking conversations, follow other Independent readers and see their replies