'I wanted to sound like Freddie Mercury': Meet Andy Day, the conscious rockstar of children's television
CBeebies' longest-serving presenter is beloved among children for his songs with band The Odd Socks. Now he's turning his attention to confronting bullying in schools. He talks to Helen Brown about sexist Glasto engineers, why we need more music education in schools and how to face down oppressors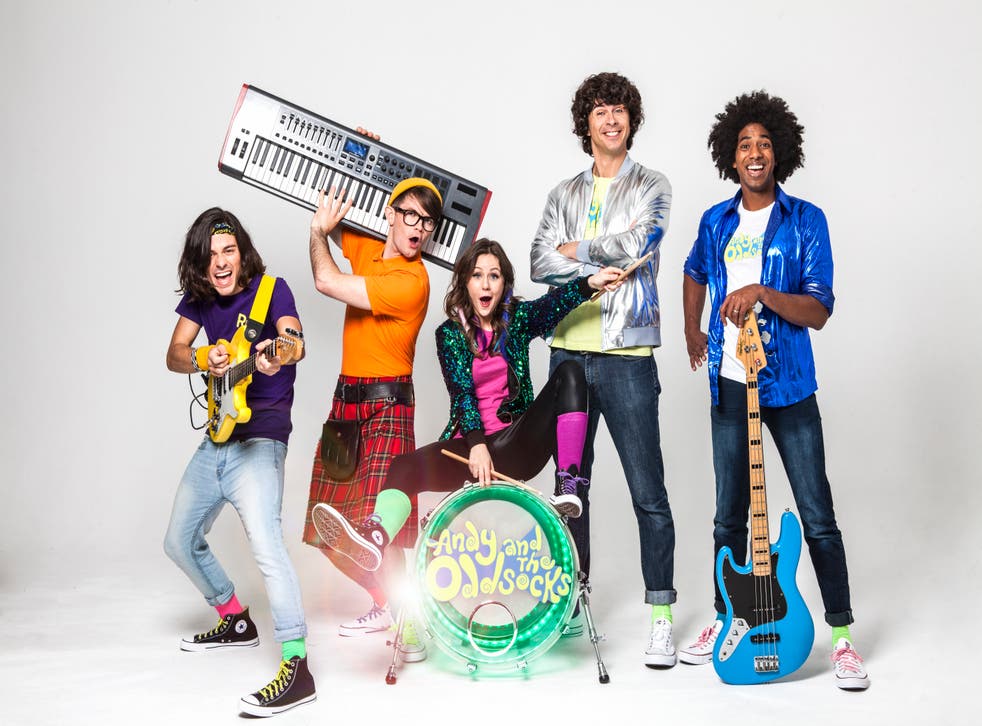 A really silly David Attenborough for kids," is how my 11-year-old son tells me to explain the appeal of Andy Day to grown ups who've never seen the comedy-wildlife shows he presents on CBeebies. For years, we snuggled up together to watch Day shake his tush in a series of animal onesies and speed-rap the tongue-twisty, scientific names for dinosaurs and other prehistoric creatures. He is the longest-serving star of the BBC channel aimed at kids aged seven and under.
I'm so used to seeing him as a gangly goofball singing about safe, silly stuff, in fact, that it's a little disorienting that we end up discussing issues like suicide and post-traumatic stress disorder when he calls me from his London home. But, as a patron of the Anti-Bullying Alliance, Day feels it's as important to speak to parents as frankly on these subjects as he speaks to our kids about elephant poo and evolution.
"Because I work in children's entertainment," he says, people might assume that his interest in anti-bullying "is driven by what I've heard from kids. But much of my passion for this cause comes from seeing the long-term impact on friends who were severely bullied as kids. I see how it's affected the choices they've made and how the suffering goes on. I'm not even sure how clearly they understand the impact, but it's almighty. It causes PTSD. Whole lives can be destroyed. Umm… woah, have I gone a bit deep there?"
Now 39, Day's had years to watch his friends' childhood traumas play out, while he's spent more than 14 years larking about on TV. In that time he has starred in nine different shows, from Andy's Wild Adventures to Andy's Dino Toybox (the lockdown series he made in his spare room), inspired in equal parts by a love of natural history and the wacky antics of Eighties comics like Robin Williams.
Since 2017 he's also been the frontman of quirky kids' band, Andy and the Odd Socks, who are releasing an annual song to support Anti-Bullying Week (16-20 November), where children at more than 50 per cent of British primary schools are encouraged to talk about bullying and express their individuality by wearing odd socks to school. In 2018 he wrote the theme tune "Unique" ("if life looks bleak cos you're meek and oblique (so to speak) / then stop your worrying because you are unique!"). Last year there was "Respect". For 2020 – a year during which many kids in lockdown have reported a rise in cyberbullying – there is a ballsy cover of punk band Sham 69's 1978 hit "If The Kids Are United" featuring a rapper, Princess K, who has performed with Stormzy.
Born in Essex in 1981, the youngest of three boys, Day always found music "a great outlet for the emotions". His father, a Hatton Garden diamond cutter, prefered classical music. His mother, of Romanian-Russian extraction, preferred "the big divas, long songs by Celine Dion and Jennifer Rush". His older brothers brought home indie-rock and Nineties house. "I loved Queen, Elton John, Ray Charles and later Dave Grohl," he says. "The first record I remember being obsessed with was 'Working in a Coal Mine' by Lee Dorsey. I had that on vinyl and played it over and over again."
After drama school, Day was selected from among 2,000 applicants for his role on CBeebies. For parents, he's a marmite presence. At playgroups I saw some swoon over him while others were infuriated by his zany antics. But our kids all went through their "Andy Phase". My own, now eight and 11, still express a very sweet affection for him as "kind of the David Attenborough for when we were little because he taught us funny facts".
Today, Day tells me that he brought a "very Eighties sensibility" into his shows that may account for his popularity among the parents who love him. "I was a huge fan of films like Back to the Future, Karate Kid and Kickboxer. I knew those scripts by heart, so it's no coincidence that so many of my shows feature a time machine."
His music also has an Eighties influence. "I wanted to sound like Freddie Mercury and I always wanted to be in a band. I like music that crosses genre boundaries so the Odd Socks are a perfect fit for me – we do all sorts so that kids are exposed to different sounds. As a dad myself [his daughter Ruby is two] I also know parents have to listen to this stuff too: we try to make it fun and family friendly, using elements of punk, rock, rap and reggae."
Access unlimited streaming of movies and TV shows with Amazon Prime Video Sign up now for a 30-day free trial
Sign up
Although Day's band comes off like the Scooby Doo gang on the TV show Andy and the Band, he's at pains to point out they are all serious musicians. He jokes that it took the Rolling Stones 50 years to get an invite to Glastonbury while Emily Eavis invited the Odd Socks to appear within months of their formation. "I remember the engineers looking at our female drummer, Moxy, and I knew they were thinking: girl drummer, kids act, daft. Then they did her soundcheck and realised: she's really incredible."
The Odd Socks filled the tent at that first Glastonbury gig and now see celebrities like Simon Pegg, Fearne Cotton and Tom Hardy dancing with their kids at shows. They've released two albums: 2017's Who Invited This Lot? (with songs about aliens, rapping robots, dinosaur footballers, ninja pigs and a "Groovy Hoover") and 2020's more emotional Who's in the Odd Socks? (featuring all the anti-bullying songs alongside tributes to "Good Hair Days", "Laughing in the Face of Fear" and synth banger "Hey There Chicken").
Tall, confident and funny, Day was never bullied himself but says, "My mum was very anti-bullying. I don't know what happened to her in the past, but she was upset and angry when she saw bullying behaviour and encouraged us to stand up for those who didn't have the ability to stand up for themselves. That was really drummed into me and I was taught to recognise when kids are suffering."
The statistics around bullying in the UK make for grim reading. According to new research from the Anti-Bullying Alliance, 33.5 per cent of children in England say they've been bullied in the past six months. The pandemic hasn't protected kids because the bullies are online. Of those who reported being bullied, 38 per cent said the bullying had taken place online – a rise from 29 per cent in a pre-Covid study conducted in 2019. Although 65 per cent of children believed that good friendships helped protect them from bullies, the number of children reporting they had more than one good friend fell from 91 per cent pre-Covid to 86.5 per cent by October 2020.
My dad, now in his mid-seventies, was bullied at school but even so, the thought of Odd Socks Day irritated him. He didn't see how songs and "awareness" would change what he sees as basic human nature. Another friend agreed with him and quoted Kipling: "Bullies bully because they like bullying."
"I get that," says Day. "The subject wasn't discussed so openly among previous generations. People of your dad's age probably felt like there was nobody to talk to and nobody to help and were probably told: that's the way it is, get on with it. And I don't think we can work miracles. Bullying isn't a virus, our songs aren't a cure. But we are learning and we can guide our own children based on what we've experienced. We know now that bullies aren't the kids with the best sense of self worth. We can help them make better choices."
Day suggests we help our kids think of human relationships "in terms of energy. There's an energy involved in all interactions between human beings. You can bully somebody's energy out of them or you can bounce it back and forth between you. In terms of dealing with bullying, you can stay aloof and choose not let your energy be pushed out of you."
Given the BBC's recent requirement for presenters to abstain from "virtue signalling", it feels unfair of me to press Day on his politics. He is likeably flustered when I try. He says footballer Marcus Rashford is "amazing" for his work on pushing for free school meals but won't be drawn further. "I'm not a political person. I try to avoid politics at all costs. In this day and age it's very confusing. Social media has made it so divisive and angry. So much bullying goes on online."
But his frustration is clear when I ask about the lack of funding for music in schools. "We know what some people in our country think of the arts," he sighs. "It's a great shame they don't value music more because it's so important. When kids are taught to play an instrument there's a release and a sharing of emotion. Unfortunately not everybody sees that. Even though all the science shows the incredible effects of music on children's academic performance and psychological wellbeing. I really do believe there would be a serious reduction in children suffering from mental health issues, and fewer suicides, if we invest in proper musical education. Rock and pop should be on the curriculum alongside classical music."
I know my own kids would agree. My daughter, in particular, is delighted by Moxy's drumming and has been inspired to start her own school rock band. Andy is so deep in their heads, I tell him, he could lead a whole generation anywhere. "What, like a cult?" he jokes. "Seriously, I would really like to take the band global. My TV shows are watched in 72 different countries around the world, so it's a possibility, isn't it? British children's TV is arguably the best in the world. American TV is good at animation but for some reason they don't do many live action shows. I really think we lead the world on that."
Meantime, Andy and the Odd Socks have the full backing of Sham 69's frontman Jimmy Pursey. It turns out he struggled with bullies too. "At school I would stutter to the laughter of other children around me," he says, via email. "But as you know I found a voice. The lyrics of 'If The Kids Are United' speak in their simplicity to all – young and old. They were written with a wish to unite all as one, wherever and whoever. I am moved that this version has been recorded with such energy to spearhead of this year's anti-bullying campaign."
If The Kids Are United is released on Anti Bullying Day on 16 November
Join our new commenting forum
Join thought-provoking conversations, follow other Independent readers and see their replies