How the scene with a topless male lead became the new staple of period dramas
Television insiders say such scenes are vital in driving a female audience to new dramas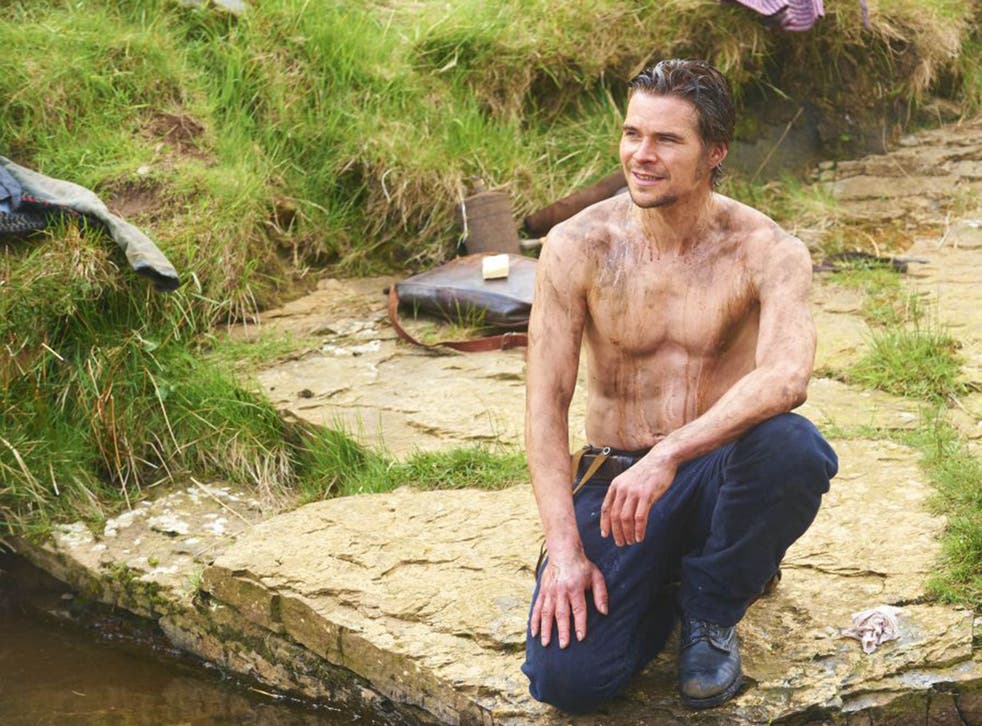 It's a scene which appears to be built into the marketing plan of every big-budget period drama. The strapping male lead emerges from water – a lake or river will do – his exposed torso dripping, his glistening pecs exposed.
But does the trend for costume dramas which dispense with costumes simply objectify male actors in the same way that female actresses used to be treated?
Forget Aidan Turner, the BBC1 Poldark star whose nude sea bath and "topless scything" in a Cornish field, sent Twitter into a flutter.
ITV is set to unleash its own slab of prime beefcake, Hans Matheson, the dashing Scots actor, who plays rugged labourer Johnny Jackson in Jericho, a period drama which takes the 19th-century construction of the Ribblehead Viaduct across the Pennines as its unlikely starting point.
The dark and mysterious Johnny forms a bond with penniless widow Annie (Call the Midwife's Jessica Raine) in the Yorkshire Dales-set series, which launches next week. It's not too long before Johnny plunges into a river during a fight with a rival navvy.
The scenes that follow give full exposure to Matheson's rippling biceps and the former Doctor Zhivago loses his shirt on a regular basis as the story develops. "I'm not contractually obliged to take my shirt off in every scene," the actor said. "I just enjoy doing it."
No drama is complete without a naked bathing scene, it seems. In The Last Kingdom, BBC2's epic Viking invasion series, the lead character of Uhtred is introduced to viewers with the actor Alexander Dreymon emerging naked from an icy lake.
Dreymon admits he harboured reservations about the scene. "The truth is I cringed when I read that the first shot of me in The Last Kingdom was going to be topless," he told me. "I think any actor or actress who aspires to have a noteworthy career has to be careful not to become known only for what's under their shirts and I've already got more of that out there than I'd like.
Poldark in pictures

Show all 37
"However, it was done tastefully and served the story beautifully so I'm glad we shot it that way."
The amount of flesh should be dictated by the story, the actor believes. "The question is always: 'Does this scene work without stripping?' When the answer is 'yes' then I'd rather keep my kit on! The last thing I'd want is to be stored away in the 'hunk' box, which can be so limiting for an actor."
Television insiders say such scenes are vital in driving a female audience to new dramas. The Poldark scything scene spread virally and became a social media talking point. Producers are seeking to match the impact of the famous scene of Colin Firth in his wet white shirt which helped the 1995 BBC adaptation of Pride and Prejudice reach 10 million viewers. "Cover versions" of that memorable moment include a scene of Ben Batt skinny-dipping in the BBC's recent take on The Go-Between.
On the big-screen, reviews of this year's Far from the Madding Crowd adaptation centred on the rival attractions of the Belgian "hunk" Matthias Schoenaerts as Bathsheba's suitor Gabriel Oak, versus Tom Sturridge's more delicate soldier, Frank Troy. Schoenaerts, clad in a wet shirt while dipping sheep, was the winner with female cinema-goers.
The topless scene can signal a message to viewers that isn't limited to eye-candy. When Daniel Craig strode out of the ocean in his close-fitting blue swimming trunks in Casino Royale it wasn't just a reversal of Ursula Andress's bikini beach scene in Dr No. Craig's toned physique told fans that Bond was back – and this time he is buff, and bringing a rough-edged physicality to the spy's adventures.
Jericho begins on ITV on Thursday 7 January at 9pm
Join our new commenting forum
Join thought-provoking conversations, follow other Independent readers and see their replies